Do you want to know what Notify Anyway means in iOS 15? You have landed on the right page. iOS 15 was recently released, and people discover improved and hidden features daily.
Most of the time, operating system updates often render more features to Apple products.
This time, the update came with many changes while adding several new and enhanced features to the iOS, including Notify Anyway.
In this article, you will learn what Notify Anyway means and how to enable and disable it in simple steps quickly.
Are you an Apple user looking to buy more iOS accessories like Macbook, Watch, or tablet? If that's the case, you should read our finest articles on all types of Apple alternatives.
Now, let me put an end to this introduction and get started right away.
What Exactly Does Notify AnyMean in iOS 15?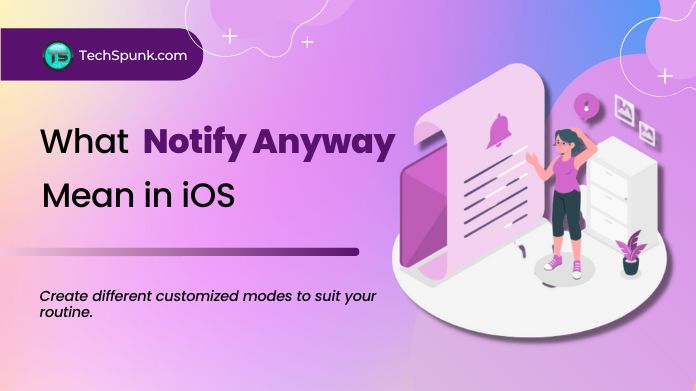 The new update in iOS 15 has provided iPhone users access to the Focus feature.
It is an extension of Do Not Disturb and Profiles and helps iPhone users reduce distractions, set boundaries, and improve focus.
The feature, Notify Anyway means you can bypass your iPhone's Focus mode. It helps you in delivering crucial messages. You can also create different modes to suit your routine.
What Does Notify Anyway Do?
Apple launched this SOS option to bypass the active Focus mode of your contact's device and send important messages.
This option is wonderful and useful when contacting someone during emergencies. It also enables all compatible apps to deliver important notifications to your preferred contacts.
What Are the Features of Notify Anyway?
Now that you have got an idea about what does Notify Anyway means actually, you should understand its features.
The Notify Anyway feature allows you to customize it based on your sleep, work, or personal activity.
While sending an iMessage, if you come across "this person has notifications silenced," you will see the Notify Anyway option below.
The update enables you to manage the notifications and applications you get on your iPhone based on your requirement with the help of the Focus mode.
The Notify Anyway means bypassing the ongoing Focus mode and delivering an urgent notification or iMessage.
It allows the app to know that your notifications have been disabled and informs your friends regarding the same.
It also lets you design customized home screens with only the necessary apps.
When Should You Use Notify Anyway Mean?
You can clearly understand by now that Notify Anyway means you need to use this option only in emergencies.
Focus mode is DND mode with different routines and automation. It means that the contact in question does not want to be disturbed.
So, it would help if you used Notify Anyway feature only in case of an emergency.
How to Enable the Notify Anyway Feature?
To enable the Notify Anyway mean feature on your iPhone, follow the steps mentioned below:
First, go to Settings and Click on Focus.
Now click on Do Not Disturb, Personal, Sleep, or Work.
Then click on Customise Focus.
After that, set up your focus for the People and Apps you want.
You can also hit the Choose option and click the Customise Screens to limit distractions.
You may also use the Smart Activation option to activate the Focus mode automatically or at a certain time or location. This icon will be seen on your status bar and lock screen.
Your status is displayed automatically in the Messaging app.
Finally, if you enable it,  anybody who tries to message you will receive a silent notification. It can use Notify Anyway mean feature in case of urgency.
The image below elaborates on the steps that help you enable Notify Anyway Features.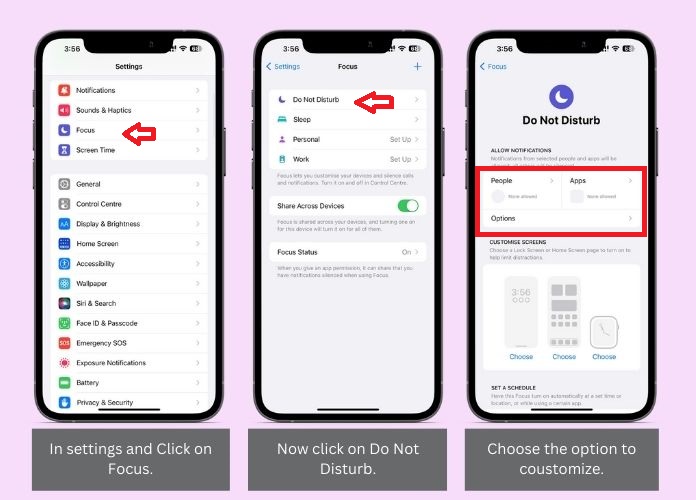 How to Disable Notify Anyway Feature for All?
When you enable this setting, people who message you won't be able to see that you've muted notifications.
Additionally, this setting disables the Notify Anyway option for all users. It would help if you did it separately for each focus option.
The method is as follows :
Go to Settings and tap on focus.
Now select the Focus option like Gaming, Work, Do Not Disturb, etc.
Then click on Focus Status.
Finally, turn off Share Focus Status.
The image below elaborates on the steps that help you disable Notify Anyway Features.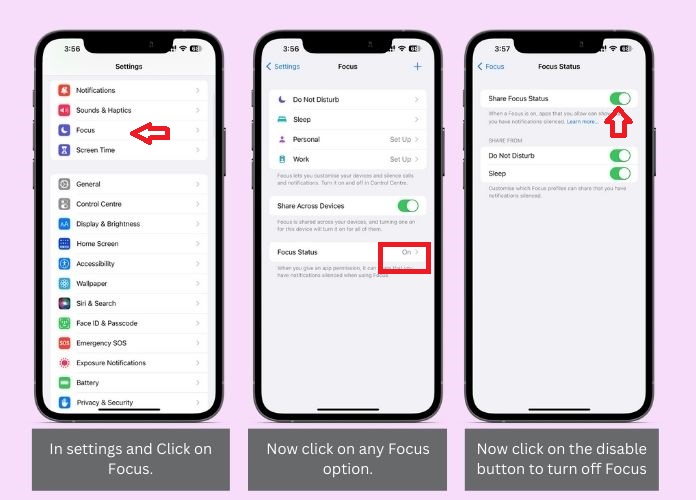 Using another Apple with the same Apple ID will share your Focus settings across all devices. It happens when you have turned on the "Share Across Devices" option.
The Share Focus Status will appear disabled, dimmed, and grayed out, along with a message stating, "Share Across Devices must be turned on to share your Focus status from this device."
To enable sharing your Focus status, go to Settings, navigate to focus, and activate the "Share Across Devices" option.
How to Disable Notify Anyway Mean for a Specific Contact?
Go to the Messages app.
Open the conversation of the contact for whom you want to disable Notify Anyway.
Click on the contact's name located at the top of the screen.
Then finally, turn off Share Focus Status. Your specific contact cannot use the Notify Anyway feature, while others still can.
Frequently Asked Questions
Q. What Will Happen on Pressing Notify Anyway?
Ans. The Notify Anyway option, which shows under the notifications silenced alert, allows you to send your message to your contact while bypassing their disabled notifications.
Q. Will Your Focus Name Be Shared?
Ans. No. You will not allocate the Focus name to anyone in your contacts.
Q. Will Someone Receive a Notification if I Place Them on DND?
Ans. No, if you have someone set to DND, they will not receive a notification.
Q. Will Others Know the "Focus" Mode I've Enabled When They Text Me via iMessage?
Ans. No. It will only see that you've silenced your notifications.
Wrapping Up
We hope that we have answered all your queries regarding what does Notify Anyway means, and now you can enable or disable it on your iPhone quickly.
The Notify Anyway mean is a resourceful tool to use in an emergency, allowing you to bypass other people's notification settings. However, it can be misused if you use it for silly reasons to disturb your friends.
Keep in mind that this special feature is designed for emergencies only.