Apple Watches are undoubtedly the most popular and highly regarded smartwatches on the market, but they may only be affordable or practical for some.
Fortunately, several affordable Apple watch alternatives offer similar functionality and features at a lower price.
This article will explore the top 10 affordable Apple Watch alternatives you can consider when shopping for a smartwatch.
Also, if you are an Apple brand lover, you can check the best Apple MacBook Air alternatives in our blog.
So, whether you're seeking a low-cost alternative or want to check at other possibilities before committing to an Apple Watch, keep reading to discover the best affordable Apple Watch alternatives on the market.
Don't wait any longer – let's get started!!
10 Best Apple Watch Alternatives to Wear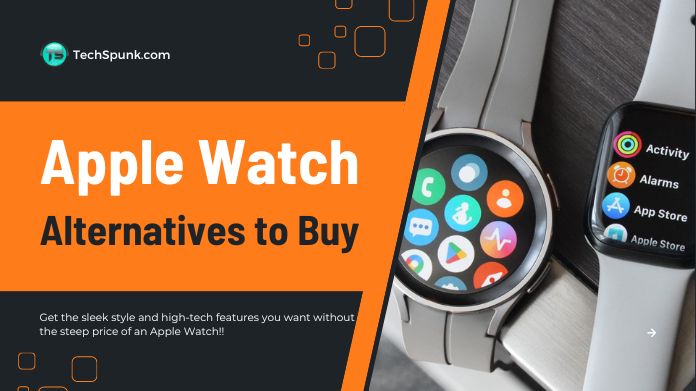 1.

Google Pixel Watch

Sale
Google Pixel Watch Features
The Google Pixel Watch has a beautiful circular,...
Stay on top of activity, calories burned, and more...
Track your heart rate and get insight into your...
Save time with things like Google Wallet for...
Stay connected and productive wherever you go;...
For a first-generation device, the Google Pixel Watch impresses with its attractive design, intelligent software, and Fitbit's advanced fitness tracking technology; hence it is one of the best Apple watch alternatives.
The union of Google and Fitbit seemed too good to be accurate, but for the most part, it delivers on its promises.
The watch operates on Google's Wear OS3 and pairs seamlessly with any Android phone running Android 8.0 or newer.
Pros
Minimalistic design
Very smooth performance
Clean, Google-centric Wear OS experience
Cons
Disappointing battery life
Only available in one size
2.

Garmin Venu 2
Garmin Venu 2 Features
Suit your style with a smartwatch that's...
Enjoy the convenience of making and taking phone...
Use your compatible smartphone's voice assistant...
Know your body better with extensive health...
Find new ways to keep your body moving with more...
Garmin Venu 2 is an ideal smartwatch for fitness enthusiasts who seek a stylish wearable that can help them monitor their fitness progress.
The watch is produced by Garmin, a leading company in navigation technology and GPS systems, and combines fitness-focused features and everyday wearability.
The Garmin Venu 2 is a versatile choice for anyone looking to fulfill their fitness and daily wear requirements with a single device.
Pros
 Great battery life
Attractive design
Bright, sharp display
3.

Samsung Galaxy Watch 5

Sale
Samsung Galaxy Watch 5 Features
ADVANCED SLEEP COACHING: Manage your overall sleep...
BODY COMPOSITION ANALYSIS (BIA): Galaxy Watch5...
IMPROVED SENSOR ACCURACY: Stay up to date on your...
AUTO WORKOUT TRACKING: Make the most of every...
IMPROVED BATTERY and GALAXY CONNECTED EXPERIENCE:...
Samsung has hit its stride in the smartwatch market with the Samsung Galaxy Watch 5, boasting a larger battery compared to its previous models, a sturdier build, and the inclusion of a temperature sensor.
Although health and fitness data still flows into Samsung Health, users can export data to third-party platforms such as Strava and Technogym.
Pros
On the wrist, it is comfortable
The 44mm model has a longer battery life
Charges more quickly
Dependable fitness tracking
Cons
 Identical to its predecessor
The skin temperature sensor will not available
4.

Fitbit Versa 4
Fitbit Versa 4 Features
Get inspired and stay accountable with Versa 4 +...
Built for better fitness results: Daily Readiness...
Tools to measure and improve sleep quality:...
Maintain a healthy body and mind:  daily Stress...
Designed for fitness & beyond: on-wrist Bluetooth...
Are you taken aback by the high price tag of an Apple Watch? Consider the Fitbit Versa 4, which is significantly more affordable yet provides a comparable experience.
While it is geared towards those leading an active lifestyle and may not boast as many cutting-edge features as the latest Apple Watches, it still comes very close in most aspects.
The watch features an always-on display, Wi-Fi connectivity, built-in GPS, and water resistance, similar to the Apple Watch.
Pros
A battery that lasts a long time
Simple to use
Cons
There is no third-party app support
5.

Polar Grit X Pro
Polar Grit X Pro
RUGGED DURABILITY: Scratch-resistant sapphire...
ULTRA LONG BATTERY gives you up to 40h of...
UNRIVALED OHR TRACKING AND GPS ACCURACY with our...
TURN-BY-TURN GUIDANCE POWERED BY KOMOOT - enjoy...
FULLY AUTOMATIC AND INTELLIGENT OVERNIGHT RECOVERY...
Outdoor enthusiasts who engage in hiking or trekking need a smartwatch that can withstand rigorous conditions. Therefore Polar Grit is also considered in the list of the best Apple Watch alternatives.
The Polar Grit X Pro is an ideal companion for such situations. It features a sapphire glass display that is highly durable and almost unbreakable.
Additionally, the watch boasts an always-on screen that lets you keep track of notifications and navigation while exploring the great outdoors.
Pros
Excellent navigation tools for exploration
Improved bezel appearance
Improved navigation features
Cons
Touchscreen illumination
The Polar Flow app is a disaster.
6.

Amazfit GTS 4

Sale
Amazfit GTS 4 Features
【Strong & Precise GPS Tracking and...
【The Ultimate Personal Assistant】Amazon Alexa...
【Easy 24/7 Health Management】The Amazfit GTS 4...
【Live Sports Data Broadcast & Strength Training...
【Advanced Fitness Support】Choose from a huge...
Amazfit, a well-known manufacturer of affordable smartwatches, has done it again with the GTS 4.
Despite its budget-friendly price, this watch boasts an impressive eight-day battery life, a rare feat among smartwatches. You can even extend the battery life up to 16 days in battery-saver mode.
Additionally, it features numerous sensors to monitor heart rate, steps, blood oxygen levels, stress, sleep, location, and more.
Pros
Battery life is extended
A wide variety of tracking capabilities
Reasonably priced
Cons
There is no support for third-party apps.
7.

Fitbit Sense
Fitbit Sense Features
1.59in l x 1.59in w x 0.49in h. ECG, stress...
Compatibility: Apple iOS 12.2 or higher, Android...
Built-in GPS + GLONASS, Speaker, Microphone,...
Water-resistant to 50 meters. Battery life up to...
International Model - No warranty in the US. In...
Fitbit is primarily recognized for its fitness-oriented wearables (as the name suggests); the Fitbit Sense aims to enhance overall health rather than improve physical wellness.
In addition to sleep tracking and heart rate zone monitoring, this device offers an ECG, stress-sensing functionality, and a skin temperature sensor to improve your mental and physical well-being.
Furthermore, it provides access to meditation tools that support better mental health.
Pros
Premium, high-end design
Extensive sleep tracking
GPS onboard for workouts
Cons
Inductive button failure
Fitbit Premium is required for many tools
8.

Samsung Galaxy Watch 3
Samsung Galaxy Watch 3 Features
Style You Can Count On: Galaxy Watch3 Combines...
Leave Your Phone Behind: Leave Your Phone At Home....
You Can Share The Pdf Report Of Your Ecg Recording...
Battery Built For Endurance: The Galaxy Watch3'S...
The Galaxy Watch 3 is slightly smaller and lighter than its predecessor. It is still a sizable smartwatch with numerous features, making it a formidable contender among other top smartwatches.
Its build and performance are top-notch, and users highly regard its functionality and capabilities.
Its circular display and rotating bezel allow for effortless navigation, and its premium and stylish design exudes quality.
Pros
Advanced sleep monitoring
Blood oxygen levels and VO2 max are measured.
The rotating bezel is a joy to use
Cons
Battery life is disappointing
9.

Tic Watch Pro 3

Sale
TicWatch Pro 3 Features
【Long Battery Life】Dual layers display 2.0...
【Updated Chipset, Better Experience】Wear OS by...
【Advanced Health and Fitness...
【New Fatigue Assessment】Assess mental fatigue...
【Upgraded Premium Design, Flagship...
The TicWatch Pro 3 is an excellent choice for those seeking a smartwatch with versatile features and functions.
Its impressive battery life and highly-praised fitness and health capabilities make it a robust contender among other top-tier smartwatches available in the market.
Pros
Long battery life
Improved design
Excellent performance
Cons
Cons Sleep monitoring isn't exact
Low-cost strap
10.

Withing's Scan Watch Horizon
Withings ScanWatch Horizon Features
ELECTROCARDIOGRAM* — The watch and heart rate...
SLEEP TRACKING — Sleep tracker delivers a Score...
HEART RATE TRACKING — Track heart rate...
WRIST-BASED OXIMETRY — Provides on demand oxygen...
WATERPROOF watch - waterproof watch for swimming....
The Withings ScanWatch Horizon is an excellent choice for those who seek a health-focused smartwatch that combines advanced health-tracking capabilities with a classic watch design.
Its remarkable ECG and SpO2 sensors are noteworthy, and its prolonged battery life and water-resistant features make it an ideal option for daily wear.
Pros
Elegant style
Excellent battery life
Bands and brightness may be adjusted
Cons
It might be challenging to manage a small screen
There is no built-in GPS
Final Words
There you have the list of the best Apple Watch alternatives this year. I hope you guys have enjoyed reading the same. All of them are worthy of consideration, and you can pick any options to fulfill your needs.
Are you still waiting? Get this wearable now and elevate every moment.
Last update on 2023-09-23 / Affiliate links / Images from Amazon Product Advertising API