As augmented reality (AR) technology continues to rise in popularity, Samsung has positioned itself as a leader with its AR Zone app. 
But what exactly is the AR Zone app, and what can it offer? This article will review everything you need about the Samsung AR Zone app. 
This comprehensive guide caters to long-time Samsung users and those new to trending technology AR, from its features and capabilities to how to use it effectively. 
Get ready to discover the AR Zone app's exciting possibilities for you.
What is AR Zone App?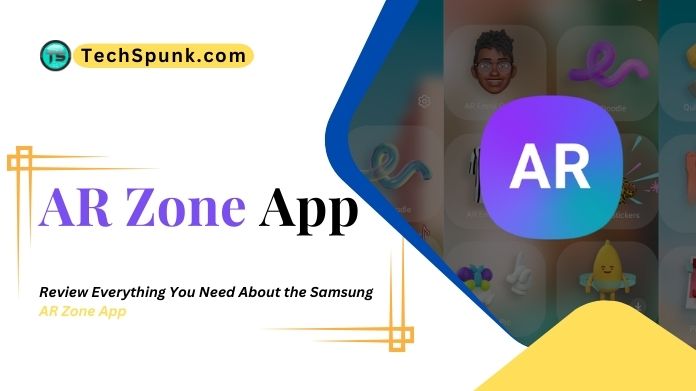 The AR Zone app, created by Samsung for their Galaxy smartphones, delivers an array of augmented reality (AR) experiences.
Through this app, users can access various AR features, such as AR Emoji, AR Doodle, AR Emoji Stickers, and AR Effects. 
The application uses the phone's advanced technologies, including its camera and sensors, to overlay digital elements onto the real world, providing users with an engaging and interactive experience. 
With AR Zone, people can fashion personalized AR avatars, annotate their environment, and apply AR effects to photographs and videos. 
Many Samsung Galaxy devices come with the AR Zone app pre-installed; alternatively, it can be downloaded from the Galaxy Store.
Before jumping forward, you can overview the ultimate methods to create an avatar from a photo. These methods will let you make an avatar for free and within little or no time.
How Does AR Zone App Work on Samsung Phone?
By harnessing the power of the phone's camera and advanced augmented reality technologies, the AR Zone app on Samsung phones generates a virtual layer that blends seamlessly with the real world. 
Digital objects like 3D models, stickers, and text are overlaid onto the camera's viewfinder, creating a captivating illusion of integration.
This great app boasts an array of features that leverage this technology, including AR Emoji, Quick Measure, AR Doodle, and Deco Pic.
Each feature presents its distinctive approach to utilizing augmented reality, enriching the user's experience in captivating ways.
What Are the Key Features of the AR Zone App?
The AR Zone app provides an array of functionalities that empower Samsung Galaxy smartphone users to create and appreciate augmented reality experiences. 
The AR Zone app has the following significant features:
1.

AR Emoji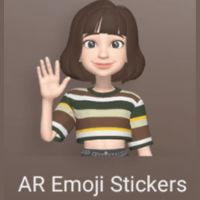 AR Emoji, found within the AR Zone app on Samsung Galaxy smartphones, empowers users to craft lifelike 3D avatars resembling their appearance.
The app analyzes the image by snapping a selfie to generate a precise 3D model of the user's face. 
Users can customize their hairstyle, clothing, accessories, and other features to personalize the avatar further.
These AR Emoji avatars become expressive tools in messaging apps like Facebook Messenger, WhatsApp, and Samsung Messages, allowing users to convey various emotions and reactions. 
Whether it's a heartfelt smile, a burst of laughter, or a witty response, AR Emoji adds an engaging touch to digital conversations.
2.

AR Doodle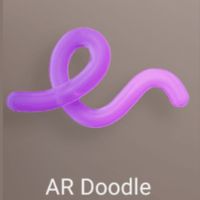 With AR Doodle, users can unleash their creativity by drawing and writing in the real world using their smartphone's camera.
This feature enables users to add interactive and fun doodles to their photos and videos, resulting in unique and personalized content. 
It offers a captivating and enjoyable experience, allowing users to explore the exciting possibilities of augmented reality while expressing their artistic side.
3.

Deco Pic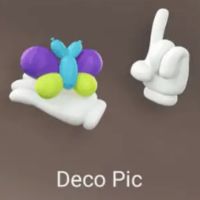 AR Zone Deco Pic empowers users to infuse photos with lovely, inventive decorations.
This allows users to access a diverse selection of stickers, frames, and other digital embellishments, enabling them to create unique and personalized content. 
For social media benefits, messaging, or any other purpose, it elevates the visual of photos & enhances the impact.
4.

Quick Measure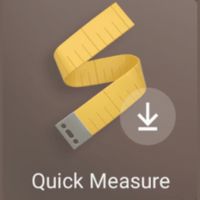 Quick Measure is a powerful and convenient tool that simplifies dimension measurement and calculation on your Samsung Galaxy smartphone.
It provides a practical and efficient solution for everyday tasks, enabling users to accomplish their goals quickly and easily.
5.

AR Zone Camera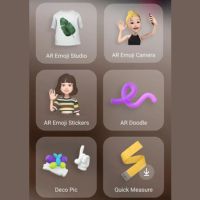 The AR Zone Camera grants users access to various features, including AR Emoji, AR Doodle, AR Effects, and Quick Measure.
It allows users to scan QR codes, triggering captivating AR experiences like 3D animations and interactive games.
It provides an enjoyable & immersive platform to delve into the vast possibilities of AR & unleash one's creative potential.
Can You Uninstall the AR Zone?
Regrettably, as the AR Zone application is a pre-installed system app, it cannot be deleted. 
Nevertheless, you can deactivate it, preventing it from appearing on-screen when utilizing the camera app.
To remove the AR Zone app, follow these steps:
Launch the 

AR Zone

 app.

Navigate the 

gear

 icon in the upper right-hand corner.

Find the option labeled "

Add AR Zone to Apps screen

" and turn it off.
When you do this, the app will virtually disappear but remain installed on your phone.
Click here to use the app or re-add it to your app page. 
Launch your phone's 

Camera.

Swipe to the 

MORE

 camera option.

Selecting 

AR Zone

 will launch the 

AR Zone App

.
Conclusion
The AR Zone app on Samsung phones is more than a fun camera extension. 
It brings augmented reality to your fingertips, allowing you to personalize photos and videos with AR features. 
From lifelike avatars to interactive doodles, it offers creative possibilities. Share your AR experiences in real-time and turn ordinary photos into extraordinary masterpieces. 
Unleash your imagination with the AR Zone app.