If you enjoy reading or have kids who do, you have probably heard of the Kindle Unlimited subscription and wondered what is Kindle Unlimited or whether it is worthwhile.
So, stick to our article to learn about what is Kindle Unlimited.
The Netflix of books is Kindle Unlimited. Even though the phrase is frequently used, it is accurate: the program offers unlimited access to vast information for a monthly fee. 
Although Amazon doesn't select the books for Kindle Unlimited, you can read reviews to learn what others think. 
While Nook and Kindle share a common objective where if you want to know Nook vs Kindle, just check out our latest post.
The cost of Kindle Unlimited is justified if you read many books. Here is all the information you require.
This TechSpunk article explains what is Kindle Unlimited, why you should think about it, and address all of your questions regarding the service.
Let's get started!!
What is Kindle Unlimited?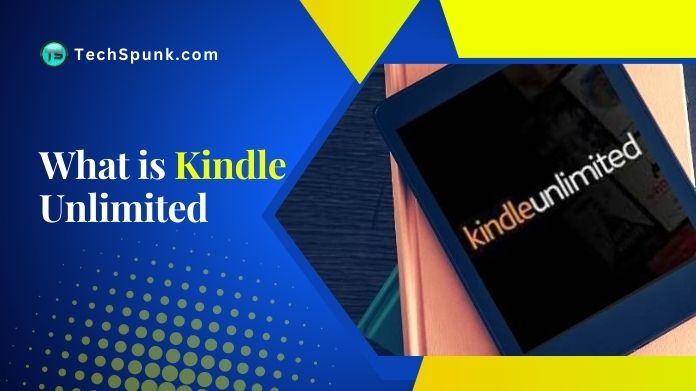 Kindle Unlimited subscribers can access millions of ebooks, periodicals, and audiobooks on their Amazon Kindle devices for a fixed monthly cost.
Only Kindle devices or the Amazon Kindle app allow access to the Kindle Unlimited library of books.
However, situations can arise where users must cancel their Amazon Music subscription, you can cancel Amazon Music subscription with simple steps.
The Amazon Kindle Store is available once you sign up for Kindle Unlimited. The site offers books in many different genres totaling more than a million. 
Numerous books are accessible from significant publishing firms, even though many consumers still equate Kindle Unlimited with independent publishers.
For example, Kindle Unlimited offers access to several Harry Potter volumes. If you browse through the Kindle Store, you can quickly tell which books are included in the program and which ones are not. 
On the right side of the book's cover, underneath the title, is lettering that says "$0.00 kindleunlimited."
The main benefit of Kindle Unlimited is that it enables customers to read various books and periodicals for a lower cost. You can choose from a variety of audiobook narrations as well. 
Thus, for $9.99 per month, you can read all the Kindle books you want without making multiple purchases in one month.
This is all about what is Kindle Unlimited exactly. If you are interested in the Kindle Unlimited then you can get it for free.
How to Get Kindle Unlimited for Free?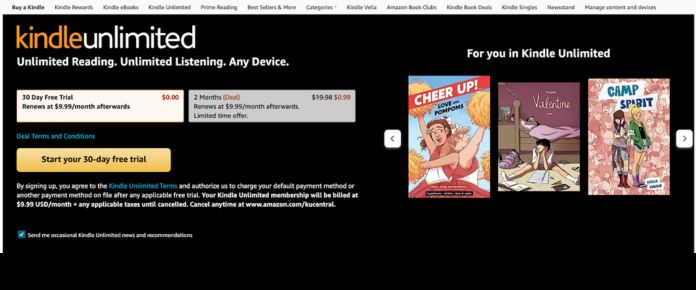 Here are the steps to get Kindle Unlimited for free. Just follow these steps and get it.
Step 1. You can review to see if you have a free trial on offer! On your Amazon dashboard, click on your Profile.
Step 2. Scroll down and click Kindle Unlimited.
Step 3. You will see one message since you don't have a Kindle Unlimited Subscription.
Step 4. Just click on "here," and you'll see on the next page if there's a free trial offer for you.
Now you will get what is Kindle Unlimited and how to get it. Now it's time to know that is it worth it for you or not.
So let's dive into the next section!!
Is Kindle Unlimited Worth It?
Amazon Prime subscribers cannot access Kindle Unlimited for free. Kindle Unlimited is a stand-alone service not part of Amazon Prime.
Even if you have Amazon Prime, the subscription charge for Kindle Unlimited must still be paid to access the membership.
Depending on what you need to read. You might find Kindle Unlimited to be worthwhile if:
You only read from a particular group of well-known (mass market) or classic authors, or you don't have specific reading requirements and are simply looking for enjoyable books to read. At home, you have enthusiastic readers who primarily use Kindles. If so, getting access to an extensive range of books for a set price is advantageous. 

To keep things interesting, Amazon also rotates its selection every few months. It's also fantastic that you have access to book narrations on audiobooks.
Frequently Asked Question
Q. Can I Share My Kindle Unlimited?
Ans. You can share your Kindle Unlimited titles with other Amazon Household members. So you can choose a family member to share a book with when you borrow it.
After that, they'll recommend the book to others. However, the borrowing procedure can only be overseen by one family member.
Q. Is Kindle Unlimited Free to Prime Members?
Ans. No, Prime members must be Kindle Unlimited subscribers to access the books in this collection. For Prime subscribers, Prime Reading is cost-free.
Q. What is the Difference Between Kindle and Kindle Unlimited?
Ans. The Kindle is a reading device developed by Amazon. There is also a Kindle app, which people can use on mobile phones and tablets.
Kindle Unlimited is a subscription that allows Kindle (app and device) users access to a library of specific books for a monthly or annual fee.
Q. Do Books Need to Be Returned to Kindle Unlimited?
Ans. It varies. If you've reached your borrowing limit, you must return Kindle Unlimited books after reading them.
Users may check out a maximum of 20 Kindle Unlimited titles at once. Once you've reached this cap, you must return one to get another one.
Final Note
Kindle Unlimited can be worth it for readers who consume many books each month, enjoy exploring different genres, and are open to discovering new authors. 
However, you may find the service limiting if you prefer reading specific bestsellers or require a broader selection of titles. 
Ultimately, evaluating your reading habits and preferences is essential to determine whether Kindle Unlimited offers the value and content you seek.
Happy Reading!!