Are you familiar with the Swiftle game? It's a recently popular game centered around the beloved American singer Taylor Swift. 
Sparsh Tyagi, a devoted fan of Taylor Swift, designed the game specifically for fellow Swifties. Combining Wordle and Heardle, the game challenges Taylor Swift fans to test their knowledge of her discography.
Discography is the analysis and cataloging of published sound recordings, frequently by particular musicians or within specific musical genres.
Using the best bluetooth ceiling speakers can be great for music lovers to listen to music at their favorite place.
The game relies entirely on Taylor Swift's songs and aims to test the knowledge of the singer's most dedicated fans through exploration or competition. 
In this article, you will get a detailed guide for Swiftle and how to play this Taylor Heardle game!
What is Swiftle?
Inspired by Heardle and Wordle, Swiftle is a delightful tribute to Taylor Swift. Although Taylordle, a word-based guessing game, was born out of the iconic game Wordle, it failed to satisfy Swifties worldwide fully.
Sparsh Tyagi, a software engineering student who also goes by the name Techyonic and is a self-proclaimed Swiftie, took matters into his own hands when he realized there was no music-based Taylor Swift Wordle available. 
He created Swiftle, a game that tests the knowledge of Taylor Swift fans worldwide. With Swift's incredibly dedicated fanbase known for streaming her music for hours, Swiftle is the ultimate challenge for any Taylor Swift enthusiast.
If you want to enjoy your favorite music with youtube videos, you can stream youtube videos on your phone. If you have a phone with a 3G network, you can stream YouTube videos too.
What is the Difference Between Swiftle, Heardle, and Wordle?
Headle and Wordle are among the popular games Swifties enjoy, but they differ in some ways from the newly launched Swiftle game. 
This section provides a brief explanation to help you understand the distinctions between these three games.
First, talk about Wordle, a crossword-based game on the official website. 
Also known as Taylordle, this game challenges players to guess a word associated with a Taylor Swift song within six attempts.
Let's move on from Wordle and talk about another game called Heardle. 
It's quite similar to Swiftle, where you listen to a short section of a Taylor Swift song and try to identify it in as few attempts as possible. The Heardle game for Swifties can be found on the official Heardle website.
Where to Play Swiftle?
If you're considering where to play the game now that you know it, this section will provide answers. 
If you lack a Smartphone to install the app, you can still play it online. Visit the Techyonic Swiftle official website, where you can find the game.
If you want to play online games, a few essential choices are finding like-minded people and making the most of your online gaming experience. 
Follow the mentioned steps below to launch the game on your web browser.
Open a web browser on your computer or mobile device.

Launch a search engine, such as 

Google

.

Google Techyonic or Swiftle to find out more.

To access the website, click on the first link.

Instead, you may open the Techyonic website by clicking on this link.

When you've opened the Site, click the Try Swiftle link to the game.
How to Play the Swiftle Game?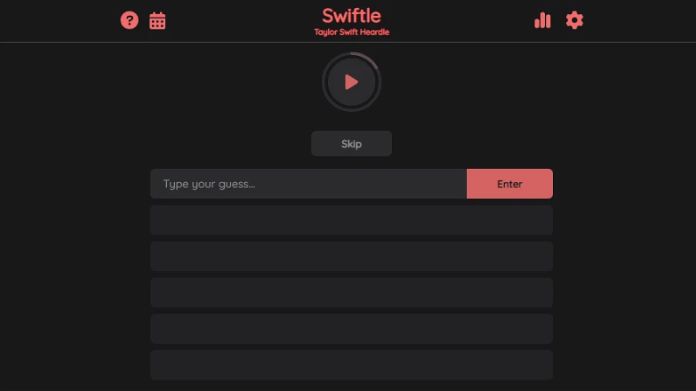 After visiting the website and opening the game, you still need to learn how to play it.
In such a case, follow the steps below for directions on playing the game.
To open the Game window, follow the instructions outlined above.

To open the game window, click on this link: Techyonic.

Now click on the Play Button at the top.

Listen carefully to the music and attempt to determine what it is.

After remembering, type the song's title into the box beneath the Play icon and press Enter.

If the answer is accurate, the box color will change to green; if the answer is incorrect, the box color will change to red.

You have up to six attempts to get it correctly.

If you accurately answer the album, the box will become yellow, indicating that you are 50% correct.

After entering the correct answer or wrongly guessing the answer six times, a Stats window will emerge on your screen, displaying all of your try information and streaks.
That's it. Follow the steps above and enjoy playing the game on your phone or Desktop. 
What Are the Rules in Swiftle?
It has no strict rules, making it an easy game that can be enjoyed by anyone, including Swifties and others who wish to test their skills in a fun way. 
Although being familiar with Taylor Swift's discography is beneficial, playing Swiftle might even introduce you to her music and convert you into a Swiftie. So, who knows?
Frequently Asked Questions
Q. What Are Taylor Swift Fans Called?
Ans. While supporters are called "Swifties," Taylor Swift's nicknames are considerably more diverse.
Q. What Does Yellow in Swiftle Mean?
Ans. The colors are similar to Wordle, but they are brighter and indicate the same thing, i.e., if the tile is grey, it means the letter does not exist in the word, yellow means it is in the wrong location, and green means it is appropriately put.
Final Take
This is all about the Taylor Swift Heardle Game, Swiftle. We hope our guide has helped you to start playing Swiftle, so you can easily play this game. 
Feel free to contact us anytime if you need our guidance to understand the process better. We will make every action to respond promptly and assist you.