Are you struggling with the question of how can I stream Youtube on 3G network even in 2023, when the world is gradually shifting to a 5G network? If yes, then welcome; you are in the right place. This article has a robust solution.
Do you still use a 3G connection phone, or do you know someone who does? It is estimated that around 8 to 10 million people are still using a phone that runs on 3G connectivity.
Including many adults and those who do not like to switch to the more advanced phones of recent times.
Regardless, we have a solution for your query: Can I stream YouTube on 3G network or not? This blog consists of all the possible ways to stream YouTube on a 3G network.
Follow the TechSpunk blog, and by the end, you will be streaming your favorite YouTube video on your phone with a 3G network. Also, you can download YouTube videos after reading our guide.
Do People Still Stream YouTube on 3G Network?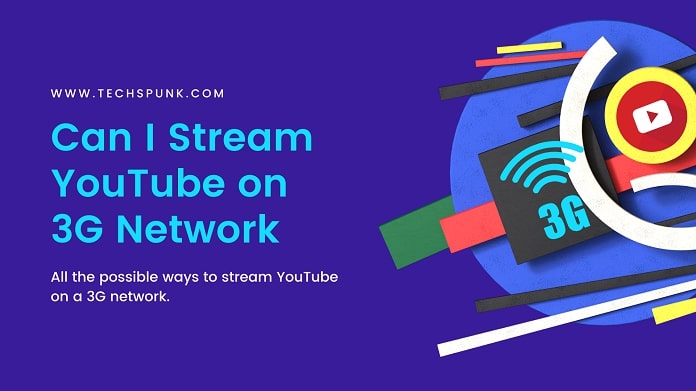 Yes, YouTube is available on all devices; the only criteria is that your device should have an internet connection.
You won't get access to play full HD quality videos, and the 3G network only supports videos of lesser quality than HD. So if you want to stream YouTube videos on 3G devices, you can only compromise the quality.
If you are the part of those people who love to consume video content, then YouTube is an excellent place for you.
It depends on the user what kind of content they want, whether entertainment, fun or educational.
In recent years, YouTube has had massive growth. These days, you can learn any skill on YouTube for free. All you need to have is curiosity and passion for learning.
Can I Stream YouTube on 3G in 2023?
The answer is yes, you can. YouTube allows its users to stream videos on 3G in high quality. If you have a phone with 3G connectivity, you can stream YouTube on your phone.
The videos will not be as good as the other networks, but you will be able to watch videos easily. You can browse video content through the YouTube application on a 3G network.
How Can I Stream YouTube on 3G?
We just discovered how Android and iPhone/iOS users upload their streams on YouTube via 3G.
For Android Users
You need to follow the below-mentioned steps for streaming Youtube on 3G:
Create a Gmail account on the device to download the YouTube app from Google Play Store.
Once you have downloaded the YouTube app, please search for the video you want to watch and click on it.
As the 3G network is a bit outdated, chances are that you may face some connectivity issues, and it may take time to load the video, so you have to look for a place where connectivity is vital.
If your videos buffer while watching, try restarting it, pausing it for a while, and playing again. This way, you can stream YouTube on any 3G device.
For iPhone Users
Now, for iPhone users who think that can I stream YouTube on 3G if I have an iPhone, we have a solution for them too.
Go to the Safari web browser on your iPhone, and type "m.youtube.com" in the search. Click on it.
Search for the video you want to watch and hit on play when the result appears.
Click on the HQ and select the highest available quality.
Now you have a web version of YouTube on your browser, similar to what you use on your Laptop.
If you are using the web version of YouTube on your iPhone, it is estimated to run your videos much faster and with minimal buffering; plus, you can also play it in the background.
Final Thoughts
So we are at the end of the blog; hopefully, you have read it all and found the answer; can I stream YouTube on 3G?
We have shared the solution for both the android and iOS operating systems, so whatever device you have, follow the instructions mentioned in the article and stream YouTube videos successfully.