How to get voice chat on Roblox? This article has stored convenient ways to do so in seconds!
There's no need to say that Roblox is a gaming paradise for players around the globe. But it is more than just an app for playing and creating games.
If you are new to Roblox, you can check our step-by-step guide to download and install the Roblox game.
Roblox is not just a gaming platform. It's a place to socialize, build your identity, execute your unique ideas to create amazing games, and even earn and spend virtual money. 
That's why Roblox games are known as "experiences" that allow a player to have their standing in the boundless gaming universe.
One of the most exciting benefits Roblox offers is it lets players socialize inside the vast gaming community. Through in-game chatting, you can easily connect to several other Roblox players.
With that playing, Roblox can morph their avatars into horrifying creatures' skin to Slender. You can get detail on what are Roblox Slenders actually through our post.
And the soundest part is you no longer have to indulge in typing your texts to communicate with others while playing your game. It can be done with voice chats.
If you must learn how to get voice chat on Roblox mobile and PC, keep reading this blog post.
What is Voice Chat on Roblox?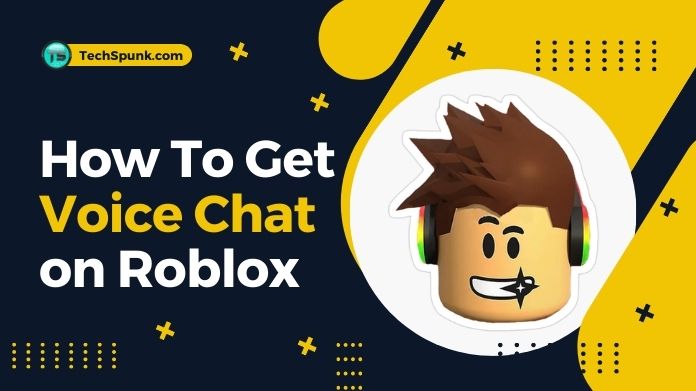 Voice chatting is the latest feature in Roblox that allows users to chat by sending voice messages instead of texting.
It is a Roblox initiative to let its players engage in conversations in the virtual gaming world just as they communicate in the physical world.
While MK is a popular slang in Roblox which allows players to communicate with each other easily. To know what does MK mean in Roblox, read our article.
Although voice chatting is nothing new, incorporating it on a gaming platform is something no gaming app has ever initiated. 
So, Roblox can be called a pioneer in this area. However, there are a few requirements to use voice chat on Roblox. 
So, before knowing how to get voice chat in Roblox, let's first find out about the requirements.
What Are the Requirements to Use Roblox Voice Chat?
There are a few requirements every player needs to know before using the voice chatting feature on Roblox. 
Take a look!!
1.

You Must Have a Verified Email ID and Phone Number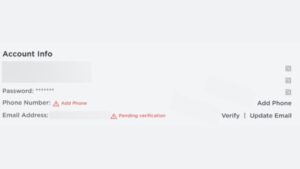 Verifying your email id and phone number is optional to know how to get voice chat on Roblox.
Although, it can be helpful in the case of offensive texts or messages. 
To verify your phone number and email id, visit the Settings options and click on Account Info. 
Under that menu, you will notice dedicated slots for phone numbers and email IDs. 
Provide the correct credentials and then hit the Add or Verify button on the boxes' side.
2.

You Need to Be Age Verified on Roblox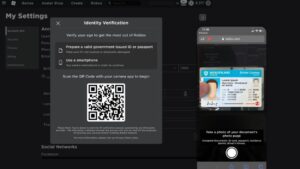 Before getting started on how to get voice chat on Roblox, verifying your age on this gaming platform is mandatory. 
Roblox is deadly serious about its content restrictions. So, the voice chat feature is currently age-locked to prevent abuse. 
Therefore, to use Voice Chat, you must prove you are at least 13. 
To verify your age on Roblox, you will need a government-issued photo id and a smartphone with a QR code scanner.
3.

You Need to Be Over 13 Years Old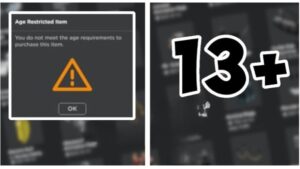 There are valid reasons why Roblox requires age verification before accessing certain content.
Because not all games are suitable for every age on the platform and, therefore, should not be accessible to teenagers. 
So if you're under thirteen and use someone else's ID to cheat the verification process, don't proceed and wait until you're of legal age to use the voice chat on Roblox.
How to Get Voice Chat on Roblox Mobile?
As mentioned, users must verify their age to use Roblox's latest voice chat feature. 
So, here are the steps to know how to get voice chat on Roblox mobile.
Step 1. Open the Roblox app.
Step 2. Hit the Menu button, the three dots at the page's bottom right corner.
Step 3. Then, visit Settings. Find the Account Info section on Settings and click on it.
Step 4. Now you must fill in the details about your date, month, and birth year and then hit Verify My Age.
Step 5. Then, you need to follow the process to verify yours before starting with how to get voice chat on Roblox mobile.
You must have a proper form of identification and take a selfie to confirm your identity against your ID.
If your information has been appropriately approved, your account will be verified within minutes of submission.
Step 6. After you verify your age, it's time to get the voice chatting feature on Roblox. For that, you must go to Settings again.
Step 7. Hit Privacy and then toggle the option named Enable Voice Chat.
That's it. You have now enabled the voice chat on Roblox mobile.
How to Get Voice Chat on Roblox PC?
To get voice chat on Roblox on your PC, follow the steps below.
Step 1. Open Roblox on your PC and sign up for your account.
Step 2. Then go to Account Settings.
Step 3. Now, click on Verify My Age. To confirm your age on Roblox, you need access to your phone's camera using the Roblox app.
Some users take photos of their ID card, passport, or driver's license, and Roblox's image processor processes it for verification.
Once the scan is finished, you will be asked to take a picture and to judge "liveliness" and "similarity." Images from the photo library are not allowed due to their increasingly static nature.
Step 4. After your age verification is successful, visit the Privacy Settings options.
Step 5. Now, enable the Voice to chat on Roblox.
Step 6. Then, confirm the change of the Toggle color. Enable the voice chat heading.
You'll see a small button below the beta feature title. Click that button to enable voice chat and change the color of the button from gray to green.
Xbox doesn't currently have steps to turn off voice chat. So, it must be turned on or off using the Roblox app or website.
Frequently Asked Questions
Q. Should I Show My ID Card to Verify My Age on Roblox?
Ans. Yes. It's necessary to present any of your verified photo IDs to prove your age on Roblox.
Q. Can I Use Voice Chat on Roblox if I'm Not 13?
Ans. Users below 13 are not allowed to use the voice chat feature on Roblox.
Q. Can I Get Voice Chat on Roblox Mobile?
Ans. Yes, you can easily enable voice chat on Roblox mobile if you are above 13 years old and verify your age with the correct documents.
Final Take
Here is my take on simplifying the process of how to get voice chat on Roblox mobile and PC with some easy-breezy steps. 
Once you enable the voice chat on Roblox, there's no turning back, as you will fall in love with the convenience of this recent feature. 
So, follow all these steps correctly and keep your photo ID proof handy while enabling voice chat on Roblox.