Wish to download RobloxPlayer.exe and wondering where to start from? Continue scrolling the page and get a detailed insight into the step-by-step procedure here.
Roblox is a fun game for all ages and fascinates gamers across the world. This game is integrated with a simple user interface.
Even a non-specialist person can access the same without seeking any help. But what exactly creates trouble is the installation of the executable file, which might take some time.
Confused and thinking about how to get this file on your PC? Worry not and keep on reading to make yourself aware of the necessary details.
You can get Facetime on your computer with the help of our Facetime for PC guide.
Without further ado, let's get started!!
What is RobloxPlayer.exe?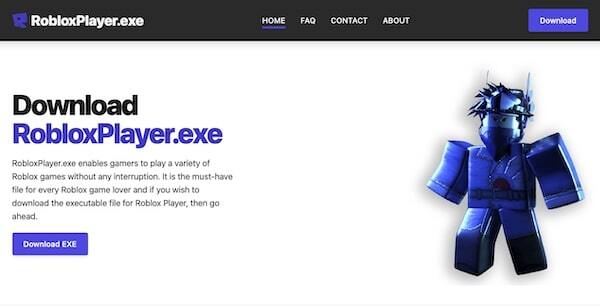 While installing the game, have you ever get encountered a file name, RobloxPlayer.exe? Do you know what it is and why it is essential to download?
Let me resolve all the queries that are triggering your mind. First of all, this is an executable file which is developed and created by Roblox Corporation.
The size of this file is usually about 43.25MB. The .exe extension indicates that it is an executable file.
It enables the players to enjoy a variety of Roblox games without any hindrance or interruption.
Keep in mind that it is the must-have file for every Roblox gamer, without which they cannot access any of the games.
Make sure to download the RobloxPlayer.exe file from a reliable source to protect your system and maintain your data integrity.
There is no need to worry about it as the RobloxPlayer.exe file doesn't contain any malicious program that can harm your PC and is safe to download.
System Requirements
Before jumping to the downloading process, it is essential to know about the system requirements for this executable file.
A good internet connection with a minimum of 4-8MB/second is mandatory to enjoy a seamless experience. It assures the automatic update of the executable file and thus saves your time and effort.
RobloxPlayer.exe is compatible with a laptop that features an integrated video card and is less than 3 years old and a PC with a dedicated video card and is less than 5 years old.
It works better with a processor that has a speed of 1.6GHz or above.
Gamers must have macOS 10.11 (El Captain) and above to install this executable file.
System memory of at least 1GB is required.
For Windows 8/ 8.1, one must run this file in desktop mode on Windows PC as it doesn't support the metro mode.
It is compatible with Windows 7, Windows 8/ 8.1, and Windows 10. Also, while using Windows, running IE Version 11 or higher is needed.
How to Get Free RobloxPlayer.exe to Play Roblox?
RobloxPlayer.exe is available for both Windows and macOS; however, their installation procedure is slightly different.
Therefore, carry out the below-mentioned process step by step and get it done right.
Before going ahead, you need to know Roblox locks your frame per second cap at 60 FPS, and that's the reason behind the lagging of Roblox gaming.
Don't worry about that because TechSpunk helps you complete a step-by-step guide to unlocking your FPS cap from 60 FPS to 200 FPS.
Check out the complete guide of Roblox FPS unlocker to unlock your FPS cap for a smooth gaming experience.
To download the RobloxPlayer.exe file, you need to open the web browser of your choice and enter the URL https://robloxplayerexe.net in the search engine.
Now, on the homepage, you will find the "Download .exe" button. Tap on the same to proceed further.
A new page will open where this executable file is available. You need to click on the 'Download Latest Version' button.
As soon as you hit the button, another window will appear on the screen, which may take around 7 to 8 seconds to detect your operating system.
Once it is done, the RobloxPlayer.exe file will start downloading automatically.
Please wait for few seconds until the process gets finished.
You can then quickly locate the file in the dedicated folder.
How to Install RobloxPlayer.exe in Windows?
To install this executable file on the system with Windows, follow the instructions mentioned here step by step.
Click to download the latest version of this file, depending on your operating system.
In this step, you need to open the launcher file named RobloxPlayerLauncher.exe and carefully follow the on-screen instructions.
Please wait for a while until it gets installed on your system. After that, return to the Roblox official website and select any of your favorite games to play.
Make sure the file is correctly installed on the PC without any bug for a seamless gaming experience.
How to Install RobloxPlayer.exe in macOS?
Here is given the step-by-step guide to install RobloxPlayer.exe in macOS hassle-free. Let's have a look.
Check your operating system and get the latest version of this executable to avoid any further hiccup.
Now, open the RobloxPlayerLauncher.dmg.
As soon as you click the same, a pop-up window with particular instructions will appear on the screen. Read the instructions very carefully before jumping into the installation process.
Click to install the file, and it may take few minutes to complete.
Once you are done with this, go back to the Roblox official URL and select your favorite game to play.
Simple, isn't it?
A step-by-step guide to Play Roblox Games After Installing RobloxPlayer.exe
So, finally, you have installed the RobloxPlayer.exe file on your system and are now looking to play your favorite game.
Well, in that case, you are required to follow the steps mentioned here.
Once you are done with the installation part, head back to the official link of the Roblox website.
After that, log into your account by adding the necessary credentials such as username and password.
Now, select the game you want to play, and you are all set to indulge in a hassle-free gaming experience.
Quick Comparison Between RobloxPlayer.exe vs. RobloxStudioLauncher.exe
Launched by Roblox Corporation, both RobloxPlayer.exe and RobloxStudioLauncher.exe are executable and malware-free files to install on your system.
These are needed to enjoy a fuss-free gaming experience and will be downloaded automatically with the game.
However, there are specific differences between these files that one must know before initiating the downloading process.
So let's have a look.
Size of the file
The first difference between RobloxPlayer.exe and RobloxStudioLauncher.exe lies in their size.
The maximum size of the former is about 43.25MB, while the latter is approximately 64.09MB in size.
Type of Program
RobloxPlayer.exe is part of the Roblox Player program, while the second executable file, i.e., RobloxStudioLauncher.exe, is a part of the Roblox Studio Program.
Path
The third and major difference between these two files is their path.
RobloxStudioLauncher.exe generally runs in C:\Program Files\roblox\versions\version-012732894899482c\robloxstudiolauncher.exe.
While RobloxPlayer.exe runs in C:\Program Files\roblox\versions\version-3ebe0cca16b6421c\robloxplayerlauncher.exe.
Compatibility
RobloxPlayer.exe is only compatible with Windows 7, Windows 8/ 8.1, and Windows 10; however, RobloxStudioLauncher can quickly work with a wide range of operating systems Windows 2000, Windows ME, Windows XP, Windows Vista, Windows 7, Windows8/ 8.1, and Windows 10.
Our Thoughts
So, here is all about this executable file. I hope you guys enjoyed reading the same!! Are you tired of trying different methods to play Roblox games and hunting for a stress-free solution?
Look no further and get RobloxPlayer.exe installed on your system right away and enjoy a flawless gaming experience. For more queries, feel free to connect with us on the contact page.
We would love to hear from you!!