Are you trying digital detox and want to know how to delete or deactivate Instagram account within minutes? You will find the correct guidance in this article.
In today's time, most of us spend significant time on Instagram. Either we engage on Instagram for marketing or building our brand, or just for entertainment.
However, more often than not, the unhealthy social media addiction kicks in, and we end up in the dungeon of empty scrolling without even realizing it.
But, as soon as you realize you are draining away precious time on social media instead of doing something productive, you must opt for a social media benefits detox.
If you are wondering whether you should delete or deactivate your Instagram account and how to do so, read this article until the end to know everything you want.
Without any further ado, let's get started.
What Should You Do to Delete or Deactivate Instagram Account?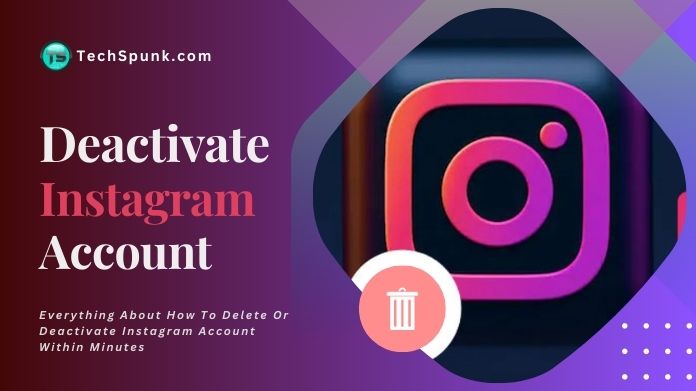 If it's time to take a break from Instagram, you have two options: delete or deactivate your account.
There lies a significant difference between deleting and deactivating your Instagram account.
Deleting your Instagram account means letting go of your entire account data, followers, reels, stories, bio, interactions, posts, etc.
But on the other hand, deactivating your Instagram account will hide comments, likes, all photos, videos, follower count, and further details. 
Temporarily deactivating your account means no one can see your profile, but you can still access private messages.
That's why most people like to deactivate Instagram accounts. By deactivating your Instagram account, you are temporarily banning your account. 
If you have multiple Instagram accounts, you can deactivate them by managing various Instagram accounts.
This does not permanently remove your account from Instagram servers. However, your account will not be visible for the time being.
Whereas if you are looking for how to fix the Instagram messenger update not showing error. You can check our recent post.
What Does Deactivate Instagram Account Mean?
Your Instagram account will never get permanently deleted if you deactivate Instagram account.
If you deactivate your Instagram account, the following things will happen.
You can 

sign in

 to your account at any time.

Log back

 into your account, and your posts and stories will be restored.

It does 

not affect followers

 and the 

following

 count.

All the previous views of roles and videos 

remain intact

.

No one can see your profile (including your followers).

Comments on photos will 

not be deleted

.
How to Deactivate Instagram Account in Minutes?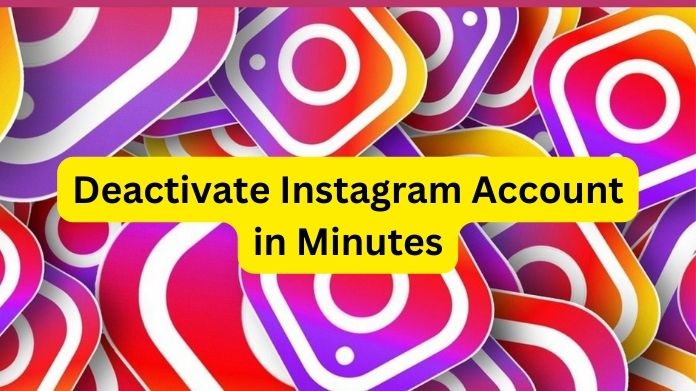 Here are all the steps you need to do to deactivate your Instagram account temporarily.
Step 1. Open the Instagram App on your device and visit your Profile section.
Step 2. Then, click on the three horizontal lines at the screen's top.
Step 3. Now, select Settings and then click on Account.
Step 4. Then, please scroll down to the bottom of the list to look for the Delete Account option and click on it.
Step 5. Select the Deactivate Account option to temporarily deactivate your Instagram profile instead of deleting it permanently.
Step 6. Then you need to enter the reason you want to deactivate your Instagram account.
Step 7. Select the one reason that you think to be suitable. You don't need to worry, as these reasons will not affect your account performance in the future whenever you reactivate it.
Step 8. Now, re-enter the account password to confirm your identity and proceed with the deactivation.
Step 9. Finally, click on Temporarily Deactivate Instagram Account, and you're done!
Things to Remember Before Deleting Your Instagram Account
If you even want to delete your Instagram account, you need to remember certain things before doing so.
Once you click the delete button, your Instagram account will no longer be public. However, it has a 30-days window to get your account back in case you change your mind. 
If you ever want to return to Instagram within 30 days, log back in with your username and password to regain access to your profile.
Instagram permanently deletes all account data 30 days after a deletion request. The account cannot be used or recovered. 
For this reason, I recommend saving your photos, videos, archived posts, DM exchanges, and other relevant information from Instagram before deleting your account on your Android or iOS.
How to Delete Instagram Account Permanently?
If you choose to permanently delete your account rather than temporarily deactivate Instagram account, here are the steps you need to follow.
Step 1. Instagram offers a dedicated page to delete accounts. So, visit that dedicated page to delete Instagram account.
Step 2. Log in and select the reason why you want to delete your account.
Step 3. Then enter your login password again.
Step 4. Finally, click on the Delete option.
Final Thoughts
It's hard to decide if you want to take a break from social media. But it would help if you focused on why you opt for a digital detox without concentrating on the things you will miss out on. 
I recommend you deactivate Instagram account instead of deleting it permanently. 
In that way, you can join your Instagram community back whenever you feel like it, as your account will never get deleted permanently.