Concerned about break-ins and theft? Seeking a lasting solution to safeguard your property? Look no further!
Invest in the finest surveillance camera available and ensure comprehensive protection for your home, inside and out.
In today's ever-changing world, ensuring our homes' and properties' safety and security has become paramount.
Rapid technological advancements have evolved surveillance cameras to provide robust solutions for monitoring, deterring potential threats, and granting peace of mind.
Also, you can use dummy cameras if you cannot afford surveillance cameras to fool the intruders.
Whether you're a homeowner, business owner, or someone seeking to enhance security, investing in the right surveillance camera has become crucial.
The abundance of options can make it feel daunting to find the perfect match for the camera system you have in mind.
If you are eagerly looking for a security camera but feeling overwhelmed by the mind-boggling array of options, fret not, as we're here to help.
Our team of experts has extensively tested numerous surveillance cameras and distilled their findings into the carefully curated list below.
Let's dive right in!!
Top 10 Best Surveillance Camera Systems to Use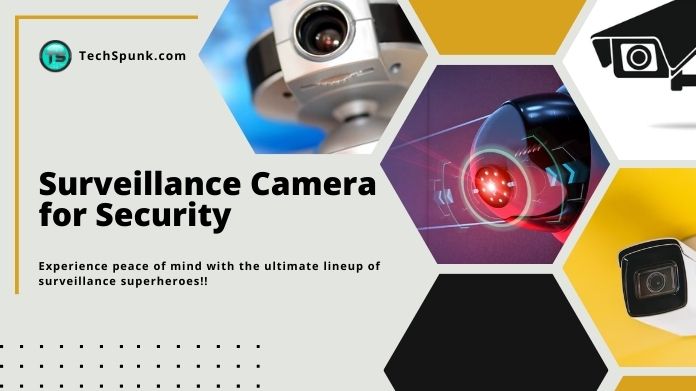 Embark on a journey toward heightened security and peace of mind as we present a handpicked selection of top-notch surveillance cameras.
As you browse our list, you will discover the 10 best safety surveillance cameras, accompanied by a comprehensive buying guide to assist you in making an informed decision.
Our guide will empower you with the knowledge and insights necessary to safeguard your property effectively.
Also, after selecting the perfect camera for you, there is no need for any professional expertise to install a surveillance camera system; you can do it on your own after reading our article on security camera installation.
So, let's explore the world of surveillance technology and discover the best options to meet your security needs.
1.

WYZE Cam V3

Sale
WYZE Cam V3 Features
Color night vision: An all-new Starlight Sensor...
Indoor/Outdoor: Wyze Cam v3 is a wired video...
Motion & Sound detection: Wyze Cam records video...
24/7 Continuous Recording: Continuous video...
IFTTT certified connect all of your different apps...
The WYZE Cam V3, an indoor/outdoor camera with Wi-Fi connectivity, is specifically created for home security and monitoring purposes.
It represents the latest iteration of the WYZE Cam line-up, boasting numerous enhancements and additions compared to its predecessors.
This versatile and cost-effective device is a desirable choice for household surveillance, with added functionalities that elevate it above previous iterations of the WYZE Cam.
Pros
Affordable price
Powerful color night vision
Indoor and outdoor capabilities
Free cloud storage
Motion tracking
Cons
Glitchy sound quality
Wired power cord
2.

REOLINK 2K Security Camera

Sale
REOLINK 2K Security Camera Features
100% WIRE-FREE SOLAR POWERED: Easy installation...
DUAL-BAND WIFI: By freely switching between 2.4...
2K SUPER HD AND ALL-ROUND VIEW: With 2560 x 1440...
SMART DETECTION & INSTANT ALERTS: Get fewer false...
RECORD WITH NO SUBSCRIPTION FEE: Stand-Alone with...
The REOLINK 2K Security Camera offers comparable performance to the Arlo Pro 4 but at a significantly lower price, making it a clear frontrunner in our list of the best home security cameras.
Despite Reolink's cloud storage not reaching the same level as Arlo and Ring, its inclusion of a microSD card slot provide an advantage in local storage capabilities.
With Reolink, there's no need for a paid subscription to store your video footage, giving you more control and flexibility over your security setup.
Pros
Affordable
Excellent video quality
Bright spotlight
MicroSD video storage
3.

Zmodo 1080p 2nd Generation
Zmodo 1080p 2nd Gen Features
Read before purchase: The product ships with all...
This is not a wireless camera nor a standalone...
Weatherproof, IR Range: Night visibility up to 20m...
Funlux/Zmodo - Compatible with Zmodo/Funlux 1080p...
Please contact us before purchase if you have any...
A dependable and reasonably priced choice for household security, the Zmodo 1080p 2nd Generation surveillance camera is purpose-built for home surveillance.
This indoor security camera has Wi-Fi connectivity, enabling high-definition video and features such as motion detection, night vision, two-way audio, and remote access through the Zmodo app.
These aspects combine to create an all-encompassing solution for round-the-clock monitoring of your residence.
Pros
The full line-up of camera options
Simple DIY setup
Easy to use
High-definition resolution
Motion detection and alerts
Cons
Cheap design
flimsy construction
4.

Ring Spotlight Cam

Sale
Ring Spotlight Cam Features
Connect your Ring camera with Alexa then enable...
Lets you see, hear and speak to visitors from your...
Powered by the quick-release rechargeable battery...
With a Ring Protect Plan (subscription sold...
Monitors your home in 1080HD video with infrared...
The Ring Spotlight combines home surveillance and outdoor lighting into a comprehensive solution.
As a member of the Ring line-up of innovative home security products, it provides a range of features to ensure the safety of your home.
With high-definition video, motion detection, night vision, two-way audio, and convenient remote access via the Ring app, it offers versatility and reliability for your home security needs.
Pros
Battery, wired, or solar power options
Built-in motion light Voice control with Alexa
Loud siren
Cons
Limited battery life
High cost
5.

Arlo Pro 3 Floodlight Camera

Sale
Arlo Pro 3 Floodlight Cam Features
Security at its brightest - The motion sensor...
Zoom in to see sharp details with your home...
Never miss a thing with a wider view - The outdoor...
Smarter alerts, quicker action - The security...
Coverage from every corner - Fast, wire-free...
The Arlo Pro 3 Floodlight Camera is a one-stop solution for outdoor security, boasting an array of powerful surveillance features and integrated floodlights.
This surveillance camera captures high-quality video, supports color night vision, facilitates motion detection, allows two-way audio communication, and offers flexible storage options.
These capabilities work together to enhance your ability to monitor and safeguard your home effectively.
Pros
100% wireless, can be installed anywhere
No long-term contracts required
Offers a wide range of camera options
Indoor/outdoor durability
6.

Google Nest Security Cam

Sale
Google Nest Cam Features
Nest Cam has built-in intelligence and can tell...
Easily check in from anywhere 24/7 with 1080p HDR...
If your Wi-Fi goes down, Nest Cam will store up to...
Nest Cam has built-in intelligence and can tell...
Easily check in from anywhere 24/7 with 1080p HDR...
Making our list for its crisp image resolution and forward-thinking smart home design, the Google Nest Cam is one of the pricier stand-alone security surveillance cameras for home use.
With an impressive 6x digital zoom capability and a wide 130° field of view, this intelligent surveillance camera offers an enhanced surveillance experience.
Its seamless integration with Google Assistant and the entire Nest home automation suite sets it apart.
Pros
Smart features like facial recognition
Compatible with Z-Wave technology
Great video quality
Best Quality design and aesthetic
7.

Eufy Cam 2 Pro

Sale
Eufy Cam 2 Pro Features
Forever Power, Solar Style: Sunlight each day is...
Light Up the Night: The ultra-bright 600-lumen...
360° Pan and Tilt Camera Coverage: Pan the lens...
Smart lighting with 3 Tunable Light Panels:...
No Hidden Costs: SoloCam is a one-time purchase....
The Eufy Cam 2 Pro offers a dependable and user-friendly solution for outdoor home surveillance.
Its high-definition video, extended battery life, motion detection, night vision, and versatile storage options provide an efficient method of monitoring and safeguarding your property.
As a member of the Eufy Security line-up, it incorporates various features to bolster your security and ensure peace of mind.
Pros
Extended battery life
Excellent night vision
Local and cloud storage options
Easy installation
Advanced motion detection
Cons
Limited onboard storage
Narrow field of view
8.

Blink Outdoor (3rd Gen)
Blink Outdoor 3rd Gen Features
Blink Outdoor is a wireless battery-powered HD...
With long-lasting battery life, Outdoor runs for...
Store video clips and photos in the cloud with the...
Outdoor is built to withstand the elements to help...
Designed so you can set up yourself in minutes. No...
The Blink Outdoor (3rd Gen) offers a dependable and user-friendly answer for outdoor home surveillance, incorporating high-definition video, advanced motion detection, night vision, and versatile storage options.
This camera encompasses a variety of features that enhance security and provide peace of mind, ensuring an efficient and effective means of monitoring and safeguarding your property.
Pros
Wireless and Easy Installation
Weather-Resistant Design
Clear Video Quality
Long Battery Life
Cons
Limited Field of View
No Continuous Recording
9.

Eve Outdoor Cam
Eve Outdoor Cam Features
Eve Outdoor Cam requires iPhone or iPad with the...
Keep a close eye on your home around the clock,...
Protect your privacy – Eve Outdoor Cam is...
10-day recording history – capture any motion or...
Powerful, dimmable floodlight with light boost and...
The Eve Outdoor Cam is the pioneering outdoor surveillance camera that integrates a floodlight and supports HomeKit.
Leveraging the capabilities of HomeKit, this surveillance camera offers comprehensive object detection and activity zones, empowering users to define specific areas within the camera's field of view, effectively reducing unnecessary alerts.
Pros
Bright floodlight
Smart motion alerts
Works with Apple HomeKit devices
Cons
Expensive
Requires Apple TV or HomePod for remote access
10.

Reolink 8MP 4K PTZ PoE Camera

Sale
The Reolink 8MP 4K PTZ PoE Camera offers a robust and adaptable solution to meet advanced surveillance requirements.
Equipped with high-resolution video, motorized PTZ capabilities, advanced motion detection, night vision, and versatile storage options, this camera delivers comprehensive monitoring and control, elevating your security measures.
Its ability to cover a wide area and zoom in to capture critical details empowers you with enhanced visibility and precision in surveillance.
Pros
Weatherproof Design
Power over Ethernet (POV)
Motorized PTZ Functionality
High Resolution
Cons
Requires NVR or PoE Switch Requires Professional Installation
Over To You!!
So, there you have the list of the 10 best surveillance cameras to buy. I hope you've enjoyed reading the same and find it informational.
While all the cameras on the list are commendable, the Waze Cam V3 Security Camera System stands out. It provides excellent features that cater to your needs and is affordable.
Say goodbye to confusion and uncertainty, and let's choose one of the ideal surveillance cameras that meets your needs.
Last update on 2023-06-05 / Affiliate links / Images from Amazon Product Advertising API