Have you been trying to find the best action camera? Whether you're an adventure seeker or not, I'm sure you have a good reason to buy it.
There are a ton of quality action cameras on the market right now. But which one will be the best for you and your specific needs?
It is daunting to determine which camera has the best quality, which frames per second are the best, how much battery backup it gives, and many more to suit your needs.
You can quickly create a transparent background from any picture, so choose your background remover from TechSpunk's blog.
As someone says:
Capturing the Moments That Captivate Your Heart!
In this TechSpunk guide, we will check out the five best action cameras available right now. We made this list based on build quality, resolution, price, etc.
From there, you will know whether the product is for you. With that in mind, let's go through one of the best action cameras!
With the step-by-step guide, you can also check our easy ways to make passport-size photos in PhotoShop.
Top 5 Best Action Cameras to Buy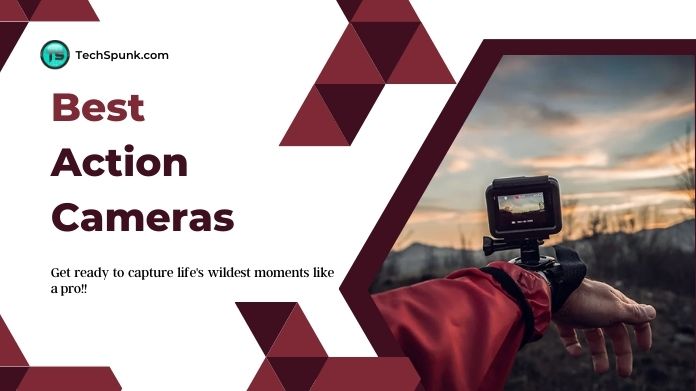 We've mentioned the list of cameras in the Low to High-cost segment according to their price and specifications.
1.

GoPro Hero11 Black

Sale
GoPro HERO11 Black Features
Revolutionary New Image Sensor: expansive field of...
Unbelievable Image Quality: With 5.3K video that...
High-Res Photos + Videos, High Frame Rate: HERO11...
Emmy Award- Winning HyperSmooth Stabilization:...
What's Included: HERO11 Black Camera, Enduro...
GoPro HERO11 Black is our overall best action camera. It records an amazing 5.3K60 video, while others struggle with capturing quality 4k.
The latest GoPro Hero 11 Black sits at the top. You can also shoot pro-quality 27-megapixel photos with vivid colors and sharp details.
It has a front-facing screen to frame your shots. Also, you'll be able to capture incredible details by shooting a 5.3K video.
For adrenaline junkies, the hyper-smooth boost is GoPro's most substantial stabilization that gives you the best quality footage. Also, for a better experience, you can add your voice to the footage using GoPro microphones.
It provides astonishing smooth footage, and the eight times slow-mo makes it look epic.
Additionally, it contains HERO11 Black Camera, Enduro Battery, Carrying Case, Curved Adhesive Mount, Mounting Buckle + Thumb Screw, and USB-C Cable.
Pros
Great-looking 5.3K60 video 4K120 and 2.7K240 slow-motion
Numerous time-lapse modes
Waterproof to 33 feet
Cons
Not ideal for long-form recording or macro work
Limited battery backup
The latest iteration, the Hero11 Black, maintains the same body design as its two immediate predecessors, first appearing in the Hero9 model but incorporating several notable updates and enhancements.
2.

Akaso Brave 8
Akaso Brave 8 Features
More Superior Photography Experience: AKASO Brave...
Waterproof & Dual Color Screens: IPX8 waterproof...
SuperSmooth Stabilization & Ultimate Shooting...
Flexible Multi-view Switching: AKASO Brave 8...
Wireless Visual Remote Control & Multifunctional...
Akaso Brave 8 is our first budget best action camera for adventure seekers, content creators, and vloggers looking for a cheaper alternative to GoPro.
Akaso Brave 8 is an excellent option with plenty of features, Even at its entry-level price.
The Brave 8 is feature-rich compared to the best action cameras on the market, including a 4K60fps video, 48MP photo, a Water-resistant body, and various mounts like wrist remote and dive housing for your camera for your underwater adventures.
The build quality is good. It's small and compact, making it easy to take along on all your excursions.
The dual-screen is an advantage for bloggers. Now you can confidently record that you're in the frame and focus; no more blurry takes.
The image quality isn't bad, but the video bitrate is relatively low, so you're recording in 4K resolution.
You're getting a different level of detail than some higher-ended cameras. The Brave 8 has auto-exposure, but the results can be slightly better if it's too bright or dark.
The body is rated IPX 8, so it's ideal for beaches and boating adventures, and it's safe to use up to 33 feet of water without the case for up to 30 minutes; with the included waterproof case, you can record under-water up to 131 feet.
Pros
Affordable price
Decent image quality
Built-in image stabilization
Easy-to-use touch screen
Cons
Limited battery life
Limited advanced settings
No GPS tracking
In that case, the Akaso Brave 8 delivers many of the same features for a lot less, making it ideal for adventure seekers, content creators, and vloggers on a budget.
3.

GoPro Hero 10 Black

Sale
GoPro Hero 10 Black Features
Revolutionary Processor: Faster. Smoother. Better....
High-Res Photos plus Videos, High Frame Rate: Step...
Unbelievable Image Quality: Shoot with fine...
HyperSmooth 4.0: HyperSmooth has never been...
Fast, Reliable Connectivity: Super easy, super...
Hero 10 Black is one of our third best valuable cameras. The GoPro Hero 10 Black is a high-end action camera that captures high-quality footage in various environments.
The camera can shoot up to 5.3K video at 60 frames per second (fps), making it one of the most powerful action cameras on the market.
It also contains a new GP2 processor, which enables faster video processing and improved image stabilization, and has a 23.6-megapixel sensor for capturing high-quality photos.
GoPro Hero10 Black has a front-facing color display that can be used for framing shots or vlogging also, and the camera is waterproof up to 33 feet without a housing.
Additionally, it includes voice control, HyperSmooth 4.0 stabilization, TimeWarp 3.0 time-lapse video, and a range of shooting modes, including SuperPhoto, HDR, and RAW.
The camera can also be used with a range of GoPro mounts and accessories for capturing footage in different situations, such as biking, surfing, or skydiving.
Pros
Excellent video quality
Improved stabilization
Fast performance
User-friendly design
Cons
High price
Limited battery life
Limited storage capacity
The GoPro Hero 10 Black is a powerful and versatile action camera that is ideal for capturing high-quality footage in various challenging environments.
4.

DJI Osmo Action 3
DJI Osmo Action 3 Features
4K HDR Video, 1 Billion Colors - HDR video...
Smooth, Level, Incredible - Whether you're skiing,...
Built to Endure - With a 160-min max battery life,...
Easy Vertical Mounting - An innovative and...
Dive Deep - Action 3 underwater camera is...
DJI Osmo Action 3 is our other best action camera for vloggers. However, DJI Osmo may be known for its drones.
Their action camera is also getting well-deserved attention and is perfect for action bloggers. The DJI Osmo can't quite compete with the GoPro Hero 11 but can head with GoPro's older models.
The build is solid and meant for rugged use. It also looks quite useful with its three aspherical layers lens. The HDR image quality is excellent.
You'll get vibrant crystal clear footage in both dark and bright scenes, and with the rock-steady image stabilization, your videos will also be incredibly smooth and stable. It's eight times slow-mo and gives you buttery smooth 240 FPS action sequences.
The DJI has a removable battery, which is excellent; you get about 90 minutes of continuous recording at 4k with the rock steady turned on, so you'll likely want to have extras for extended shoots.
Pros
Excellent video quality
Dual screens
Image stabilization
Easy to use
If you're seeking an affordable alternative to the new GoPro Hero 11, in that case, the DJI Osmo Action 3 camera offers an outstanding balance of features and price.
It has 4K video, Dual displays, Motion stabilization, and an HDR video option making it perfect for cost-conscious adrenaline junkies and bloggers.
5.

Insta360 ONE R Twin Edition
Insta360 1R Twin Edition Features
5.7K 360 + 4K Wide Angle: ONE R Twin Edition...
FlowState Stabilization: FlowState achieves...
SUPER 5.7K: All pixels are not created equal. The...
IPX8 WATERPROOF: ONE R is IPX8 waterproof to 5m...
Invisible Selfie Stick Effect: Watch as your...
Insta360 1R Twin Edition is our fourth most versatile and best action camera.
The Insta360 1R Edition offers some innovative features, and its modular design offers incredible versatility, making it great for casual users and content creators, not just for extreme sports.
The Insta360 1R twin edition modular design lets you swap out the lenses depending on your shooting needs.
You get a 4K wide-angle lens for more traditional action footage and a 360-degree dual lens that shoots incredible images, even in low light conditions.
Vloggers will like that they can snap the display to be front-facing and for content creators. You'll love that you can output videos in prores422 for your edits.
The image quality is pretty good, but GoPro Hero 10 Black has a 5K ultra HD video if you find the best possible image quality.
Pros
Versatile shooting
High-quality footage
Modular design
Image stabilization
Cons
Expensive
Limited audio quality
Limited field of view
The insta360 1R Twin Edition is a complete package and an excellent choice for casual users, content creators, and adventure vloggers looking for the best action camera that provides versatile shooting options.
Final Thoughts
I've included 5 types of best action cameras according to your budget and needs that satisfy all kinds of users' needs.
We like all the products we have reviewed in this post, but one camera rises above all the cameras you can't ignore: the GoPro HERO11.
The GoPro HERO11 Black camera offers more convenience than you need. And once we invest, let's move on to a better thing.
If you think we missed something or have more options, let us know in the comment box to make it more useful.
Last update on 2023-09-27 / Affiliate links / Images from Amazon Product Advertising API