TikTok is undoubtedly people's favorite application and is leading the charts for social media platforms. The unique features and coolness quotient drives people to use the app.
Some people don't know how to add your own sound to TikTok videos. TechSpunk helps you to viral your sound with the suggested platform.
It is safe to say that it gets the users hooked on its format and fun content. The video-sharing platform enables users to create videos and use audio from other sources.
This fun combination gives rise to a chance to create entertaining content to watch, potentially going viral. You can download any TikTok videos after reading our 4k video downloader guide.
Easy Ways to Add Your Own Sound to TikTok App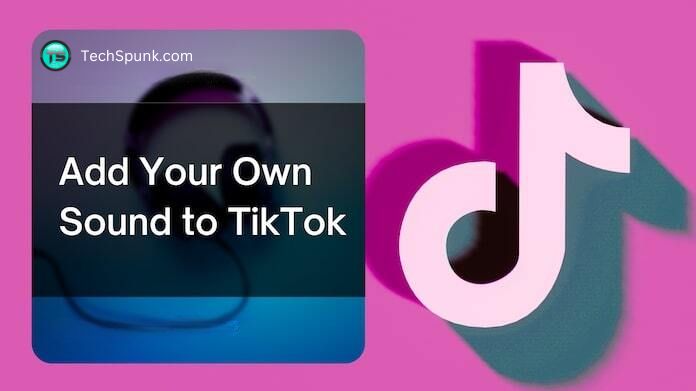 Here are ideas to add your own sound to TikTok application easily. Execute the process step by step and get it done with ease.
1.

Add music using a third-party source

As mentioned in the section above, the app has removed the option of adding audio. However, there are ways to make your sound if you still want to videos with your voice or preferred voice; multiple video apps allow you to add audio from your phone's library.

Select any one such application, and start by selecting the video. To add the audio, press the 'add' button and edit the video as you like.

Once you're done adding the desired audio, save it on the app, and it's done.

To add this newly edited video with your audio, select the "+" button on the TikTok app and upload it to send users your daily dose of fun content.
2.

Use Sound Buttons for TikTok videos

SoundButtons can help you to go viral by uploading the sound of your voice. Using this option can also help you to create memes.

Sound Buttons is a website where you can quickly get all kinds of sounds. You must have heard the sounds in your favorite gamer's videos or funny memes.

SoundButtons.net is the most extensive collection of sounds. Here, you can get 12 sound categories to get the perfect sound for your TikTok videos.

After going to this website, you will get the option to create an account; you can create an account without any money.

You can add your own or favorite sound to your soundboard through the same account or record and upload your voice.

You can also keep your favorite sound by saving it to your ID so you do not have to search for it repeatedly.
3.

Change in TikTok audio feature

There has been a change in TikTok's audio format, as the app now does not support using one's audio for the videos.

Instead, users can select from the long list of TikTok's music and dialogues library to support their videos.

Another alternative to add your own sound to TikTok is to use a third-party app to edit your shot videos and then upload them on the platform.

TikTok continues to surprise people with an array of fun features, and one of them includes a voiceover on the app itself.

You must shoot your video, tap on the editor page, and then the voiceover button to start recording your voice.

This feature has seen a lot of traction on the app and is highly loved, used, and appreciated by TikTokers.
4.

Create new sounds on the TikTok app

There is a way to add your own sound to TikTok app that you can use later.

Here's how you do it:
Select the sound you have already created and used in a previous video.
Now, what you can do here is select the video and change the preference to private viewing. Your video is uploaded this way but only appears to you due to personal settings.
Go back and change the setting to public view once you feel ready and wish to upload the video.
This hack allows you to save time and prepare multiple videos with unique audio you created!
You can make as many sound videos as you like and keep them ready in archives; post them privately if that's how you want. The app is designed for personal use.
5.

Unique audio goes viral, too

Like fun videos go viral on the TikTok app, many users have shot to fame using their unique audio videos.

There is no set way to get millions of views or to make content go viral. Still, some tips can help increase viewership and the chances of reaching multiple users.

Make your audio sharp, crisp, and clear to the ear. Keep it short and loopable, as that is what gets the highest views on this quick video platform.

The volume of your audio must be audible and worthy of grabbing one's attention. An important thing to keep in mind is the relevance of the audio.

Support audio with a video that makes sense. Attaching good audio to a random video will not yield good results.

Create something unique and share-worthy as repeated content if any format will not work on social media.

It may help garner some views but not help make videos or audio go viral. Think creatively, and channel your thoughts to create fun audio files that might be hilarious, calming, or even a mix of great songs.

There are no barriers to thinking as social media platforms have a lot of scope for unique and out-of-the-box content and formats.
Our Thoughts
TikTok is a people's favorite app. With time, its popularity has taken the forefront of the current generation's love for shooting videos.
This platform is creative and supports people's imaginations, thoughts, and ideas to a great extent.
A few years of its existence has helped many content creators find their niche and fame, making videos and following their passion.
The app's algorithm is dynamic and designed to keep the user's demands and entertainment in check.