YouTube has become a widely-used platform, with millions of people accessing its diverse video collection for entertainment during their leisure time.
For those who prefer audio files over video, there is a demand to convert YouTube to WAV format.
Online streaming or downloading the videos for later viewing at one's convenience are both viable options. Additionally, extracting audio from videos is another common request among users.
While MP3 is widely used for storing audio files, but the WAV format provides the best sound.
Individuals who value an uncompressed audio experience often opt for WAV as their preferred format. WAV is specifically designed to maintain the highest possible quality of audio data.
What is WAV File?
The WAV format is ideal for those seeking high-quality sound in raw audio files. Developed jointly by IBM and Microsoft, WAV is an uncompressed file format that captures much space on your hard drive.
However, its maximum-quality audio makes it worth the storage requirements. In addition, WAV files are user-friendly and easily convertible to any other file format.
WAV is an excellent choice for anyone looking to enjoy the raw audio of their favorite music or songs.
This format is preferred by artists, sound engineers, and video editing agencies for recording songs, music, and other audio due to its superior quality.
While MP3 files take up less space on your device, the uncompressed state of the WAV format makes it preferable.
Nowadays, storage is not a significant concern, but the quality is, and the WAV format helps retain all audio file data.
Additionally, WAV provides a standardized version of the audio and allows for the safe preservation of the files for an extended period of time.
Top 8 Youtube to WAV Online Video Converters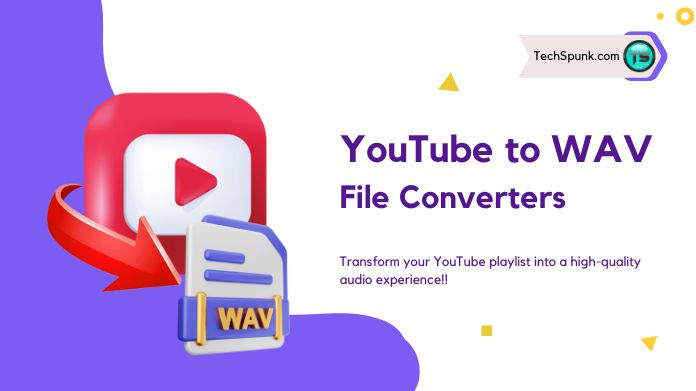 Converting and saving YouTube videos or any other high-quality videos is made easy with the help of a useful YouTube to WAV file tool.
Choosing the right YouTube to WAV converter and software can assist you in preserving the file in superior quality, allowing you to use the audio for professional purposes.
Well-designed online video converters like YouTube to OGG can facilitate the efficient downloading of files without any hassle.
With a bit of knowledge of the download and installation process, downloading videos will be trouble-free.
The tools for converting videos on youtube to Wav are as follows:
1.

YTBTO

YTBTO is an online audio converter that instantly converts audio files. The software is simple and can be used on computers and mobile devices.

If someone is seeking dependable software to convert and download high-quality movies swiftly, they may use this app.
This converter does not display any pop-ups or advertisements, and it is simple to use the software to download more and more films.
2.

SaveTheVideo

SaveTheVideo offers a dependable and user-friendly solution for downloading online videos, making it a valuable tool for anyone looking to save videos for offline viewing or other purposes.

SaveTheVideo boasts a straightforward and intuitive interface that facilitates easy video downloads in different file formats, such as MP4, AVI, WMV, and MOV.
The platform supports video downloads from various websites such as YouTube, Vimeo, Facebook, Instagram, etc.
3.

Zamzar

Zamzar is a YouTube to WAV converter free that allows you to convert your YouTube videos using a web browser.

It can benefit individuals who need to convert files on the go or who need access to the necessary software.
By being an online tool, it does not need to install any special software to convert your videos. Your conversion is cloud-based and supports 1100+ formats, not limited to WAV.
4.

YtMp3

If your purpose is to convert YouTube videos to MP3 or MP4 file formats, then YtMp3 is an ideal platform to visit.

This website is designed to be user-friendly and supports only YouTube videos as input files, with output formats limited to MP3 and MP4.
On the other hand, if you specifically require a clean and well-designed YouTube to WAV converter that is also free to use and your conversion needs are limited to MP3, YtMp3 would be a suitable option for you.
5.

Y2Down

Although relatively new to the market, Y2Down has gained significant attention on the web due to its efficiency and beautiful interface.

Upon landing on the website, I was impressed with its sleek, appealing design and smooth functionality. One advantage of using Y2Down is that it is free and does not require users to sign up.
In terms of quality, it is preferable to convert YouTube videos to WAV rather than MP3, as WAV files have a sound quality that is up to ten times superior to MP3 files.
However, it is essential to note that this website has a limitation of only supporting YouTube.
6.

Flvto

Flvto is a free online tool that lets users convert YouTube videos into different video and audio formats such as MP3, MP4, AVI, and more.

According to the website, the tool provides high-quality conversions and has a user-friendly interface that is fast and easy to use.
In addition, Flvto is considered one of the leading alternatives to many other YouTube WAV converters available in the market.
The software is compatible with major operating systems, including Linux, Mac OS, and Windows, and can be used offline for video conversion just like its counterpart, FLV2MP3.
7.

Ontiva

With Ontiva, you can easily access a free online platform to obtain your favorite videos. Download them from any website and enjoy watching them later or offline at your convenience.

The software is designed to provide hassle-free listening to your beloved music with valuable features such as multiple downloads that save you time.
This tool makes it effortless if you need to convert YouTube videos to WAV format. The best part is that there's no need for a registration process – download videos and convert files instantly to WAV format or any desired format.
8.

Online Video Converter

Consider trying Online Video Converter to transform videos from almost any video streaming website into an MP3 audio file.

Trust me, and it's a decision you won't regret! Online Video Converter is a top-rated online Youtube to Mp3 converter with impressive features.
These features include support for multiple output file formats besides MP3, compatibility with most modern web browsers, an easy-to-use interface, fast conversion, and the best part is that it's free!
There are no compulsory registrations required to use this service.
Final Words
Numerous excellent choices exist for transforming YouTube videos into online WAV files. Each of the eight converters we've evaluated has distinct features and advantages, including swift conversion speeds, top-notch output, and user-friendly interfaces.
These converters offer a hassle-free and convenient means of converting YouTube videos into WAV format, which can benefit numerous tasks, including music production, audio editing, and various other applications.