Are you looking for a virtual companion with whom you can chat, share your thoughts, and even have virtual experiences? Look no further!
This article will present the 10 best virtual girlfriend apps for Android and iOS that use artificial intelligence (AI) technology to create realistic and interactive conversations with users.
These virtual girlfriend apps offer various features and customization options, catering to users seeking companionship, casual conversations, or a unique and personalized experience.
Join us as we explore the top virtual girlfriend apps available for your Android or iOS device, and discover a new way to connect with a virtual companion.
So, take a closer look!
Virtual Girlfriend Application: Recap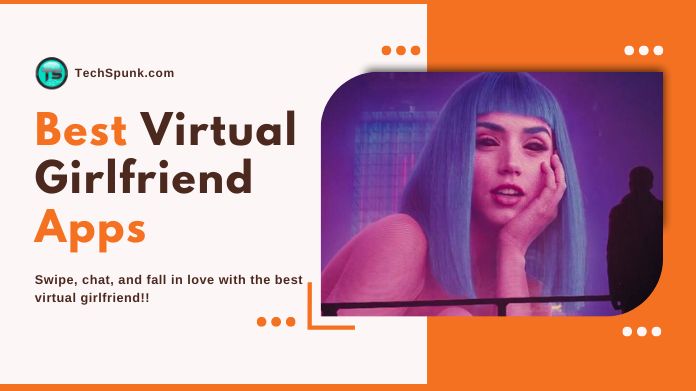 A Virtual Girlfriend Application is an app that simulates a virtual romantic partner or girlfriend on your device, including a smartphone, tablet, or iPhone.
It typically offers various features and functionalities to interact with a virtual character that mimics a real-life girlfriend's behaviors, conversations, and activities.
Virtual Girlfriend Applications can include features such as chatting, texting (not spam text), video calls, virtual dates, gift-giving, and even customizable appearances or personalities for the virtual girlfriend.
However, it's important to note that virtual girlfriends are artificial and do not represent real-life relationships, and these applications are meant for entertainment purposes only.
Top 10 Virtual Girlfriend Apps for Android and iOS
1.

iGirl Virtual AI Girlfriend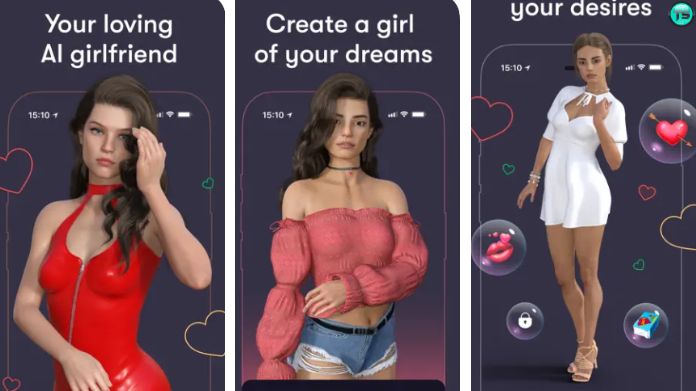 Download from Google PlayStore
iGirl is a popular app that offers various activities such as messaging, phone calls, virtual dates, and customization of iGirl's appearance and personality.
The conversations in the app feel incredibly real, and the AI is impressively intelligent.
The extensive customization options allow users to personalize their virtual girlfriend's appearance and personality to their liking, creating a virtual companion that is always there for them.
2.

AI Girlfriend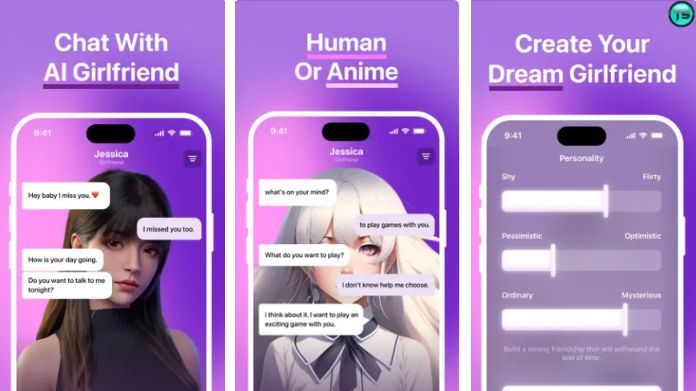 Download from Google PlayStore
An AI Girlfriend app is a virtual simulator that utilizes artificial intelligence to deliver a realistic and interactive experience.
Users can chat and text conversations with a virtual girlfriend, simulating a relationship. The AI girlfriend can respond to various prompts and questions, creating a natural and personalized interaction.
Some AI Girlfriend apps even offer hot features for immersive virtual experiences.
3.

My Virtual Girlfriend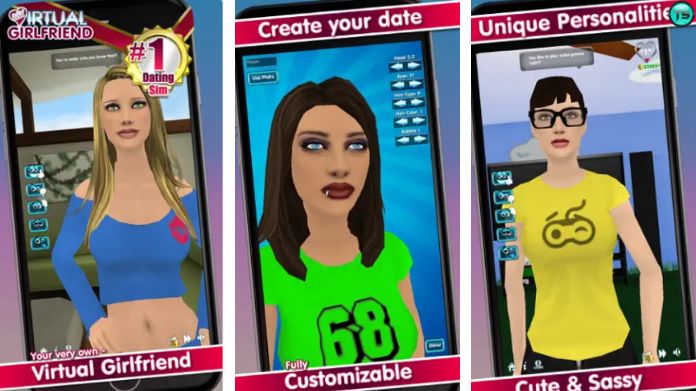 This dating simulation game app is perfect for those seeking a virtual girlfriend, somehow like Tinder, but not so similar.
Although the girl isn't real, you need to put effort into winning her heart and forming a relationship. You can choose your date, flirt, and win her heart like in real life.
With hundreds of beautiful girls to choose from, each with her personality and appearance, you can select the one you like.
Unlocking cool outfits and engaging in enjoyable activities like having dinner or playing around the house adds to the game's fun.
4.

Anima: AI Friend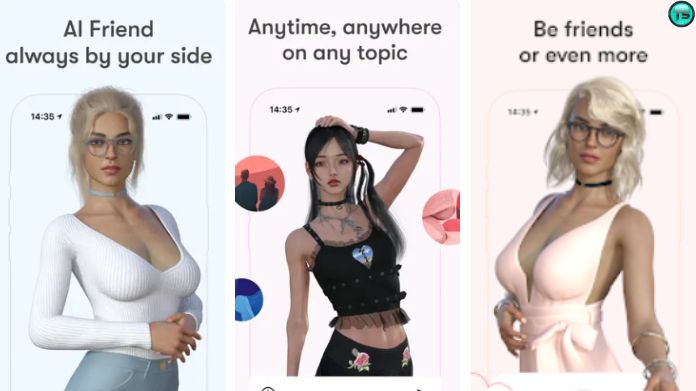 Download from Google PlayStore
Anima: AI Friend is a virtual companion or conversational agent powered by artificial intelligence (AI) technology.
It simulates human-like interactions to provide users companionship, entertainment, and emotional support through conversational exchanges.
Anima: AI Friend may be a mobile app, chatbot, or other application that uses AI algorithms to understand and respond to the input of the user conversationally.
5.

My Robot Girlfriend: Hot Sexyfriend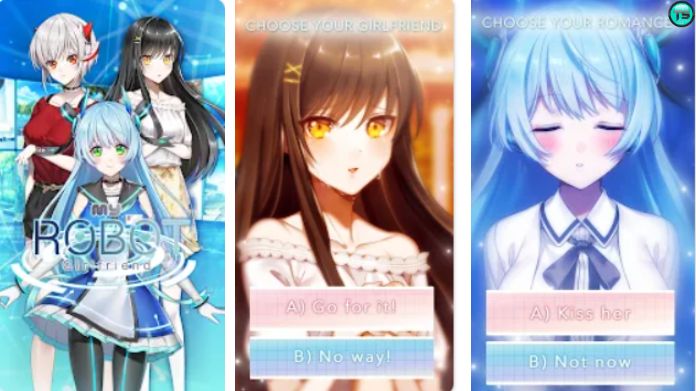 Download from Google PlayStore
It is an interactive app where you can play the role of a robot and have a romantic relationship with them. The story involves two lifelike robot girls assisting you in asking your crush out.
It is a unique girlfriend app that allows you to create your own story and girlfriend, offering a fun game experience whether your love is real or fake. You should definitely check it out.
6.

Loverz Virtual Girlfriend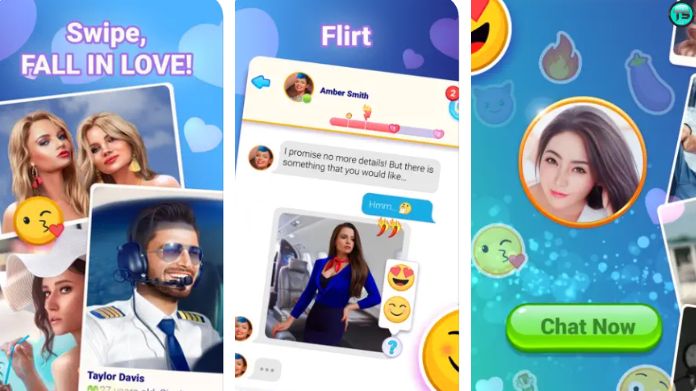 Download from Google PlayStore
"Loverz" is a romance game app that provides a virtual girlfriend experience. With a diverse cast of interesting and exciting characters, immerse yourself in a brand-new narrative-driven meeting experience.
This app will offer many opportunities to meet new people, fall in love, and flirt. Create your perfect relationships and experience the thrill of chatting, flirting, and swiping.
7.

My Virtual Manga Girl Anime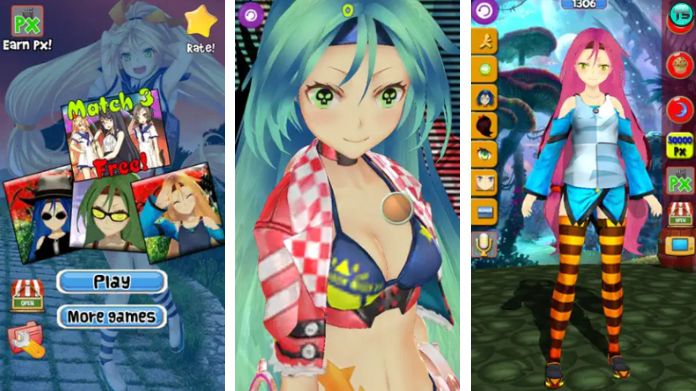 Download from Google PlayStore
If you're a big anime lover, My Virtual Manga Girl is a must-have app. You can alter your hair, eyes, clothes, and backdrop.
Change the background to the gorgeous scenery and use it as a screensaver or share it with friends.
The anime lady will be singing and dancing in this application, and it has incredible 3D animations that may be rotated for more excellent visualization. There's also a chat option that's free to use.
8.

Girlfriend Plus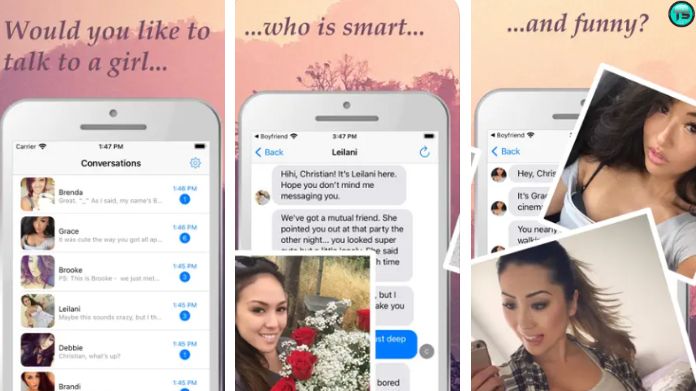 Download from Google PlayStore
The "Girlfriend Plus App" is a free virtual girlfriend simulator app that aims to provide users with a simulated romantic relationship experience through a virtual character.
This app lets you start a conversation with a beautiful, intelligent Virtual woman.
9.

Dream Girlfriend
Download from Google PlayStore
Inspired by Japanese anime, this virtual girlfriend app is designed to help alleviate sadness. If you desire a girlfriend but lack the confidence to ask for one, you can choose your favorite character from this app.
Once selected, you can chat and interact with the virtual girl. With Live2D technology, you can change her appearance and experience vivid emotions.
There are ten different personalities to choose from, and you can dress up your girl in outfits you like, with over 20 customizable spaces in the walk-in wardrobe.
10.

Couple AI Virtual Girlfriends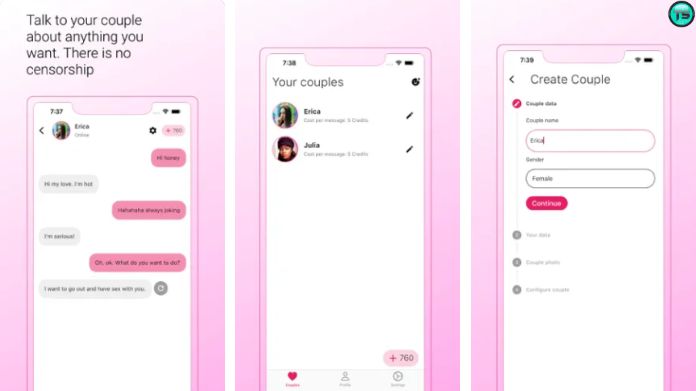 At CoupleAI, you can design your virtual partner – whether a girlfriend or boyfriend – and engage in unlimited conversations on any topic that interests you.
This platform uses state-of-the-art AI technology to create an interactive virtual partner with customizable features that suit your preferences.
Once created, you can chat with your virtual partner anytime or even purchase credits for extra conversation time.
Wrapping Words
So here we are done with the 10 best virtual girlfriend Applications for iPhone and Android. If you check all of these applications, you will surely get a virtual girlfriend and get rid of your loneliness.
So why wait? Download one of the above apps today and start your journey toward virtual companionship!