Paypal is a worldwide leader in using digital payments to replace paper and physical currencies. To facilitate online merchants, PayPal has recently launched the PayPal Ship Now link function.
This service is basically for all online business owner who accepts PayPal as a payment method.
It will assist you in delivering all of your items, supplies, and parcels a lot more quickly and easily.
Curious to know more? Keep scrolling the page and get detailed information about this service here.
What is PayPal Ship Now?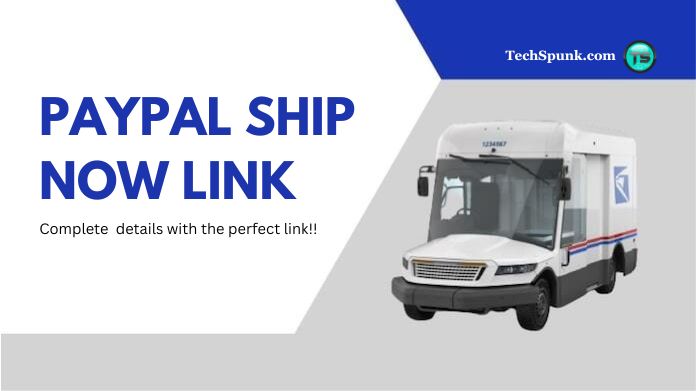 PayPal Ship Now service is ideally provided for online merchants, and it mainly serves as a speedier and more secure method of delivering their goods to their customers.
PayPal's collaboration with UPS and USPS, Ship Now, makes shipping a breeze.
Previously, merchants had to do the time-consuming shipment themselves or through the USPS (United States Postal Service) or another retail shipping service.
With this, that's no longer the case. Now that it has first-class delivery with dependable mail service providers, it makes online selling and shipping more convenient.
It will be easier to transport your stuff because it will be in good hands.
PayPal Ship Now Link
It's hard to believe that PayPal Ship Now Link is not accessible over the internet, wasting much time for online merchants.
Therefore, we have mentioned the official link to visit their page and make the best of this service.
The link is here: https://www.paypal.com/us/cgi-bin/webscr?cmd=_ship-now
Since this is difficult to find, you should bookmark this page and keep the link safe for future reference.
PayPal Ship Now Service Features
Let's look at some of the features of PayPal now that make this service worth trying.
It gives you the option of mailing your goods by USPS or UPS. They also provide a tracking code that you may use to keep track of your shipment and delivery. (Can be used in both international and domestic locations)
There is no need to pay a monthly fee or subscribe to anything. Calculate your payment based on the weight of your cargo and the label you select.
Using your PayPal ship now link, you may purchase and print shipping labels.
You can send one or more products at once by giving shipping data in batches. From your account dashboard, you can easily track and confirm the arrival of shipments.
You can pay based on the type of service, size, and weight of your package from the payments page.
Benefits of PayPal Ship Now
Before jumping into the whole process of using this service, it's a good idea to check the same benefits.
Below are mentioned some of them for your reference:
With this, you need to spend less time on paperwork associated with the shipment.
In one spot, you can keep track of all of your shipments.
It cuts down your time and effort to a great extent. One can prepare several packages to be shipped at once.
You can keep track of the packages you send via it.
To include with your shipments, personalize and print packing slips.
Almost anywhere in the globe can be shipped to it.
PayPal Ship Now Requirement
To use and benefit from its function, you must first complete a few requirements, such as:
It would be best if you had a PayPal ship now account.
It gets required that your account get set up as a business account.
However, if your account gets set up as a personal account, you can easily convert it to a business account from your current account.
Frequently Asked Questions
Q. How to Use PayPal Ship Now Service?
Ans. Using PayPal now ship service is no rocket science. The step-by-step procedure to carry out the same is as follows:
First, the user needs to open a web browser of their choice.
Use the official website to access your account.
From the Recent Activity list, choose Ready to Ship.
Once that section appears on the screen, select "Print Shipping Label."
Fill in the shipment details, such as the item's weight, package size, service type, and delivery options.
Click the "Evaluate Shipment Price" button once you've entered all your information.
After you've finished it, go through the information you've supplied.
Select the "Check and Payment" option once you've double-checked everything.
The cost of the shipment notification will get deducted from your fee.
Simple, Download and include the shipping documentation with your order.
It's that simple. Send the package to the nearest UPS or USPS location (whichever you prefer).
Q. How to Convert PayPal Personal Account to Business Account?
Ans. New to PayPal Ship and unsure how to convert a personal account into a business one? Worry not!! Here's the guide to performing this simple process.
Follow the step religiously to avoid any hassle later on:
Go to your Pay Pal ship now link and sign in.
In the navigation, select "Profile."
Your account type should be Personal under "My Settings." Select "Upgrade my account" from the drop-down menu.
At the bottom of the page, click the "Upgrade Now" button.
Continue by selecting "Business Account" from the drop-down menu.
To complete the conversion, you will be asked to submit company information.
Final Words
That is all!! For business owners, using the function is a no-brainer. It's a fantastic feature, and the level of service that comes with it is too good to pass up.
Compared to standard shipping services, you get first-class handling for your shipment for nearly the same price. What else is needed??