New World has risen to new heights of popularity, which has birthed the debate on which title is better to play in 2023, New World or World of Warcraft?
The release of New World shook up the gaming community and resulted in long admiration throughout the MMO community and MMORPG Reddit.
For the last 17 years, World of Warcraft and Final Fantasy XIV have been the two most popular MMORPGs. But a new modern MMO was long overdue, and Amazon decided they would try to fill this gap with their most advanced MMO title to date, New World.
The game surely did get a lot of attention upon its release a few months back. But soon after, some glitches and bugs made New World a hot topic of criticism, which caused many players to leave this new world to get back to their old ones.
But after many bug fixes and patches, the now seems to be in a much better place. This calls for a detailed comparison between this underdog and the heavyweight champion World of Warcraft to determine which one you should play in 2023!
If you are a gaming lover and want to buy a mouse pad to make your gaming experience better, before buying, take a look at our mentioned best mousepads and know about their pros and cons. Also, you can learn about our guide "How to clean mousepad".
What's New in New World?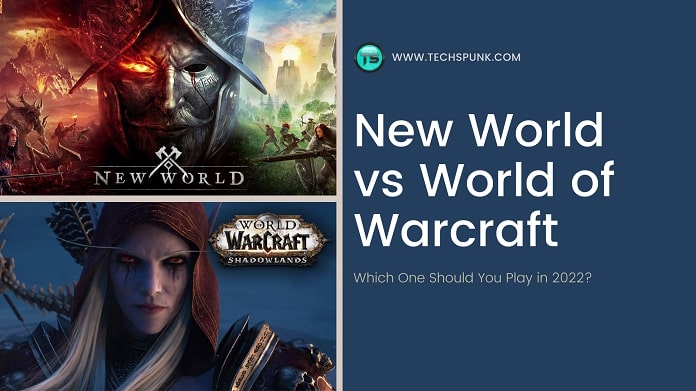 There are no classes in New World, unlike other traditional MMORPGs. Instead, the weapon you employ will determine the powers you have available to you at any given time.
Killing foes and improving your competence with a particular weapon will provide you with additional capabilities set by the weapon's skill tree.
Before you begin your adventure in World of Warcraft, you must choose a class for your character. Your choice cannot be changed mid-game, even if it is simpler to comprehend your place in a group setting.
Additionally, you have the option to use two weapons at once and quickly swap between them throughout a battle. A weapon's special powers and spells are unlocked as soon as you put it on.
In addition to making battles more exciting, it enables you to alter your strategy based on your opponent's circumstances and character.
Although playing as a caster or hunter in New World is far more complicated than in World of Warcraft, it is still possible to succeed in either role.
There is no lock-on mechanism in Amazon's game, so you must aim for each spell you want to perform. To launch an attack in World of Warcraft, click on your target.
Easy to Get Started With New World
At first glance, New World's user interface seems disorganized. Before even reaching level 10, there is much information and a wide range of options.
Things begin to make sense after just a few hours of playing. Because of factions, reputation, taxes, and other in-game mechanisms, novice MMO players may get confused.
It might take some time to get used to everything, but it's worth it. However, if you are unsure, you could buy New World account for cheap to try it out before committing for hours. It's quite the contrary in World of Warcraft.
The game elements are progressively taught one after the other at a reasonable pace, making it simple to get started.
However, the game's intricacy emerges later and downloading additional add-ons to enhance the basic HUD is nearly necessary to comprehend the game completely.
Gameplay
At this point, New World is a solid RPG, but it lacks the power to compete with massive MMOs like World of Warcraft.
In terms of gameplay, Amazon's MMO lacks key fundamental aspects, such as the ability to share tasks, ride a steed, or swim. It's puzzling that characters sink like an anchor text anytime they float since Amazon claims that the absence of mounts was a design decision.
Blizzard's game World of Warcraft relies heavily on raiding, which is why most gamers are still engaged with it.
After weeks of wiping, killing a boss is like nothing else in gaming, mainly if you've been playing with the same guild members for months or even years at a time.
Large-scale raids are not yet available in New World, which focuses more on PvP than PvE. Also, the New World gold, which is the in-game currency, is still not as stable as WoW gold, which is considered one of the best across all MMO titles.
New World is a breath of new air in the MMORPG industry for those who like PvP gameplay.
Amazon's New World is more like an RPG with other people, where you may live your own life and then join up with your side for some PvP action.
Player preference tends to lean one way toward PvE or PvP. Those who like PvE may find it a little drab at the top of the game.
The problem is that these are minor issues that the New World can readily address.
Our Thoughts
Overall, the heart of the game is rather enjoyable, with dynamic battles and a variety of configurable builds, as well as an excellent crafting system.
New World can be a severe competitor to World of Warcraft if Amazon provides frequent content updates and game balancing.