We all know that the surface on which a mouse is placed or moved is a mouse pad. This accessory improves the usability of a mouse by measuring its accurate movement and that too without any jitter.
It provides a cushion to the wrist if you have to spend lots of time on a PC either for office work or gaming purposes and saves the desk from getting worn out too fast.
Mousepads are made of materials such as; fabric, plastic, aluminum, leather, rubber, neoprene, glass, or cork. Being on the desk every time, it's undeniable for it to pick up dust, germs, sweat, food grease, or mystery stains.
So, the user must clean the mousepad at regular intervals essential for the smooth functioning of the mouse. If you are wondering how to do the same, then you have landed in the right place.
Below are the details of how to clean a mousepad and other cool stuff that you should know. Check our suggestions for the best mousepads you can use while playing games.
So without any further delay, let's get into it!!
How to Wash a Mousepad?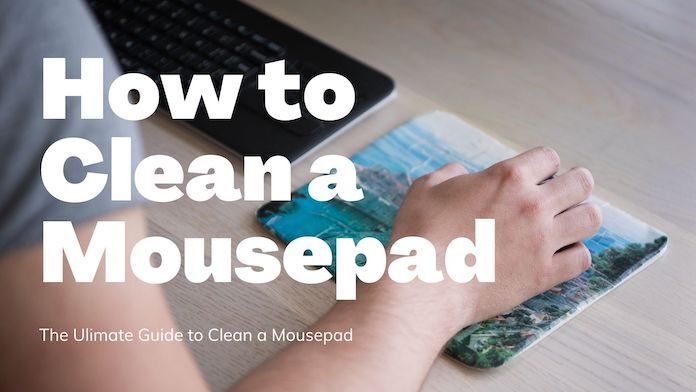 If you own a basic mouse pad made of cloth and fabric, follow the below-given steps to clean it, but if you have a fancy RGB mouse pad with USB connectivity and lights, it is prone to get damaged due to water.
Follow the steps given below to clean your mouse pad without ruining it.
Fill your sink or a tub with water and slightly dampen your mousepad.
Use a mild shampoo, hand soap, and cold water to wash the mousepad.
Take a sponge or a soft brush to scrub over tough stains, and try to be as gentle as possible.
Rinse the soap under cold water.
Take a thick towel, place the mousepad inside it, fold the edges of the towel and pat dry the mousepad using pressure; this will help the drying process to speed up. The mousepad is still not thoroughly dried, so you can keep it under a fan for drying it quickly.
Frequently Asked Questions
1.

When to clean a mousepad?

Ans: The number of times a mousepad should be cleaned depends entirely on how often it is used. You can wash it 3-4 times a year or whenever it gets dirty, mainly due to spillage of coffee or greasy food stains.
2.

What are the ways to clean a mousepad without using water?

Ans: Suppose your mousepad is made up of a material that does not go well with water, or you own an RGB mouse pad with USB connectivity and lights.

In that case, you can use anti-bacterial wipes to kill any lingering bacterial germs on the mousepad. This process will keep the mousepad germ-free, and the pleasant smell of the wipes will also refresh the worker's mood.
3.

How to remove tough stains from the mousepad?

Ans: Sometimes while working, you can accidentally spill coffee or put food stains on the mousepad, which may annoy you or even smell nasty after some time.

To clean it:
Put a small amount of dish soap on the affected area and scrub it with a cloth or soft brush.
Put some water to lather it up.
After the process is complete, rinse it under water and pat dry the mousepad.
4.

Can we use warm water to clean the mousepad?

Ans: I was thinking about how to clean a mousepad with warm water? Well, the answer is No, you can't. The usage of warm water will damage the mousepad's material and spoils custom prints if any. Always use cold water and mild detergent to clean the same.
5.

How long does it take for the mousepad to dry?

Ans: The time consumed by a mousepad to dry completely depends on the material made and how wet the mousepad is.

If you have pat dried the mousepad nicely with a thick towel and kept it under a fan, then it will probably take 10 to 15 minutes to dry out completely.
6.

Does a dirty mousepad affect gaming?

Ans: Yes, a dirty or sticky mousepad may make it difficult for the user to scroll properly and work quickly and efficiently. As a result, it affects the user's overall performance.

The debris and dirt stuck on the mousepad can eventually stick on the mouse and create a barrier for the sensors to work correctly.

So, to avoid such a situation, follow the steps mentioned above of how to clean a mousepad and enjoy a seamless working experience.
Can I Put my mousepad in the washer or dryer?
If you are in no mood to clean your mousepad by hand and do not have time to follow the procedure mentioned above, then you can toss your mousepad into the washing machine.
But you have to keep the following points in mind related to how to clean a mousepad in a machine:
Only mousepads made up of materials such as; polyester, microfiber, nylon, rubber, foam, acetate, polyurethane, and acrylic are washed in a washing machine.
Use mild detergent for washing.
Set the cycle to light and use only cold water.
Do not use any bleach.
Avoid putting the mousepad in the dryer after washing.
What precaution do I need before cleaning my mousepad?
You should take care of a few points if you do not want to spoil your mousepad. They are:-
Always use a mild detergent for cleaning the mousepad. Avoid using ones that are specially made for heavy-duty washes.
Use cold water for washing and rinsing as warm water may spoil the pad material and custom prints.
Do not use heavy-duty tools for scrubbing the stains on the mousepad.
Make sure no signs of soap or detergent are left on the mousepad.
If you are washing the mousepad in the washing machine, then set the machine on cold-water mode and light-cycle option.
Avoid using bleach or any other special cleaning agents.
Never use a dryer on the mousepad or keep it out in the sun after washing it, as the heat may damage the product. Always pat dry the mousepad or let it dry under natural conditions.
Do not put the mousepad into a dishwasher for cleaning.
What is the best way to clean the mousepad?
You must have already read the points mentioned above on how to clean a mousepad both by hand and in the washing machine. Now it's up to you to decide which way you want to follow.
If you have time, we recommend you wash it by hand gently to avoid damaging the product, as no matter how low a cycle you set on the machine, there is still a slight chance for the mousepad to get destroyed.
But whichever way you follow, always keep the above-stated points of precaution in mind.
Final Words
It is easy to make your mousepad look clean and make it germ-free. You have to put in small efforts, and it will help you in the long run.
A clean mousepad provides a better surface for the mouse to scroll on and work efficiently. It also brings a difference in the performance of a user and especially gamers.
So, next time when you find it difficult to scroll the mouse, follow formerly stated steps and precautions of how to clean a mousepad before replacing the same any time soon.