The economy is undergoing an upskilling and reskilling revolution. Long gone are the days when basic knowledge or common skills are enough to fetch a job, as now is the time when high-paying jobs require a broad swath of skills from employees.
Thankfully, all the most sought-after skills, getting a degree or levelling up, are possible through online studies, eliminating the need to step out of your comfort zone.
Students can quickly get an online certification through video tutorials and by attending online classes. Below are the best courses to study for jobs in any location. You can also check government free online courses with certificates for jobs.
But since there are a plethora of valuable courses available over the web, choosing the best among the rest might be intimidating. But don't freak out as we've got you covered.
9 Most Valuable Courses to Learn Online in 2022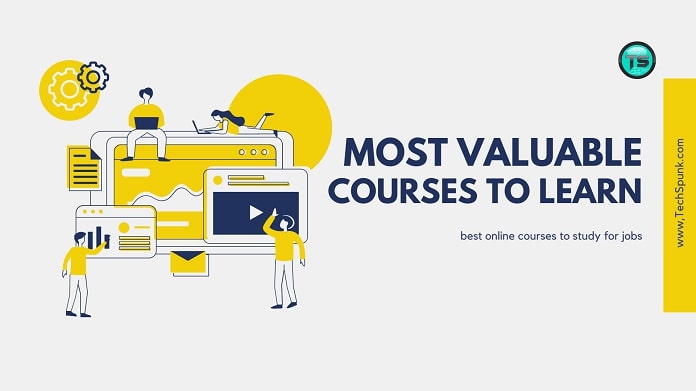 The comprehensive guide will walk you through the best and most valuable courses and the best courses to study in 2022. If you are using course hero and want to unblur courses Hero, check our guide.
1. Coding Courses
Coding has long been a popular topic, and it has resurfaced with the introduction of a new educational program that allows young minds to learn to code at a younger age.
Students can learn and improve their problem-solving and critical thinking skills by coding with python courses online.
It teaches kids how to approach and solve problems effectively and makes them understand how to break down a problem into smaller portions so they may solve it quickly.
Right now, coding is the industry's most in-demand expertise. When a student becomes immersed in coding, he often fantasizes about creating his own video game or entertainment app.
2. Learning a new Language
Learning a new language is one of the best ways to see your career prospects soar. In the last 5 years, the demand for bilingual workers has more than doubled.
Spanish, Chinese, and Arabic are the top 3 most sought-after. Choose from a variety of platforms offering 1-1 or group language learning classes that can be tailored for your specific needs.
Prices vary depending on the platform and tutor, but prices usually start around $5 per hour. Learn when you want, the way you want, at the place you choose.
Multilingual jobs are getting increasingly popular. Borders are getting blurred as of globalization of the commercial industry.
As a result, knowing a second language has become a requirement rather than a plus. Even as a novice, it is common knowledge that practising a foreign language is the best method to learn it.
You can learn real-life expressions, train your ear to recognize a good accent or learn from a native expert. And, of course, working with a native speaker is the ideal option.
3. Writing Courses
Numerous online writing style courses are available for both new and seasoned writers. There's an online writing school for you if you write books, articles, blog posts.
You understand that online writing workshops vary considerably in price substance, which is the first step toward improving your writing skills.
Decide whatever aspect of the writing process you wish to learn more about and your budget while enrolling in a class.
Before you invest money in a course, think about what you're writing, who you're writing for, and your ultimate learning goal to avoid common writing mistakes.
A non-fiction writer, for example, is likely to have different creative ambitions than a novelist.
4. Healthcare courses
Organizing and coordinating a healthcare facility's performance is described in healthcare valuable courses.
A health manager is in charge of the complete internal healthcare system, including clinical and non-clinical staff, partner organizations, insurance firms, government authorities.
A natural tendency toward leadership, interpersonal skills, analytical ability, and an entrepreneurial mindset are crucial qualities in hospital management.
Healthcare management degrees are available at the undergraduate and postgraduate levels from universities, medical schools, and business schools.
Administrators, managers, CEOs, planners, and other roles in healthcare management can get found.
5. Search Engine Optimization
Even though search engine optimization (SEO) has been around since 1997, it is a talent that has changed and improved over time.
It all comes down to increasing organic (non-paid) search engine traffic to a website. Optimizing websites is challenging due to over 200 projected search engine ranking variables.
That is true since well-optimized websites can create passive revenue worth hundreds of thousands of dollars. Nonetheless, it is challenging work that must get accomplished.
As more businesses enter the digital arena with their websites and e-commerce storefronts, skilled SEOs may be able to provide their optimization services to an ever-growing number of clients on the Internet.
6. Video Editing
YouTube has two billion monthly active users, making it the most popular video site. It not only serves as a social networking platform but also the second-largest search engine, which gains traction like no other.
People are increasingly turning to videos as their source of information, which opens up incredible opportunities for content creators and video editors.
Videos are progressively displacing text and image-based media. Professional video editors are in high demand.
According to the US Bureau of Labour Statistics (BLS), video and film editors' employment gets expected to expand by 22% over the next ten years, according to the US Bureau of Labor Statistics (BLS).
7. Graphic Design
Graphic design continues to be one of the most sought-after design skills among employers.
As more businesses begin to improve their online presence, a visual identity is one of their first needs. They frequently discover the services of a graphic designer at this point.
Someone understands how to apply creativity and design thinking to see beyond a company logo and into the picture of a unified visual brand strategy.
When it comes to learning graphic design, you'll have a lot of creative options to select from it.
8. Real Estate Courses
Rather than personal goods, real estate is the property in the form of land and buildings. Online real estate portals have grown to provide a data-backed analysis, complete with minute property details.
They're quickly establishing themselves as a one-stop-shop for property purchases and financial advice, and the writing of lease agreements.
Residential, commercial, industrial, raw land, and special-use are the five major categories of real estate.
These valuable courses enlighten students on how to write contracts or manage the property. It also makes you understand negotiations and new terms for marketing and advertising properties.
9. Data Science and Data Analysis
To stay up with the competition, every company now needs a staff of data scientists, and as "big data" becomes more prevalent, data scientists who can make sense of it will be more crucial than ever.
This job path entails determining which questions should get answered about the supplied data. Data scientists are frequently programmers with a strong understanding of mathematical modelling.
The field of data science and analysis is growing and does the opportunities. This job path entails responding to the queries posed by data scientists.
Through the deeper statistical analysis, data analysts find trends in the data and assist in reaching conclusions.
Our Thoughts
That's all about it!! Many businesses are booming, and the eLearning industry is growing! However, a lot of it comes back to you. An idea can only be profitable if it benefits you.
Aside from picking the correct topic to learn, there are other traps to avoid when starting an online course study.
We hope this information assists you in cutting through the clutter. More importantly, we hope it has given you the courage to begin.
If you are still confused about what online course to start with, please connect with us on the contact us page.