Snapchat introduced unique filters for its users; recently, the buzz cut filter on Snapchat has been trending worldwide. People love this filter as they have found a way to make fun of their loved ones.
Snapchat filters are the little effects that you can add to your photo or video. When you use this filter, it sees the person is bald. Influencers are using this filter a lot on reels.
You can use them for creative purposes, like adding a filter to make your face look like a cartoon character or adding a filter that makes you look like an alien. The possibilities are endless!
If you have been watching many videos of people using the buzz cut filter on Snapchat and looking for a way to do so, this blog has the solution for you.
Why is the Buzz Cut Filter on Snapchat Getting Viral?
The Buzz cut filter on Snapchat, or the bald filter, makes you look like you have shaved your head and are bald in just a few seconds.
However, this filter originated from Snapchat but is now getting famous on tik-tok and reels on Instagram. Also, you can add your sound to TikTok videos with our guide.
The filter is so natural that a picture taken using it seems like the person is bald in real. Snapchat has created the latter for those who want to show their hairless heads.
You can download the Bald and Buzz cut filters app's Android and iOS versions from here.
Some Interesting Uses of the Buzz Cut Filter on Snapchat?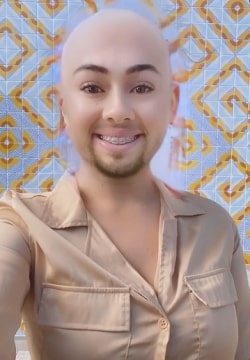 Apart from the fun side, you can use this buzz-cut filter on Snapchat for other purposes. Let's discover some of them.
Online video creators or actors can use this filter to portray a bald character; Snapchat allows its user to record a video by applying the filters available on this app.
If you want to make a video of a bald person, you don't have to shave your hair or apply head makeup in real life. This filter might make your job easy.
Now for the fun part, use the buzz cut filter on Snapchat to record a funny video or click a picture of your friends, kids, or family members.
You can have some funny comic videos of them that you can post on your other share them on other social media platforms to get benefits.
The new buzz cut Snapchat filter can also save you from getting the wrong haircut.
Suppose that you are thinking of shaving your head and wonder how you will look, use the filter and have an idea. You can see if the look suits you without cutting your hair.
How Can You Use the Buzz cut Filter on Snapchat?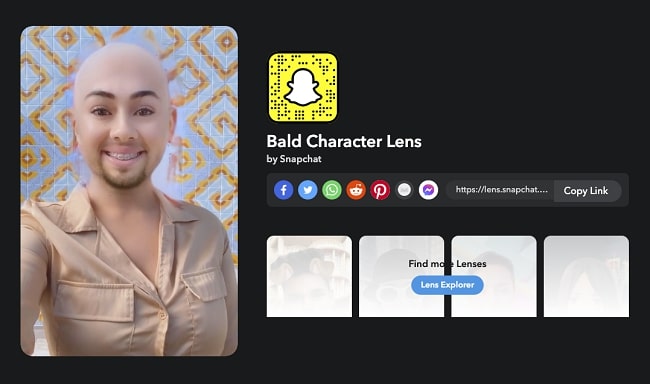 Now let's talk about that part of the blog for which you are here: how can you use the buzz cut filter on Snapchat on your phone?
Firstly take your phone and open Snapchat on it; make sure you are using the updated version. If not, quickly update it from snapchat.com, Google Play Store, or App Store.
How to Get the Bald filter or Buzz Cut Filter on Snapchat?
Open up your Snapchat mobile app.
Go to the filter section that you can find just beside the camera option. Keep swiping until you find the buzz-cut filter.
Once you have found the filter, you are ready to take pictures and videos. If the filter option is unavailable, you have to search for it.
You can download the Buzzcut filter app from here. Choose your operating system and download Android

 and

iOS versions

.
If you are looking for a completely bald filter, the process is the same, but now you have to search for bald in the search option.
You can directly go through this Bald character lens option to get a Bald filter powered by Snapchat.
There is an alternative way to get the buzzcut filter on Snapchat using your PC or laptop, search for the buzzcut filter app on the web browser and open a simple website.
The website will show you a snapcode that you have to scan from your Snapchat mobile app; as you scan it, a pop-up will appear, confirming that this lens has been added to your Snapchat.
Final Thoughts
We hope you must be busy taking pictures using the buzz cut filter on Snapchat. You can use it on your friends to make fun of them.
The steps we shared in this blog are the easiest; anyone can follow them. Also, it works for Android and iPhone. So whichever phone you have, you can use them.