In today's digital world, everyone likes to be connected at home or work. The internet satisfies that need with the help of different types of wired or wireless connections.
Among the wireless, WiFi allows a more stable connection and is preferable at domestic and workplaces. If the signal is tough and good, devices have a built-in WiFi analyzer or/and can download or buy it.
It lets the user know if there's something wrong with their connection and if they or the professionals could rectify it.
Whether you've recently dipped your toes into the tech world or are a regular pro, it's always a good idea to know about WiFi Analysers before investing in them.
Here's the comprehensive guide with all the information about these analyzers you seek.
What is the WiFi Analyzer & Its Use?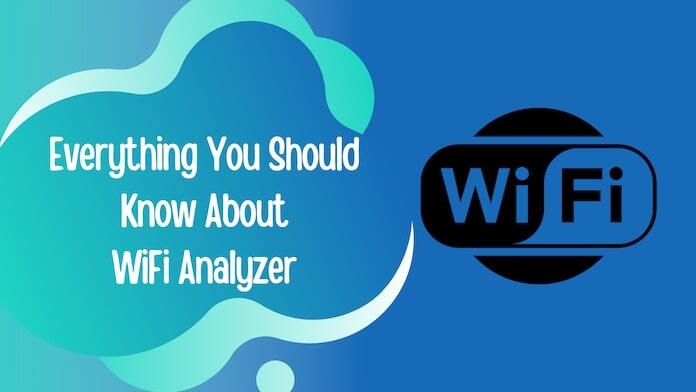 A WiFi Analyzer is a tool that could be a peripheral or a computer program that helps us accept signals of a wireless connection to read the data and analyze whether it is working speedily and efficiently.
It monitors closely, and many of them can quantify the problems in the connection. On wired connections like Ethernet, all the data is received by a single device.
You can go through the WiFi extender if you want to improve an existing WiFi network's coverage and signal strength.
These days' devices use port mirroring for capturing the data. Especially in wireless local area networks, data can be gathered via multiple devices through the same frequency.
When this occurs, the data could have a brief amount of information that does not take much storage or detailed information regarding the connection, which helps detect the issue.
The information received is in raw and digital form and is then translated into human languages. Different programs can have other decoding capabilities.
The function of a WiFi analyzer tool is to collect comprehensive data from all wireless connections in the range of the device and present them in a way that is easy to read.
You can use a WiFi analyzer for home or office security cameras. Let's take a look at our security camera installation guide.
Best WiFi Analyzers for Windows
Below is mentioned the list of the five best WiFi analyzers for Windows.
1.

SolarWind Wi-Fi Analysis

The SolarWind WiFi Analysis is one of the top-rated diagnostic tools for Windows and Mac operating systems.

It shows the status of working wireless connections and creates a map of available and usable WiFi connections.
Pros
It provides a more profound understanding of connections and a better range
It helps you diagnose and repair the issue with an adjustable control panel
Creates heat maps for finding out the hotspot for better speed.
2.

Acrylic WiFi

This tool is one of the primary programs available. An average person can use acrylic WiFi to find and investigate details of routers like media access control address, service set identifier, and received signal strength indication.
Pros
Free of cost for domestic use
Can read the frequencies in the range of 2.4 gigahertz to 5 gigahertz
Good for multiple setups
Cons
Provides basic details, unlike its competitors
3.

InSSIDer

This program helps you understand the surrounding connections. It is convenient when it comes to network-sharing protocol through server message blocks. InSSIDer also allows you to improve the speed of connection and security.
Pros
It assists you in discovering the busiest connections to avoid them.
Gives out detailed information about the network.
Cons
It can be used to gather sensitive information regarding connection use.
4.

WiFi Analyzer

It is the official program of the Microsoft operating system and is essential for analyzing the speed and encryption of the connection.

WiFi Analyzer will also tell you the best location to put the device in for efficient connectivity.
Pros
Notifies the user when the strength of the connection is increasing or decreasing through beeping
Unlike other free applications, it does not advertise anything
5.

Wireshark

This program can configure the wireless settings and monitor the connection if some error occurs. Wireshark uses color coding to differentiate between various details for rapid data analysis.
Pros
One can gather data and still analyze it later when they aren't connected
It is compatible with many different operating systems.
Cons
Hackers can use it to acquire your data.
Best WiFi Analyzers for MacOS
Here's the list of the best WiFi Analyzers for macOS.
1.

NetSpot

Let's unwrap the list with the most prominent name – NetSpot. Professionals use this program to survey wireless connections and know the dead spots in an area.

It is now emerging as the leading tool for encryption specialists to remove hidden or unknown access points, detect unofficial intrusions, and eliminate false alarms.
Pros
Allows to access wireless local area network hindrance and solves it
Suggests ideal spots for placement of the device.
Compatible with all operating systems and their versions
2.

WiFi Explorer

The WiFi Explorer is a WiFi Scanner made to aid in wireless local area network and information technology structure with design and legalization for configuring connections.

It also helps detect viable clients and organizes them according to their names.
Pros
Can identify frequencies of a different kind like BLE and Zigbee
Can scan remotely with the help of a sensor
Cons
Provides minimal information
3.

WiFi Scanner

WiFi Scanner allows you to locate visible wireless networks and their related information. The vital factor worth trying is that it is helpful for the average point users to find the signal strength distribution.

This free tool is ideal for personal use only. It displays the WiFi signals in the dBm format, and the bssid remains visible in this program.
Pros
It is an open-source tool
Free to use
Simple interface
4.

iStumbler

It is a program for computers with Mac operating systems having Bluetooth connectivity.

iStumbler was developed to detect open wireless sources, which were upgraded to see Bluetooth connections and provide the location of these sources in their range.
Pros
Can detect a range of spectrum from 2.4 gigahertz to 5 gigahertz
It has a live location map for ease of detection
It doesn't require multiple subscriptions for multiple devices
5.

KisMac2

It is a discovery tool made for the Mac operating system. It can crack through weak encryption to gather network information.

This can also detect latent SSID and is supported by GPS. It can disconnect unknown network connections once they have intruded into the system.
Pros
Saves the data and allows import-export through packet capturing
Handles different connection attacks, differently
Cons
Not ideal for the general population; only professionals
5 Best WiFi Analyzers for Linux
Here is a list of the 5 best WiFi analyzers for Linux.
1.

AirMagnet WiFi Analyzer

AirMagnet WiFi Analyzer is a GUI-based program that scans and generates reports on wireless networks.

It also can easily share or download your results if desired and is available as a free download.

Some things you can analyze with it include 802.11 standards supported by your device/s, security modes enabled, channels being used, signal strength levels, noise levels, Mac address of connected devices, and much more.

This app isn't much use to anyone who doesn't know what they're looking at, but it's perfect if you're trying to find people with unsecured networks in your area!
Pros
Lightweight
Supports more devices, including advanced cracking tools.
Cons
Heavy on resources
No mobile support.
2.

Kismet

Kismet is one of the most advanced WiFi analyzers for Linux. It has support for pretty much every single wireless 802.11 standard out there.

Moreover, it can support packet sniffing with external programs, integrate with AirDefense Mobile Radar, offer options to display results in different formats (CSV or XML), and more.

This program may not be the best for most users since it takes some work to set up and is sometimes hard to use. It's available as a free download with options for purchasing certain features.
Pros
Great for technical staff who want to sift through wireless traffic or perform advanced attacks against networks.
Cons
Heavy on resources
Requires additional software to make advanced attacks
3.

NetStumber

Netstat is a popular tool for monitoring traffic activity in a computer or a network and a pretty simple device.

All you have to do is start it from the command line, and it will display the process name, port number, protocol, state, and more.

Netstumber has been built using this utility to help you monitor network statistics in real time.
Pros
It Supports most network protocols.
Cons
It doesn't support any advanced cracking tools
4.

WiFi Finder

WifiFinder is a straightforward tool with a friendly interface for outputting data in different formats.

You can quickly get transmission rates for wireless networks, signal strengths, errors/timeout rates, and more.

It can break down packet headers, which is useful when understanding how WiFi devices work.

This program is excellent for networking professionals and other technical users who want to know what wireless networks do.
Pros
Simple interface
It Supports both 802.11b and g wireless standards.
Cons
It doesn't support any advanced wireless attack tools.
Hard to setup
5.

NetMon-NG

NetMon is open-source software that logs TCP/IP packets with the help of Wireshark. It is a fork of the first version and offers many new features.

This analyzer can extract info about any 802.11a/b/g wireless network it sees, how many legit users there are on the web, and even if it's using WEP or WPA-PSK key-based encryption.

This program is best known for its ability to help you find unsecured networks in your area.
Pros
Enhanced UI
Real-time graphing capabilities and alerts system, and chat session
Free to download
Cons
It doesn't support any advanced wireless attack tools.
Hard to setup
5 Best WiFi Analyzers for Android
Here's the guide to the 5 best WiFi Analyzers for Android.
1.

WiFi Analyzer

This app uses your phone's built-in wireless chip to detect wireless networks in the area.

The readings are then displayed on a simple screen that is easy to understand. You can see the strength of each wireless network at different points around you.

It also lets you ensure your phone is connected to the most robust network available in an area, improving signal quality and connection speed on some networks.
Pros
Very simple and easy-to-understand user interface.
No advertisements or in-app purchases.
It will also show you the strength of the wireless network.
Cons
The app does not tell you the names of any of the wireless networks
Cannot scan for network security (WEP, WPA, WPA2).
2.

WiFi Analyzer Pro

The second WiFi analyzer for Android is the premium app WiFi Analyzer Pro by Ulysse Vignolles.

It works much like WiFi Analyzer, though some differences might make you prefer one over the other if you use both.

Like WiFi Analyzer, it displays information on wireless networks in your area and allows you to change your network connection to optimize signal quality and speed.
Pros
Tests the signal output of networks
Measure the quality of wireless signals
Cons
Requires root access for some features
The app does not display the number of bars
3.

iNetMonitor

The third WiFi analyzer for Android is the free iNetMonitor by Frank Pilara.

This is a multitasking system tool, and as such, it has several features that require root access: location monitoring and network scanning.

It also provides information about signal strength and speed, though it does not have the additional features of other WiFi analyzers.
Pros
Very lightweight
It only requires a few megabytes of RAM and is very fast.
It also has a simple user interface that is easy to understand.
Cons
The app lacks any advanced features
Can't connect to most WiFi networks
4.

Access WiFi

The fourth WiFi analyzer for Android is the free Access WiFi by Andrés Cabrera.

It works the same way as many other WiFi analyzers, with the main difference being that it will not display how far away you are from a weak connection.

It doesn't support displaying signal strength or speed. However, it allows you to save locations of wireless networks in your area from being revisited at any time.
Pros
Save the location of a wireless network for later.
Cons
It does not display speed or signal strength
Requires root access for some features
5.

WiFi Scanner Pro

The last WiFi analyzer for Android is the free WiFi Scanner Pro, a premium app by Swrve Ltd.

It has exciting features over the other apps on the list, including the ability to map out your current location against locations of wireless networks around you that are open or encrypted.
Pros
It lets you know about the weak connections
Scan for new wireless networks — both open and encrypted
Lightweight
Cons
This app does not display speed or signal strength
It requires root access to use most of its features
5 Best WiFi Analyzers for iOS
Here are 5 of the best WiFi analyzer for iOS with pros and cons.
1.

Sensorly iWiFi Analyzer

With this 3G/4G WiFi analyzer for iOS, you can simultaneously measure channel usage or switches for up to 3 devices.

The newest version includes a wireless power savings mode which can reduce power consumption by up to 80%.

They also have a WiFi signal level meter and a neat WiFi scanner to help you find open networks. This is a free app with most features enabled.

Unfortunately, there are ads in this version. This app will work on all iPhones running IOS 7 or higher.
Pros
Fast Signal Analysis
Easy interface
Free To Use With Ads
Cons
It does not have many features
2.

iHandy Signal Meter

This supports almost all modern mobile devices (iOS, Android, Windows Phone).

The Signal Meter has a wattage management system to ensure all channels are optimally used. It also gets connected to open networks.

The free version does not have ads but only allows you to measure 2 WiFi signals simultaneously.

The premium version removes that limitation and will enable you to simultaneously measure 4 or 6 WiFi signals. This app requires IOS 6.0 or higher.
Pros
High-speed analysis, best out of all free WiFi analyzer apps
Cons
Requires IOS 6.0 or higher for full features
3.

SignalSense

This is one of the best WiFi analyzers for iOS and the most customizable application in style and pricing.

It supports 3G/4G wireless signals and can measure signal strength in real-time. The free version does not contain ads but only allows you to measure one signal simultaneously.

The paid version removes this limitation and gives you four channels simultaneously (or 6 if you get the pro version).
Pros
Easy to Install and Use
Fast Signal Analysis
Easy Interface
Free To Use With Ads
Cons
No Multipath
No Channel Utilization Information
Not Open Networks Capable
4.

WiFi Analytics

This is one of the best WiFi analyzers for iOS and is highly accurate in signal strength and channel usage metrics. Unfortunately, it only works on IOS 5 or higher devices (iPhone 3GS or higher).

IOS 4. x devices must update their device to use the application. This application will cost you $1.99 to install.
Pros
Accurate Signal Analysis
Fast Signal Analysis
Easy Interface
Paid Version Includes More Features
Cons
Paid Version Includes More Features
5.

WiFi Tester (Not Available)

Note that this app is no longer available in the app store. It was probably removed due to incompatibilities with IOS 7 or 8.

So, if you do not have an older IOS device (iPhone 4S or earlier), it is recommended not to install this application because it may not work on your device.

The app provides a signal strength meter and a bandwidth usage meter.
Pros
Fast Signal Analysis
Easy Interface
Cons
Paid Version Includes More Features
Not Open Networks Capable
Not Updated Anymore
Final Words
Like any other technological advancement, these programs are both a boon and a curse—the WiFi analyzers are created to diagnose and rectify errors in the connection.
Also, to know if someone is using our network without our authorization. But it can be used by people with ill intentions to intrude into our systems, sell or use the details provided by these tools against us.
It can be used to commit a cybercrime through our connection, and maybe we won't even know about it until the authorities inform us. Use these programs with caution and without causing harm to anyone.