Integrating smartphones into automobiles has revolutionized the driving experience as technology continues influencing how we live and drive.
Apple CarPlay is at the vanguard of this change, providing users with a smart and secure method to access iPhone capabilities while driving.
CarPlay has become an invaluable friend for every motorist, with many Apple CarPlay apps aimed to improve safety, entertainment, and convenience.
This article will examine the "10 Best Apple CarPlay Apps" for modern drivers, including navigation, music, communication, and more.
Get ready to discover the apps that will make every drive a breeze!
Best Apple CarPlay Apps to Improve Your Driving Experience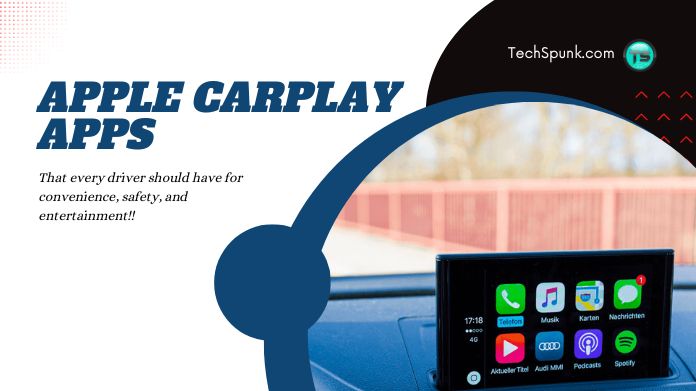 We analyzed the App Store to discover the best Apple CarPlay apps to enhance your driving experience.
These apps are perfect for various situations, such as road trips, commuting, or driving around town.
Along with amazing apps, we've chosen our finest wireless CarPlay adapters to improve your in-car experience.
Get ready for an exciting exploration of Apple CarPlay, where your vehicle transforms into a technologically advanced, road-trip-ready companion.
1.

Apple Maps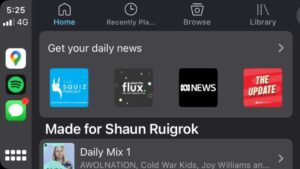 Apple Maps provides navigation options for driving, public transport, walking, and cycling.
Apple Maps also shines at exploring with features like detailed city experiences, Look Around, an interactive globe, and informative location cards.
The experience is enhanced with curated guides and expert recommendations. Convenience is ensured by a seamless connection between Apple devices and CarPlay compatibility.
Users may report concerns in-app, and privacy is prioritized, with location history protected.
Apple Maps distinguishes itself as a complete, user-friendly navigation and exploring solution.
2.

Phone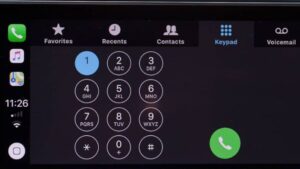 CarPlay integration is available in the Phone app for safe communication while driving. It allows you to browse contacts, access the dialer, examine call history, and check voicemail.
For safety, though, using Siri integration for hands-free tasks is recommended.
Favorites, Recents, Contacts, Keypad, and Voicemail are all program parts.
3.

Messages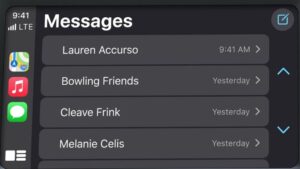 The Messages app allows you to interact safely and conveniently while driving
You may listen to your previous messages by merely touching a chat, and you can even send new messages by dictating them using Siri. Stay connected while driving with ease.
4.

Apple Music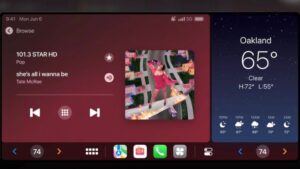 Apple Music is a rich streaming service with ad-free listening, Dolby Atmos Spatial Audio, and real-time lyrics via Apple Music Sing.
It also includes cross-device interoperability, a free one-month trial for new customers, and cost-effective access via Apple One packages.
It has features such as personalized suggestions, live radio broadcasts, CarPlay integration, and collaborative playlists.
It also highlights unique concerts through Apple Music Live, a free classical music app, numerous subscription plans, alternatives for schools and families, and artist-supporting tools.
5.

Apple Podcasts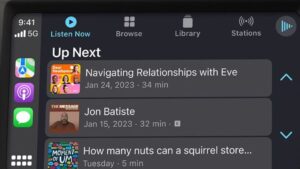 Apple Podcast is a large platform with millions of episodes.
It emphasizes the benefits it offers CarPlay users, such as seamless access to premium content, curated collections, and personalized suggestions.
Subscriptions provide consumers with more material and ad-free listening. Siri integration allows for hands-free control, making it ideal for CarPlay.
Users may also keep up to date on podcasting trends and best practices. Apple Podcasts improves the listening experience in the vehicle.
6.

Waze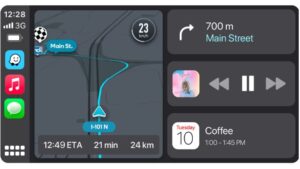 Waze is a crowdsourcing navigation app. It provides basic features such as turn-by-turn instructions and route modification, but what distinguishes it is its real-time traffic updates, which notify users of accidents, speed cameras, and road dangers.
Waze is a social app that lets users engage with other drivers and share information. It connects to music and calendars and searches for nearby sites of interest.
With its interactive and up-to-date features, this user-driven software is excellent for CarPlay, increasing the driving experience.
7.

TuneIn
TuneIn Radio provides access to over 100,000+ AM/FM radio stations and news, sports, music, audiobooks, and podcasts.
It describes how TuneIn utilizes cookies to customize the user experience while respecting privacy preferences.
It also highlights TuneIn's significance for Apple CarPlay, providing users with diverse audio content while driving.
TuneIn's huge content catalog and smooth integration with CarPlay make it an invaluable in-car entertainment companion.
8.

Apple News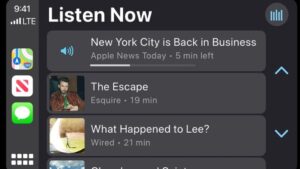 Apple News+ gives users access to many publications and newspapers and works perfectly with CarPlay for on-the-go reading.
Subscribers get access to a library of online and offline reading materials, professionally narrated content, and visually appealing layouts.
Apple News+ improves the news-reading experience through content selection, personalization, and the addition of services such as My Sports. Users who value their privacy will welcome the on-device intelligence.
9.

WhatsApp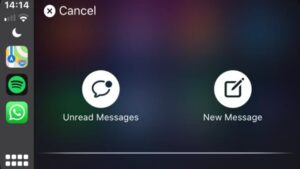 WhatsApp Messenger is a messaging and calling service that works with CarPlay to improve in-car communication.
Users may stay connected with friends and family while driving thanks to CarPlay compatibility, ensuring safety and convenience.
WhatsApp provides safe and private messaging phone and video conversations and is ideal for hands-free communication while driving.
10.

Spotify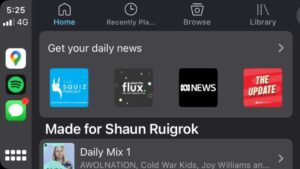 Spotify improves your driving experience by integrating smoothly with your favorite music app.
It enables you to easily explore playlists and songs because of CarPlay's user-friendly interface.
You can also use Siri for hands-free control, which makes driving safer. Spotify becomes your one-stop audio entertainment destination with the addition of podcast management.
Remember that Spotify Premium enables ad-free, offline, and shuffle-free listening, making it ideal for CarPlay.
Winding Up!
Apple CarPlay's convenience and safety benefits for drivers cannot be emphasized. With the appropriate applications, you can convert your driving experience into something both pleasurable and efficient.
Apple CarPlay apps we've researched in this post provide a variety of capabilities that every driver may benefit from, from navigation to entertainment communication to work.
So, whether you're on a lengthy road trip or commuting regularly, these apps make your travel more enjoyable.