Is Onn a good TV? If this question strikes your mind, you've landed at the appropriate Onn TV reviews to find an answer.
Keep scrolling the page and learn about the brand reviews to make a wise decision.
Many companies are working hard to establish themselves in the electronic industry with good functions at a lower cost.
Walmart's Onn TVs are the finest example, as they have good features and are less expensive.
Here's what you can expect from different Onn TV models from the reviews.
What is Onn TV?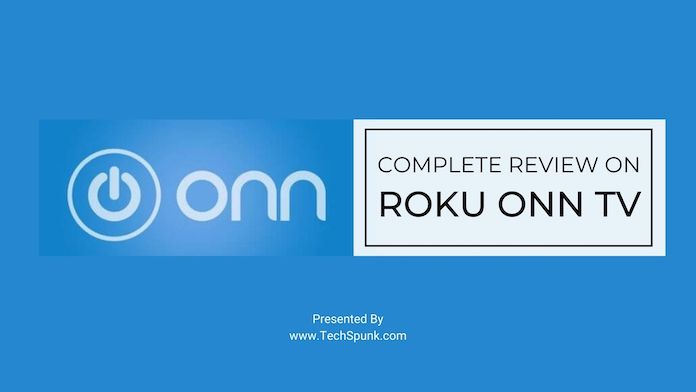 One is Walmart's exclusive brand for manufacturing low-cost goods such as TVs, headphones, speakers, wall mounts, iPads, and printer ink.
Like other companies such as Best Buy, which sells the low-cost Insignia brand, Walmart leverages Onn to entice bargain-hunting customers to buy the Onn products or something better once they're in the store.
The brand has recently rolled down the list of three smart TVs at a pocket-friendly price.
These products are mainly designed for budget-savvy customers who cannot afford big brands like Samsung, Sony, etc.
You must check out our below Onn TV reviews complete article and decide about the purchase.
Things To Consider While Adding Onn TV to Your Home
Before jumping into the list of the best Onn TVs to invest in, it's good to know the essential factors to help you make a worthy choice.
Keep them into account and make a choice accordingly.
1.

Sound

While choosing your ONN smart TV, remember that the higher the wattage, the louder the sound output.

It is vital to consider having a television that creates enough sound to go long distances, especially if you have a large house.

Play a few loud action moments and listen for harshness to determine whether the sound is thin and distorted at high volumes.

Also, check the bass for those adrenaline-inducing action scenes, voices to choose whether they sound authentic, and the amount of detail in the sound.

Watch when pressed for TV cabinet shaking, directional distortion, and a strange buzzing sound.

Consider investing in a sound system by selecting a decent soundbar if you want the optimum sound experience from your television.
2.

Screen Resolution

The number of pixels necessary to make up a picture on a screen is a resolution.

A resolution yields a crisper image with more details; hence, a higher resolution is preferable.

Full HD was the typical type of TV for a long time and is still the most popular resolution in TVs accessible around.

On the other hand, TV manufacturers are progressively developing Ultra HD sets (also called 4K). These screens have four times the number of pixels as today's HDTV displays.

The most significant advantage of 4K television is the increased detail of little things on the screen, particularly crisper typography.

Compared to HDTV images, the photos appear rich and more lifelike overall. With technical developments, 8K TVs are now available on the market.

These displays triple the resolution of 4K TVs, significantly improving picture clarity, but content that uses the increased resolution is scarce.
3.

Refresh Rate

The refresh rate is expressed in Hertz (Hz) and defines how often a picture on the screen gets refreshed every second. It is set to 60 times per second by default.

A 60 Hz refresh rate, on the other hand, might cause hazy images in scenarios with rapidly moving objects, especially on LCD HDTVs.

As a result, manufacturers have drastically raised the refresh rate to generate a more robust photo.

Specific modern models feature High-Frame Rate (HFR) capability, which implies a faster refresh rate and can display material with frame rates higher than 60 Hz.

In particular, a 60Hz TV will benefit gamers, but most TV buyers should avoid anything less than a 120 Hz refresh rate.
4.

Connectivity Options

Make sure to pay attention to the number of HDMI inputs a set has while you're shopping for an Onn Smart TV.

These ports may connect a soundbar, a Chromecast, and a game console, among other things.

If you decide to buy a 4K Ultra HD TV, be sure the ports on the TV also support HDMI 2.0 so that future Ultra HD sources may get used.

Many TVs only have one connector that supports HDCP 2.2, a 4K copy-protection method (high-bandwidth digital content protection).
5.

Price

Lastly, don't forget the price while buying Onn Smart TV. Like all other brands, these smart TVs are also available in a different price range, and you need to pick the one that fits your budget well.

Check the TV specifications first and invest if the product meets all your requirements without shaking your budget.
1.

Onn TV Reviews 42-inch FHD Roku Smart TV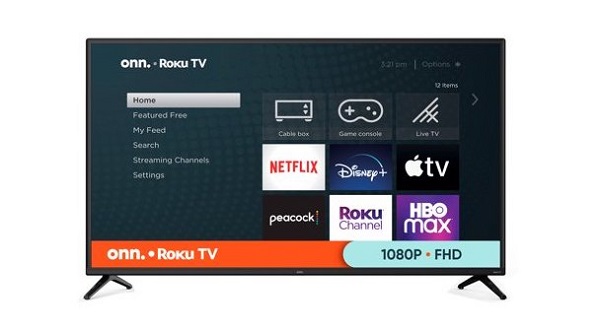 The 42″ FHD Roku Smart TV lacks a high-ultra definition. However, this model might be the best bet if you're searching for a monitor.
Let's get into the detailed Onn Roku TV reviews for a better idea.
1.1. Specifications and Price
You can acquire this model for as little as $88 at any Walmart outlet. The measurements of this model are 37.4 inches by 23.5 inches by 8.7 inches, and it looks attractive due to its exquisite finish.
The 42-inch class FHD Roku Smart TV boasts a 1080p resolution, ahead of other mid-range TV brands such as TCL.
Furthermore, it is lightweight and with a total weight of just 13.2 pounds.
1.2. Connections
Three HDMI ports, one USB port, one optical, one LAN, one composite, and one headphone connector are included in the Onn 42-inch class FHD Roku Smart TV.
1.3. Performance
You can choose this model if you do not like live-streaming through television. The 42-inch class FHD Roku Smart TV is excellent for additional areas such as the kitchen or the gym.
1.4. Pros and Cons
Pros
It offers the best price compared to other brands such as TCL and Hisense.
Its ability to support Roku gives you access to thousands of channels.
In the event of an accident, it is simple to replace.
Cons
The Onn 42-inch class FHD Roku Smart TV lacks features like Google Assistant and Alexa.
Because the model's stand is flimsy, you'll have to mount it.
It is not ideal for computer gaming enthusiasts.
1.5. Review
The TV features an 8-watt speaker, perfect for a small home. However, if you need a TV for a larger living room, you should look at other mid-range brands.
You can improve the sound system by investing in soundbars. Because of the 60 Hz refresh rate, this is not the ideal option for gamers.
Since the stands aren't as sturdy as you'd want, you might have to install them carefully.
2.

Onn TV Reviews 50 Inch 4K Resolution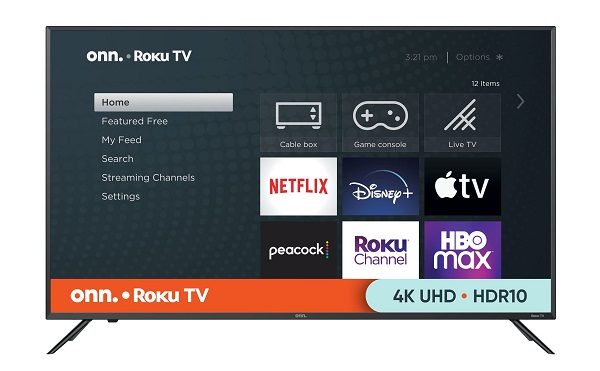 Are Onn TVs good? Since this brand is new, it's always good to check the reviews first and add Onn TV 50 inches 4K to your collection.
2.1. Prices and availability
Walmart offers a 50-inch Onn Smart TV for $218. Walmart is the only place where you can find this model and alternative sizes are available.
2.2. Design
The thin appearance of Onn's 50-inch 4K Smart TV draws customers in at first glance. The TV is 44.2 inches in length and 25.5 inches in height.
Additionally, it is lightweight. The screen gets encased in a gleaming plastic bezel, which adds to the attractiveness of the device.
A bulging rear panel of the Onn 50-inch 4K Smart TV guarantees that the TV is perfectly balanced. The TV features V-shaped feet to increase its stability.
It's worth noting that the TV's supporting stand isn't as sturdy as you'd want, and it's easy for toddlers and dogs to collide with it.
2.3. Ports
Three HDMI connections get on the bottom of the 50-inch 4K TV. These are great for connecting external devices like a Fire Stick, a speaker, or a USB drive.
Remember that none of the ports is HDMI 2.1 compatible for games, so that you won't get the best picture quality.
The TV comes with an Ethernet cable, allowing you to live stream without connecting to the internet. You can easily add the router to the TV if you want to connect it to the internet.
2.4. Performance
It's easy to dismiss the Onn 50-inch Roku TV based on its low pricing. You'll be astonished to hear about Onn reviews that it outperforms other brands in the category, such as TCL and Hisense.
The Onn 50-inch TV does not have the best contrast, color, or brightness. You'll probably have a few issues, such as being unable to see in dim light. Moreover, it is less bright than other TV models, such as the TCL 3 Series.
2.5. Audio
Onn 50-inch's audio isn't the best, just like its performance. Although Walmart does not disclose its hardware specifications, you can know by listening to various audio. The television does not get as loud as you may imagine.
Even at maximum volume, you won't be able to hear what's happening in adjacent rooms unless you have a compact space. Soundbars can be purchased if you use this model in a larger room.
2.6. Features
The Onn 50-inch is a Smart TV with a selection of Roku apps and streaming services as prominent brands such as Hisense and TCL.
Using a Fire Stick, you can live stream Youtube TV, Fox Sports, HBO Max, and many other channels.
Because Onn TV supports Roku, you can watch the recommended material and shows. You can subscribe to thousands of outside channels for a better experience.
One of its flaws is its lack of compatibility with Google Assistant and Amazon Alexa. If you like to link your electronics, you should look at other models like the TCLSeries.
2.7. Remote
The simple controller on the Onn Smart TV makes it easier to operate. It has a comfortable purple navigation pad that is simple to use.
2.8. Pros and Cons
Pros
Simple and Straightforward installation
Excellent connectivity
Cons
It might not be ideal for gamers.
Not a good choice for larger spaces.
Not good in terms of brightness.
3.

Onn TV Reviews 70-inch Class 4K UHD Smart TV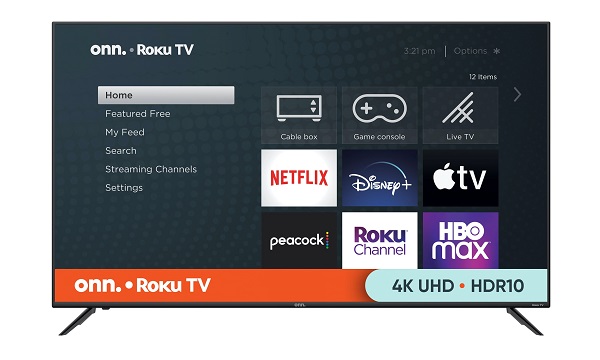 3.1. Price and availability
As per Onn Reviews, this option is available for less than $450. The measurements of the model are 61.5 X 38.3 X 12.5 inches. Despite its enormous size, it weighs only 45.2 pounds.
3.2. Resolutions
Onn 70′′ class 4K UHD, like other middle-range TVs like Hisense and TCL, offers a high 4K Ultra-high-definition that produces more precise images. The screen is encased in a gleaming plastic rim that adds to its appeal.
3.3. Connections
The Onn 70′′ class 4K UHD features three HDMI ports, one USB port, composite, coax, headphone jack, and headphone jack.
External devices such as earbuds and a Fire Stick can connect to the ports. You can try our best-reviewed Bluetooth adapter for your television.
3.4. Pros and Cons
Pros
It's big, with a beautiful and appealing design.
Its greater size makes it appropriate for a larger space because it is more entertaining.
Its image size is big, allowing you to see more details.
Have enough sound with 10-watt sound speakers.
Lightweight
Cons
There are fewer HDMI ports.
Since the stand is weaker, it is unsuitable for people who have small children or pets.
A bit pricey
3.5. Review
Unlike most middle-range Smart TVs with four HDMI connections, Onn's 70-inch class 4K UHD only offers three, limiting the number of devices that can be connected.
This model includes a 10-watt speaker, making it appropriate for a larger home. Compared with other brands with above 98 sRGB, the Onn Smart TV has 96.7 sRGB, limiting its visual capability.
Furthermore, this model operates at 60 Hz, which is lower than other variants that operate at 120 Hz. Consider alternative models if you're searching for something to play high-end games on.
Our Thoughts
This is all about Onn TV Reviews. We hope this guide will help you in making the right choice. It is critical to check the features of any TV brand before making a purchase.
The Onn TV series is one of the most affordable brands today and is mainly launched for e budget-oriented customers.
So, wait no more and add Onn Smart TV to your collection immediately.