Is finding an online Shakespeare translator difficult? Don't worry; you are not alone. It can be pretty arduous work to comprehend the Bard of Avon.
Well, not anymore. There are solutions to most of our problems and queries in this global world, and many are available on the Internet.
Many online tools have now made understanding Shakespeare a piece of cake. These are 'Shakespeare translators.' So, you need not lose any more sleep over deciphering the works of Shakespeare.
Online Shakespeare translator tools provide translations, summaries, quotations, critical analysis, etc., especially online translations of Shakespeare's works.
Explore these online translator tools, and step into the world of Shakespeare that lies ahead with TechSpunk!!
9 Best Online Shakespeare Translator Tools
1.

Lingojam (English to Shakespearean)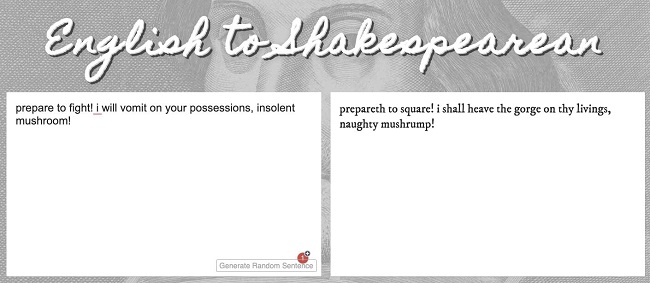 Lingojam's English to Shakespearean is an excellent tool for converting ordinary English sentences into the Shakespearean language.
Sounds interesting. Also, there's a lot more.
You would get exaggerated translations that produce the comic effect, more severe translations, and translations to old English and early modern English under which category the Shakespearean or Elizabethan English falls.
They might use exaggerations in early modern English to produce humor, but that is mentioned.
You could choose to translate your sentence to more serious old English too. There's a lively discussion panel you could join too.
This tool will take you to the magnificent world of Shakespeare and bestow you with valuable knowledge and an ability to understand and converse- speak or write in English, not only of the present day but of the times down the ages.
How wonderful to decipher and speak the language the characters of Shakespeare so memorably spoke in the plays!
2.

Shmoop Shakespeare Translator Online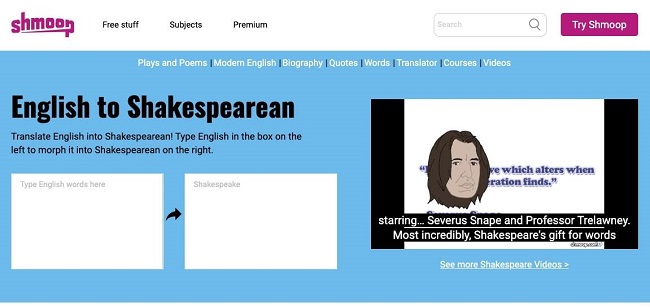 Shmoop Shakespeare's translator online is another excellent tool for converting Shakespearean to everyday English and everyday English to Shakespearean.
This tool provides the most famous Shakespearean plays with translations alongside them- a handy feature indeed!
It also has other exciting features like 'quotes,' 'biography,' 'courses,' and 'videos.' Also, there are quizzes you can take, which are fun and enlightening at the same time.
You could examine your knowledge of Shakespeare and improve it too!
This tool also has an air of humor that permeates throughout and is bound to bring a smile.
They help you learn in a manner of storytelling, which makes learning enjoyable and easy.
Many schools and institutions are known to be using this tool as support besides their courses and curriculum.
3.

Your Dictionary Shakespeare Translator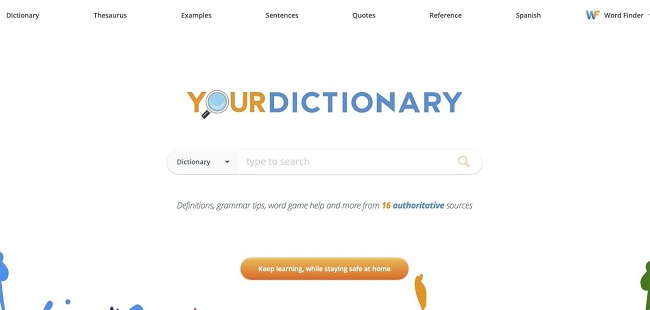 Your Dictionary Shakespeare Translator is a tool where your queries are answered lucidly. There are a lot of things you can avail of in this tool.
It tells you about the meaning of different terms used in Shakespeare's plays and poems and their reference to the context there in a straightforward manner.
It also provides an alphabetical list of the most common words used by Shakespeare, which have been translated into the English of the present day.
There is also a list of phrases that Shakespeare coined himself and the plays they were used in.
Additionally, they have an exciting section that explains the set of pronouns we use today, as they were used in the Elizabethan or Shakespearean days.
There are also a lot of fascinating history as well as linguistic facts that are provided.
You could also learn to talk in the language Shakespeare used!
4.

Fun Translations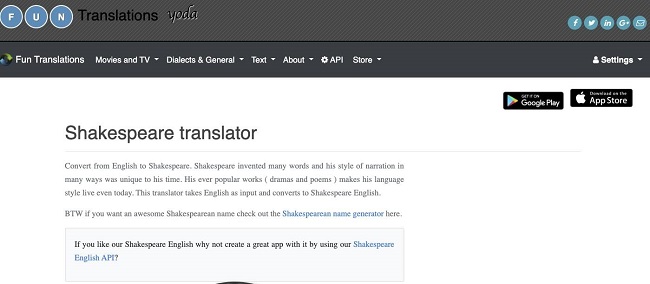 Fun Translations, as the name suggests, is a fun way of translating the English of today to Shakespearean English.
There are other exciting features like 'Shakespeare Name Generator' where you can get a Shakespearean name.
Also, you can create an app with their 'Shakespeare English API.' This is quite a unique feature.
Besides, you can avail of other benefits, such as translating into English, text translations, decoding words, language translations, and many others.
This website would provide you with a merry-go-round of fun and joy besides providing you with valuable information and knowledge.
So, why wait?
Gear up for your ride into the world of Shakespeare. This tool would enhance your understanding of Shakespeare manifold, the entire process full of enjoyment, which is your extra gain.
Thus it would be pretty beneficial if you use this tool.
5.

TeachersPayTeachers.com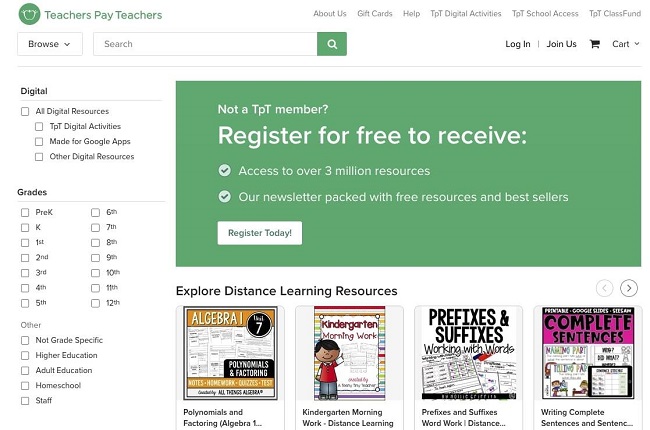 TeachersPayTeachers.com is yet another excellent tool where you get many beautiful translations and other works on Shakespeare by various people.
These can be either paid or free. You can buy these works from this website. You can either be a member or can register for free.
You would receive access to over three million resources and their newsletter, free resources, and bestsellers.
You can choose from various categories of sources like distance learning, high school, middle school, and elementary school sources.
So, you can get precisely what you want by choosing from the categories that suit you best.
It is a great platform where you can avail excellent and helpful resources that cater to your specific needs and provide you with much more.
6.

LitCharts Shakespeare Translator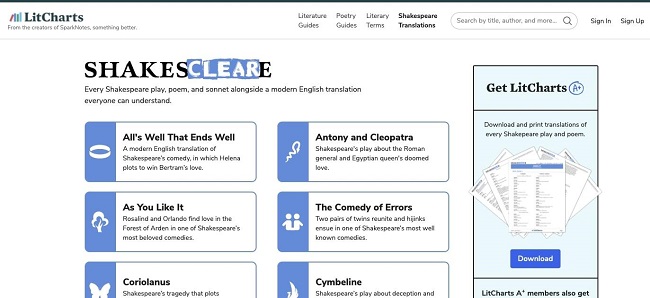 LitCharts Shakespeare Translator, a very meticulously organized tool for Shakespeare translation, is a one-stop solution for your queries and doubts regarding Shakespeare.
They have the modern English translation of Every Shakespeare play, poem, and sonnet that would be understandable to everyone.
They also have a detailed summary and an analysis of each scene. Themes are also marked and explained.
The themes are color-coded, which makes it easier for readers to understand. Thus, it certainly guarantees a clear understanding of Shakespeare.
They also have other exciting features like 'sortable quotes' that can be sorted by location, character, and theme.
Thus, it becomes easy to find out what you specifically want. This tool also encourages close reading, which gives us a deeper understanding of the text.
They also provide 'data visualization,' which is handy besides being attractive and effectively catching attention.
Also, they have pdfs in chart-based formats, which are incredibly convenient.
7.

SparkNotes Shakespeare Translator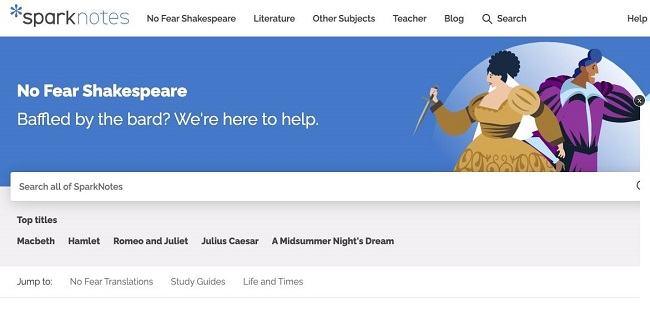 SparkNotes Shakespeare Translator is an excellent tool for translating Shakespeare's works.
They also help us understand the works of Shakespeare properly and clearly.
They provide the full texts of Bard's plays, sonnets, and translations into present-day English.
They also provide detailed summaries and enlightening analyses. They have quick quizzes too, which is an exciting feature.
It helps revise and test knowledge and adds a fun element to learning.
The plays are arranged alphabetically, which makes it easier to find them.
They also have a study guide that provides a biography of the author, historical and social contexts, quotations by the author, and much more.
They are also open to feedback and try to make improvements or fulfill the readers' requirements, which makes them user-friendly.
They have a programmer called 'No Fear Shakespeare, which, as the name tells us, solves the paradox of understanding Shakespeare.
8.

Babylon Translator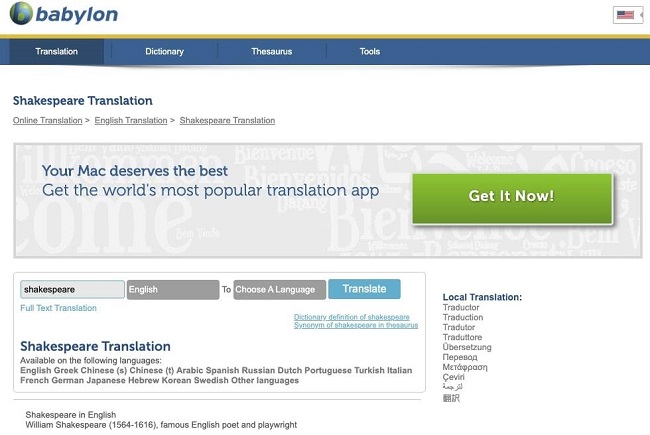 Babylon Translator is an efficient tool for translating Shakespeare into English, Greek, Chinese, Arabic, Spanish, Russian, Dutch, Portuguese, Turkish, Italian, French, German, Japanese, Hebrew, Korean, Swedish, and many more.
Also, the tool is free to download. So, you can avail yourself of the tool's benefits without paying extra charges.
Translations of Shakespeare into so many languages would help you understand the Bard better and open up the wonderful world of Shakespeare to people from different parts of the world.
Thus, widening the arena of interpretations and inviting people to look at the works of Shakespeare from many different perspectives.
This tool makes Shakespeare's works available to people worldwide in their languages, making reading and comprehending Shakespeare more accessible.
9.

Nosweatshakespeare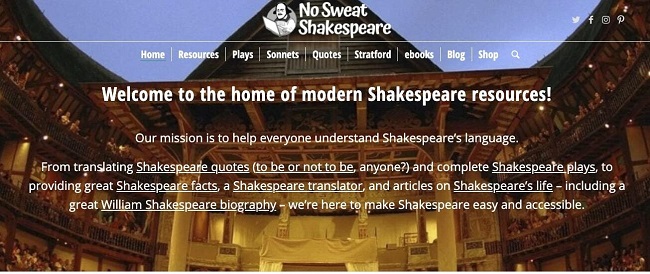 Nosweatshakespeare is an engaging tool for Shakespeare's translation. They have several exciting features.
A feature called 'Shakespeare Basics' provides you with basics about Shakespeare's life, Shakespeare's biography, and the timeliness of Shakespeare's works.
'Shakespeare Quotes' provides quotations, monologues, and Shakespeare soliloquies, which can be sorted by play or theme.
'The Plays' provide summaries of the plays by the playwright, introduces us to the play's characters, and explains the different types of sports by Shakespeare, like tragedies, comedies, histories, etc.
'Shakespeare's Family ' gives you knowledge about Shakespeare's family and an in-depth study of Anne Hathaway, Shakespeare's wife.
'The Sonnets' provide a modern English translation of Shakespeare's sonnets and poems. It has some other features too.
'Shakespeare's Characters' provide a study of the most famous characters in Shakespeare.
'Shakespeare's Theatres' tells us about the different London theatres Shakespeare was related to. 'Shakespearean Insults' is yet another feature.
'Shakespeare's Pictures' provides you with all known portraits and pictures of Shakespeare with a description of each. They also have a blog with excellent articles.
Experience the Joy of Discovering Shakespeare
Thus, these are some of the best online Shakespeare translators.
They provide translations, summaries, analyses, quotes, descriptions, related knowledge, and more.
These tools have made exploring the marvelous world of Shakespeare simpler and more enjoyable.
So, why wait? Lose yourself in the astounding of this great poet and playwright, and find out the unique works.
You would surely miss a lot if you didn't try it at least once.
There is much to discover; these tools make the path a bed of roses. And when we know the joy of learning, we know that the effort is worth it!
Though in this case, these tools minimize the effort, increasing the joy manifold.
As Shakespeare says,
"We know what we are, but know not what we may be."