Hosting a party is not as simple as it seems, whether in the game or in real life. Inviting guests and ensuring they'll attend the party is a hassle for gamers.
Here, Mystic Messenger Emails come into the role. To reach out to all the guests, you must send them emails and answer the questions asked.
Given that guests tend to ask three questions and you'll get a single chance to get each of them right.
To make things sound straightforward, we have come up with all the answers your guests ask you when sending the invitation.
We've also covered some of the basics of Mystic Messenger Emails, how it works when you get emails, and how to answer them.
You can check our easy ways to get free Chegg answers for your educational use.
Scroll down the page, make yourself aware of the answers, and finish your gameplay fuss-free.
Take a look!!
What is Mystic Messenger?
Before jumping into the answers, let's figure out the game more. Mystic Messenger is a hardcore South Korean Otome video game developed by Cheritz.
Described as a Storyteller Messenger Game, it is all about texting cuties.
Released on 8 July 2016 for Android and 18 August 2016 for the iOS platform, Mystic Messenger is available in Korean, Spanish, English, and Mandarin Chinese.
The heart of this gameplay is reading and responding to instant messages.
The story of this game is multi-layered, in which more straightforward routes will give shallow glimpses of the entire story, and challenging routes will take the gamer to a new world of intrigue.
Finally, players must throw a party by inviting guests through Mystic Messenger Emails to end the gameplay.
Add this game to your collection to enjoy fun and thrill!!
What Are Mystic Messenger Emails?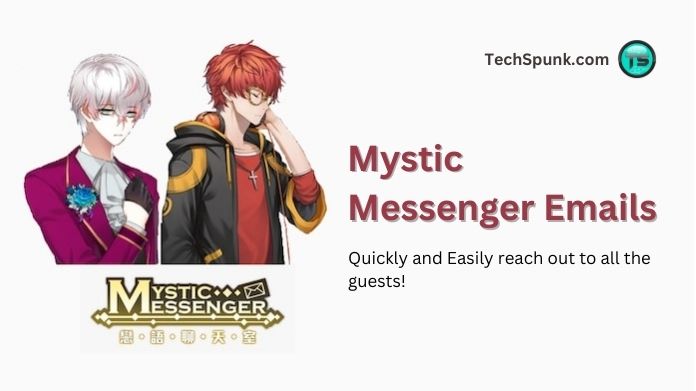 To host the party, you should always start with 15 to 20 guests for a happy ending.
One can easily invite them by sending emails. To access your favorite guests, you must communicate with them during the game.
It features three email levels, and gamers must qualify by giving accurate answers to make the guests attend the party.
Players must answer all their questions appropriately to ensure they'll attend the party. The wrongly answered questions will instantly cut down that guest from your list.
As a player, you select your desired guest list but remember that 20 must attend the party for a superb ending.
Therefore, to convince them by giving the correct answers and hosting a party like a pro.
How Does Mystic Messenger Email Work?
Mystic Messenger Emails mainly invite guests into the party while playing with another Story mode. You can accomplish this through the virtual messenger that players can find in the gaming app.
Gamers must first deal with the guests they wish to invite to their party and then send them a dedicated email.
Remember that the invitation is looked up to by 707, V, Jumin, Zen, and Yoosung; therefore, ensure you will do it well and appropriately.
How Can You Host the Party in Mystic Messenger?
Host the party in Mystic Messenger; there are certain things that players should keep in mind.
These are:
It is not an ordinary gathering and is known to be the challenging part of the game.
Make your party successful; gamers ensure that at least 20 guests attend the event.
Players must invite their favorite guests to the party using Mystic Messenger Emails. This is an important activity to be carried out.
The guest's attendance depends on your response to their emails. You have to answer each of them accurately three times before they agree to show up at your party. This will be done within ten days before the event.
Remember that the guest will not come to your party if you skip any of these levels or get wrong answers, even one question.
You will have to achieve the 'Completed' status in your email, confirming that the guest will surely attend the event organized by you to finish the gameplay.
Mystic Messenger Emails feature two statuses, namely Green and Red. If the status is Green, your desired guest will surely come to the party; however, the Red Status means they probably won't attend.
What is RFA? (Rika's Fundraising Association)
Founded by Rika, V's girlfriend, Rika's Fundraising Association (RFA) is a charity organization that mainly funds needy people by hosting parties.
Unfortunately, however, these parties came to an end after her demise. But don't worry about the same, as when you join the game; you'll get to host the party.
At the beginning of the Mystic Messenger, when a gamer joins the Mystic chat room, he must contact the guests and host the party.
Rika controls all matters related to the party, or anyone in the organization has no information.
How to Invite Guests to the Party by Mystic Messenger Emails?
Inviting guests while hosting a party in Mystic Messenger is challenging for players.
A total of 10 guests is required to throw the party, and around 20 guests are enough to make it a grand event.
Keep in mind that the party's success and failure depend on the answers given by you.
Therefore, ensure you qualify for all three levels of Mystic Messenger Emails and host the party without creating any fuss.
Guests will have @ mark or symbol in their name. They will ask questions from you after getting an invite, and you will have to answer them correctly.
Players will get a single chance to impress their guests. One wrong answer and that guest will be off your list.
You will get a Completed' status with a green flag if you qualify for all three levels.
However, an orange flag means your answer is wrong, and that guest will not be part of your event.
The answer guide for the same is as follows:
Party Guest List
@allergy
~ Cat allergy
~ Beef and seaweed soup
~ I might be allergic to guests not attending the party.
@artwomen
~ Monet
~ The Louvre
~ Cantabile
@badcomment
~ 1.0.0.1
~ I'll look forward to your next video!
~ Report them
@banker
~ 100% interest rate
~ Swiss bank.
~ $1.2 million all in cash
@barista
~ Arabica Coffee
~ Drip Brewing
~ Italian
@bracelet
~ Don't worry
~ Lock U Up
Silver Bracelet
~ Claw Machines
at the Mall
@cathotel
~ Cat buffet.
~ How about people putting on a show?
~ Cat limousine!
@catlover
~ Head meow!
~ Odd eye meow!
~ Crystal litter.
@catprotect
~ Of course!
~ Give them food and wait.
~ Social media sites.
@chef
~ 3 cups, chef
~ You mix as if
you're cutting, chef.
~ 20 minutes
@cherryfarm
~ Green.
~ Poke it out with a straw!
~ Diamond
@chicken
~ I saw it on Youtube!
~ The face of a generous looking granfa.… I mean, you, the owner!
~ Cheese is the way of the world!
@college
~ Noon.
~ Yellow and black.
~ Candlelight.
@creamroll
~ The rock band
Imagine Mythical Creatures
~ Limited edition
title change ticket
~ Create a banner
of the winner.
@culture
~ Borborry
~ It is Verragamo
~ Flower bed of pretty boys.
@designer
~ Hawk Pose
~ Shiny White
~ Silk underwear with a scarf
@detective
~ I know the vanished seven treasure islands.
~ Yoosung's LOLOL exploration
~ Jaehee
@doclee
~ The seal is unlocked!!!
~ Black
~ The rise of the fire
dragon slumbering
within the eyes!!!
@education
~ There's this person called Jaehee….
~ Games with soda as prizes.
~ It's because you're too smart.
@emotion
~ I wanted to help you.
~ I want to go see a movie, but I don't have anyone to go with. What do I do?
~ I really hope you come to our party.
@golf
~ Driver shape
~ Shoes that dry quickly
~ Leather that doesn't wear out
@hacker
~ Lucky Kim
(whispers)
~ He's an oldie,
80 years old.
~ Not Grandma!
Grandmother!
@homeless
~ Lots of people with warm hearts!
~ Rice, soup, green salar, backed salmon, fried eggs
~ Sell Small Issue Magazine
@hospital
~ Hippocratic path
~ Request exam results
~ Comparing several hospitals
@hyoja
~ Filial Piety
~ Confucius
~ Be healthy
@indie
~ How about Scheme?
~ Nameless
~ Why don't you
participate in
a game convention?
@keyboard
~ Ergonomics
~ Ctrl + c
~ Movie
@kim
~ Compete with your son
~ Drifting
~ Car from when you were young Pong!
@lame
~ Call the police!
~ Say hello!
~ I think you'll give them a kick in the butt.
@lolol
~ Dia
~ Of course lol
~ Play LOLOL together
@lololguide
~ Headset
~ Focus on balance
~ Blood Dragon
@longcat
~ Meowmeow, [note comma]
~ Miumiumi!
~ Nyannyan!
@marc
~ Bae screen wedding
~ Tripter Tript invitations
~ Use screenshot function!
@medicine
~ Maybe… maybe…
Diamond Pharmaceuticals…?
~ It's Diamond
Pharmaceuticals.
~ Diamond
Pharmaceuticals!!
@mira
~ Pink bandage.
~ Coffin with lace all around
~ Life size marble statue of Pharaoh
@model
~ Of course.
~ The chance to discover a gem!
~ Your face reflected in thy eyes.
@monnami
~ The best of all pens in the nation, BIK.
~ "Sear the end with a lighter."
~ Classic is best
@monogamy
~ Personalized framed
cross-stitch.
~ Buy her handcuffs.
~ Give her a
bouquet of jasmine
@movie
~ A film about the environment
~ Realism.
~ Cannes, Venice, Berlin
@musical
~ Zen.
~ This production of "The Red Pepper Was So Hot"
~ Get the help of a college student.
@naming
~ Luciel
~ [your name]
~ Jihae
@narcissist
~ Treatment of
getting locked up
in a room of mirrors.
~ He takes a
lot of selfies.
~ Lake Na
@netizen
~ Yes, there is injustice going on so please come to our party and help us!
~ There's no story of a magical girl who's not violent.
~ It's cool… Completely suits you
@niddle
~ Green
~ Long enough to do well with my eyes closed!
~ Get a camel through the eye of a needle.
@nolam
~ Baleman
~ Onthestellar
~ Leonardo Dicappucino
@oil
~ Fancy party!
Lots of parking space!!
~ Of course!
~ Bald
@oneroomer
~ To the freezer!
~ Bubblewrap on the window.
~ Fried rice.
@pancake
~ Silvervine
~ Salmon fish sauce
~ Fish – shape
@press
~ Netizens
~ A law must be implemented that protects reporters.
~ I cannot tell you that.
@roastery
~ Antigua.
~ Whole beans.
~ 15 days.
@romance
~ Of course!
~ You One and Only Top Star
~ Kiss!
@rui
~ It's an extravagant and elegant party.
~ I recommend you take the Olymbus X20
~ I recommend you take the heavy professional Ganon camera
@secretary
~ He is very practical.
~ More than enough.
~ Just your normal attire.
@security
~ Korea
~ Because
it's cool.
~ Gold
@smartphone
~ First. Leave the phone in the living room and go to your room.
~ Leave the battery only half charged.
~ Popcorn brain
@smoker
~ A man's word is his bond!
~ Your girlfriend will love that!
~ You'll be useless if you give up now
@solo
~ Hi, I'm Youngsoo. I got your number through Chulsoo.
~ Wear a watch!
~ Asking is not a challenge but a confirmation.
@stock
~ Tell them to
invest in stocks.
~ Not losing all
your money
~ Chief Assistant
Jaehee Kang
@star
~ Memories of my first kiss✩
~ I want to eat it!
~ I have to make a wish!
@tetris
~ Of course!
~ Stick
~ At the party!
@toeic
~ Everyone has small feet!
~ Chinese
~ Nimtendo
@tom
~ Call the zoo!
~ Stock prices of
peach drinks are
going up.
~ It means your
grades! Two Fs!
@tradition
~ Whoopee~~ Beat drums~~
~ Whoopee~~
~ Oh, my dear sun~~ Lay your passion upon us~
@uranai
~ So much time!
~ C&R Director
~ Old man under the moon.
@wineowner
~ Red wine.
~ Ice wine
~ Jumin
@writer
~ Art organizations
will be joining.
~ XOXOforeverurlovely
#1star
~ Flies off to space.
@wrongmajor
~ What are you interested in these days.
~ Who says you're late! You didn't even try.
~ Convince your parents
@whitehacker
~ Strike first!
~ Unknown
~ Anonymous
@youth
~ Night owl
~ Read for self-improvement
~ Health management
When Do You Start Getting Mystic Messenger Emails?
Mystic Messenger continues for up to 11 days, and you need to host the party to finish the gameplay.
Now, gamers should start inviting their favorite guests at the beginning of the game, as they must answer their emails 10 days before the party.
As at least 10 guests are compulsory to host the event, they shouldn't delay the same. However, this applies when gamers play in the regular or story mode.
For example, if you take Roy Route or V, you need a minimum of 15 guests to give a good ending to your game.
Send them invites through Mystic Messenger Emails and answer their questions appropriately to make your party successful.
Our Thoughts
This is all about Mystic Messenger's email and answers. I hope you find it informational!! So check these answers and give replies to your guests accordingly.
This is one of the exciting and spellbinding novel-based games that attracts gamers worldwide.
What makes it unique is the party players must host to end the gameplay. Use our guide to give the correct answers and make your event memorable.