Are you wondering how to open Epub files on your system? Well, your search ends here at techspunk.com!! Keep scrolling the page and finding the guide about how to open Epub files on Windows, Android, and Mac without any hassle.
So, finally, you've got your favorite e-book, and you are now curious to read the same? Hold your horses because your bubble of peacefully reading the book is just going to vanish soon, and let me explain to you the reason.
E-books are generally available in Epub format, which is quite challenging to open without any third-party software.
Whether Windows, Android, or Mac, your device has nothing to launch this format, which creates a hassle. But don't worry about it as we've got you covered.
Here's the detailed guide about how to open Epub files on your system without putting in much effort.
Without further ado, let's get right in!!
What is Epub File?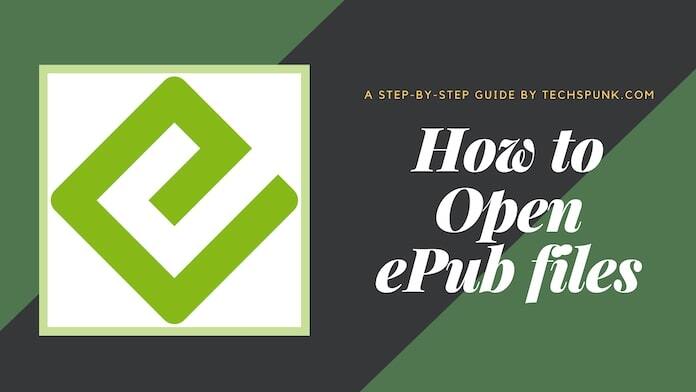 Epub, also known as Electronic Publication, is an e-book file format that uses .epub file extension. This format is also styled as ePub and is supported by many Epub Reader options.
To launch this file on your PC, tablet, or mobile device, you either need to download the compatible software or convert the file into the pdf format and then open the same.
International Digital Publishing Forum first published the Epub format. It is an open-source format that allows reflowable content. Epub file tends to consist of three elements – archive, metadata, and content.
This is equipped with better and enhanced functionalities over PDF and is mainly used for storing e-books and other types of content.
How to Download Epub File?
Since you are aware of this file format, it's time to figure out how to open Epub file effortlessly. Although several Epub readers are available on the internet with the help of which you can easily open the file.
It is still recommended to convert it into PDF format for an easy and hassle-free reading experience. The users can go for the Epub to PDF downloaders and then carry out this conversion in a few clicks.
How to Convert Epub to PDF?
Converting the epub file to the conventional pdf format is far from rocket science and can be quickly done even by a layman with no technical background.
All you have to do is follow the process religiously without missing out on any step. Here is the step-by-step guide to convert Epub to pdf.
Take a look!!
First of all, visit the Epub converter website.
You will easily locate the file conversion option on the top of the menu bar on the homepage.
Select Epub to pdf option and upload the Epub file from your PC or mobile device.
Tap on the Start Now button and wait for a while until the process gets finished.
Once the conversion is completed, a link will be generated on the screen to open the new pdf file.
Choose the destination to save the file and open any pdf viewer to access the file.
How to Open Epub files on Windows, Mac, and Android
Here's the expert guide to launch epub files on PC (both Windows and Mac) and Android devices. Let's get started!!
For Windows and Mac
Since you have converted the Epub file to PDF format, use any pdf viewer to launch the file on your system. The process for how to open Epub files will remain the same for both Windows and Mac.
To put it simply, you can use an Adobe pdf reader that can open your PDF file on any operating system in no time.
Scroll down the page to learn about the step-by-step guide if the file is available in the clickable link.
Control-click (Mac) or Right-click (Windows) links the pdf file to initiate the process.
After that, you will find the save or download option. These options vary from one browser to another.
It will appear as:

Save target as – Internet Explorer
Download linked file – Safari
Save link as – Firefox.

You need to make sure that the Adobe pdf reader is selected for the file type. Now, save the file and proceed further.
Now, you need to locate the saved file on your system and double-click to access the same.
Your favorite Epub content will then appear on your screen.
For Android
Thinking about how to open Epub files on your Android-based device? Well, here is the solution!! Unlike Windows and Mac, accessing Epub files on Android is a bit easy.
There is no need to convert the app into pdf format as you can open the same as it is through any Epub reader app.
The play store is loaded with Epub file readers such as FullReader, ReadEra, Moon+Reader, etc., but we'll discuss the Lithium Epub reader app here.
Find out the step-by-step procedure here.
Go to Google Play Store and type Lithium Epub Reader in the search box. The results will instantly appear on the screen.
Click on the Download button and wait for a while until the process is completed. Alternatively, you can download it from any browser app as well.
You will be notified when the app is downloaded. To install the same, you need to enable Installing Apps from unknown resources for a while and disable it as soon as you are done with the installation process.
Start installing the app on your smartphone and allow it to access the files on your phone or tablet.
Once it gets done, open the app from the app drawer and refresh the library. Your Epub file will then appear on the screen. Click to open the same.
Our Thoughts
How was our homework? Do you like it? Please feel free to share your feedback in the comment section below.
We hope this guide has resolved your how to open Epub files query and will help you access your favorite books without spending a fortune or putting in much effort.
Unlike other files, the Epub extension is quite different to open, and therefore, it is recommended to convert it into PDF format to avoid any hassle.