People get additional storage through an SD card, which does not bring any problem to phone memory. Read the complete guide before format SD card on Mac in 2021. After prolonged use of the SD Card, you might face some problem with your stored data.
You might have to reformat your SD Card for settling this problem. The formatting of the SD card will erase all your stored data. People use the SD card for having sufficient storage options.
You need to back up all the required files before formatting your SD Card. You will enjoy a fresh start of storing data after formatting your SD Card.
Before buying a new device, you can check our Macbook Air alternatives to buy in 2021. If you have Mac and look for some portable device for your personal use, check our best working gaming tablet before purchase.
SD card formatting will prevent the corruption of data and will clear the old files entirely. Besides, you will enjoy a smooth and secure data storage experience. The formatting of the SD card is not such a tough job.
Important Note: Make sure you saved all the files from your SD card that you want to keep to your computer before moving to the next step because formatting the card will delete all of the data stored in the SD card.
How to Format SD Card on Mac?
You can format SD Card on Mac very quickly through the following steps:
You might start the formatting process of your SD Card after you finished saving all your relevant and essential card data to your computer/Mac. You have to connect your card to your Mac through an external card reader.
A micro SD card user should have to insert their card into the SD card adapter, which they got with their card. Then, the SD Card adapter should be connected to the computer using an external card reader.
You have to keep in mind that the exFAT format is not supported by Mac OS 10.6.5. The exFAT format is that in which most 64 GB SD cards are formatted. Thus, your computer will not let you format or use exFAT. You might upgrade your device OS to 10.6.6 to continue your formatting process.
You might use MS-DOS or FAT-32 format of SD Card for finishing the format SD Card mac using the steps below:
You have to open the disk utility and find a magnifying glass in the top-right corner of your Mac. You can search for disk utility. After clicking on that, you will notice the application appearing.
The sd card will be found on the left side of the Mac window. You will see there no name or untitled. After that, you can click on the erase tab. Then the next step will be clicking on the format menu. You have to choose MS-DOS (FAT) if you have 32 GB SD Card and exFAT if you have 64 GB, SD Card.
Then you will get a message whether you are sure to erase all your data or not. You can click on the erase to finish the process of format SD Card on Mac successfully. Your device will erase all your SD Card data.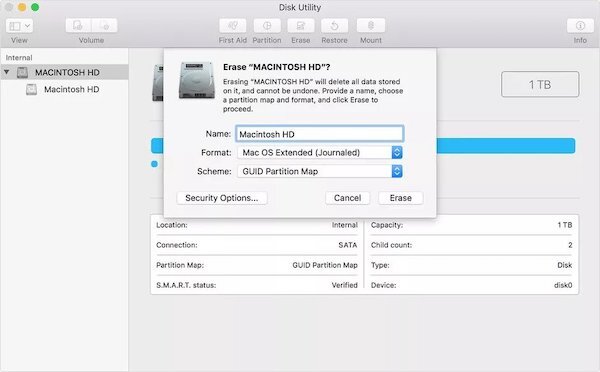 Conclusion
To conclude, you will achieve a better capacity if you format SD card on Mac. You can prevent some serious storage problems, data corruption, and loss of essential files by doing the formatting process.
Your SD Card will become completely new, and you will store new data safely in your card. You might follow the above steps of how to format the SD card on Mac or find some steps to format the SD card from the internet.
You will enjoy a fresh start with your data storage because formatting will erase all the previous unwanted data giving you the space to secure all your important files.
Happy Formatting!!