Are you looking forward to anime enlargement without damaging the quality? Unsure where to start from? Well, in that case, you have landed at the rightmost TechSpunk blog.
Here's a comprehensive guide to enlarging anime images without compromising the quality. Anime lovers always look for tools to upscale their favorite anime characters' images to set them as wallpaper.
However, most tools degrade the quality of enlarged anime images, thus disappointing the users. But this is not the case anymore, as we are here to assist.
Scroll down the page and get to know the complete guide related to the enlargement of Anime. Before moving forward, the answer is here if you have a question about How to do a reverse image search.
Let's get into it!!
What is Anime?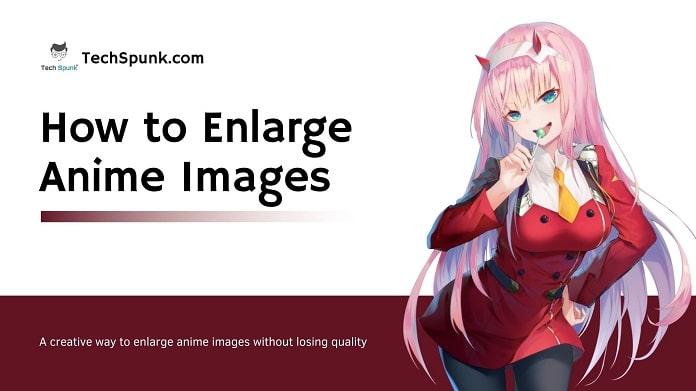 Anime is mainly a hand-drawn and computer animation originating from Japan. It is a Japanese film and TV animation style, typically entertaining both kids and adults alike.
Anime is mainly a word used by people to describe cartoons or animations produced within Japan, and it is characterized by stark colorful graphics depicting vibrant characters.
How Anime Impacts the World?
Long gone are those days when Anime used to be a part of Japanese animation series only as now it has become one of the best resources to tell stories in an animated form worldwide.
Anime depicts stories with freedom of expression in any genre and for any audience, which contrasts against traditional cartoons aimed at children.
Anime got famous in other countries than Japan when early series like Dragonball, Astro Boy, etc., went on air.
Why is Anime Enlargement Essential?
Anime enlargement is usually done to upscale the images to the desired size without compromising the quality.
Many image enlargers are available over the internet, but only a few of them work and enhance the image size without losing resolution. One such is Waifu2x.
This image resizer works online and upscales the picture of your favorite anime character in just four steps. What else is needed?
This tool uses reliable and modern image processing technology and artificial intelligence, thus enhancing the image size multiple times without sacrificing quality.
What is Waifu2x Tool?
Those days had long gone when the enlargement of anime images used to be tricky, as nowadays, the tools like Waifu2x are there to rescue us.
Derived a name from female characters in Anime or manga series, this third-party tool effortlessly multiplies the size of the image.
Let's find out some of the benefits of using Waifu2x, which differentiates it from other tools available over the internet.
Benefits of using Waifu2x
Here's the rundown of the significant benefits of using Waifu2X. Before adding this tool to your app drawer, let's figure them out here.
Easy to Use: This tool is easier to understand and use with a simple user interface without seeking any professional help. You can use Waifu2x, whether you belong to a tech background or not. You must upload and enhance the image to the desired format within minutes.
Instant Image Upscaling: Another advantage of using Waifu2x is that it can enlarge Anime without delay. There is no need to watch learning tutorials or anything. Please select the image you want to upscale and finish it quickly while restoring the original quality.
Up to Waifu10x Image: Plenty of anime enlarger tools are available over the web, so what makes Waifu2x stand out from the crowd? You need to know that the tool allows you to choose a resolution up to 10x. Surprising, but true?
How to Enlarge Anime Without Losing Quality?
Are you looking to upscale or enlarge your favorite anime image without compromising the quality? Look no further!!
Keep scrolling to learn the step-by-step guide to enlarge Anime within a blink of an eye.
Follow the steps religiously to avoid last-minute trouble.
Open the browser of your choice and type https://waifu2x.io/ in the search box. Click Enter to open the website.
A new page will open where you can quickly locate the Select Image button. Tap on the same, and it will instantly take you to the browser window where you can select the desired anime image.
Once the image is uploaded, the users must choose the noise reduction levels, ranging from None to High. Pick the option that suits your requirements.
Jump to the scale and move it from 1x to 10x.
Before proceeding further, make sure you have chosen the correct options. If everything is right, then move further to finalize the process.
Please tick the checkbox saying I'm not Robot, and once it gets approved, click on the Convert Now button.
Please wait until the tool processes your image and upscales it to the desired resolution without compromising its quality.
Why Did We Choose Waifu2x for Enlargement?
Since tons of third-party tools are available over the internet to enlarge Anime, the question arises of why users choose Waifu2x for enlargement or upscaling.
Well, the answer is straightforward – this tool upscales or multiplies the resolution of your uploaded anime image without compromising the quality.
Moreover, it is pretty simple to use that even a kid can use it without seeking help.
Additionally, this tool eliminates downloading and installing the app as it works online.
Our Thoughts
So, there you have a complete description of how to initiate anime enlargement without dropping quality.
With the introduction of the Waifu2x tool, resizing or upscaling anime images is no longer challenging.
The users can multiply the image resolution to 10x with fewer efforts and without putting the quality at stake.
So, what keeps you stopping now? Just bookmark the page and use the link mentioned above to enlarge your favorite anime image on the go.