Today's technology is making our life more and more useful for us. Every day new technology letting an impact on our teaching methods as it changes the way you read.
When it comes to texts, stylish vaporwave text generators make them cool and fancy.
Some text generators tool has best features that make the text more beautiful and dashing according to TechSpunk research team.
There are text generator tools called Vaporwave text generators that can change your text fonts as you like them to be.
Those are available over the Internet for free that you can get them quickly, and you don't have to pay any penny to use them.
You can use any Vaporwave text generators that we are going to mention below. But before, you need to know about it.
Check out our best Xbox GamerTag generator websites to get the best and cool Gamertag or username for Xbox gaming.
What are Vaporwave Text Generators?
Vaporwave text generators allow you to convert your text into fancy vaporwave text with the help of the Unicode system with which you can make vaporwave fonts.
The Unicode system has many characters, half of them we see on the Keyword, and a half we read on the Internet, etc.
So, many people are familiar with the symbols. People are widely using vaporwave text on YouTube, Twitter, Facebook, Whatsapp, and Instagram.
This text generator is helping people in making an unusual addition to their blogs, creating an aesthetical comment under a post on Instagram or Youtube.
If you want to make your writings or text easier to understand, this text generator is the best way to achieve this.
So let's check out!
Top 10 Best Vaporwave Text Generators to Make Fancy Fonts in 2023
1.

Lingojam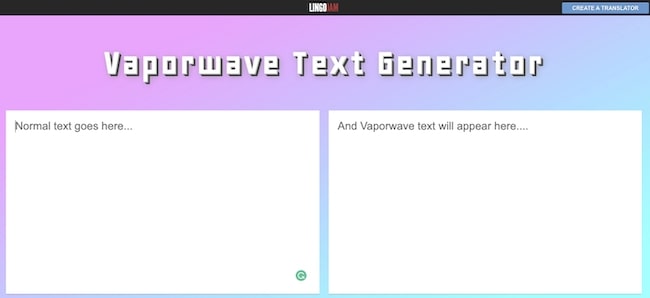 Lingojam is a simple vaporwave text generator with which you can change text into a stylish and fancy style.
This text generator will also help you to create a text generator and play with the existing ones.
You can get these online vaporwave text generators for free, and they will provide you valuable and straightforward service.
This fancy text generator will also provide the text according to your preferences that you want to tweet, and make a copy of your choice and paste it on Twitter.
2.

FontVilla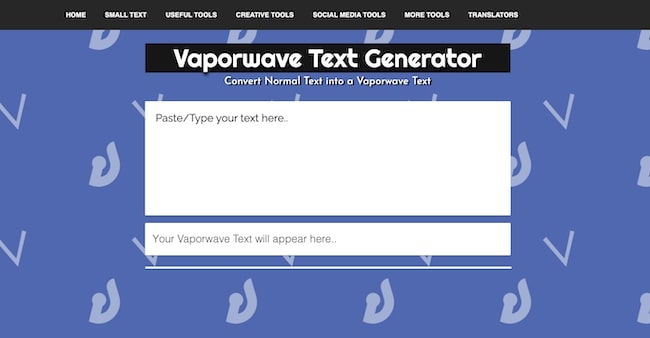 FontVilla is one of the best and simple Vaporwave text generators that let you make your text in a beautiful and fancy way.
People are using this tool on social media platforms so their posts can look unique, fresh, and eye-catching.
It helps the text get extra attention and increases the number of likes, comments, and followers, which increases the tendency or influence that they have on their audience about them.
You will get the best Vaporwave text generators tool at the Fontvilla, where you can create vaporwave text within seconds.
3.

Yay Text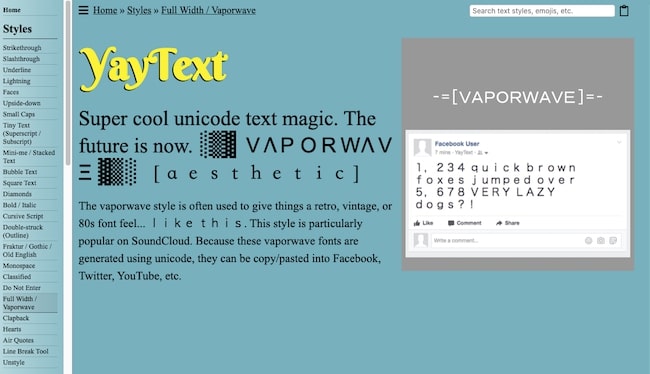 It is a web-based text tool that will help you change your standard text into styled text with the help of the Unicode system.
Yay Text offers more than 60 different font styles that you can utilize in applications and websites where text styling capabilities are not readily available.
If you wish to use styled text in a scene where styled text is usually not possible, then Yet text is the best solution for you.
This text generator can generate bold, italics, bubble texts, cursive, gothic, stacked text, small caps, strikethrough, upside-down text, superscript, etc.
This tool tended to add more new styles.
4.

VaporWaveTextGenerator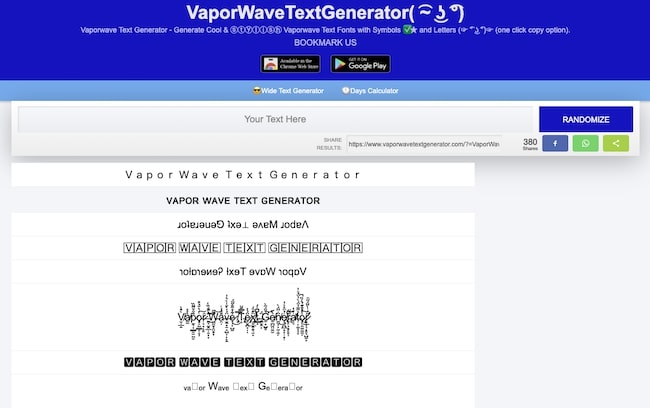 VaporWaveTextGenerator is a website where you can copy and paste your text.
This one converts text in a variety of styles, from simple looks to great and great-looking fonts.
The fonts are – calligraphy font, tattoo font, cursive font, handwriting font, word font, old English font, fantastic font, font art, steam wave stick, etc.
With the help of this text generator, you can send aesthetic good morning messages and surprise your friends and family.
For that, all you have to do is type your text, and this retro-style text generator will automatically convert your text into a stylish VAS aesthetic and great-looking steamy text that you can share with anyone.
5.

Wide Text Generator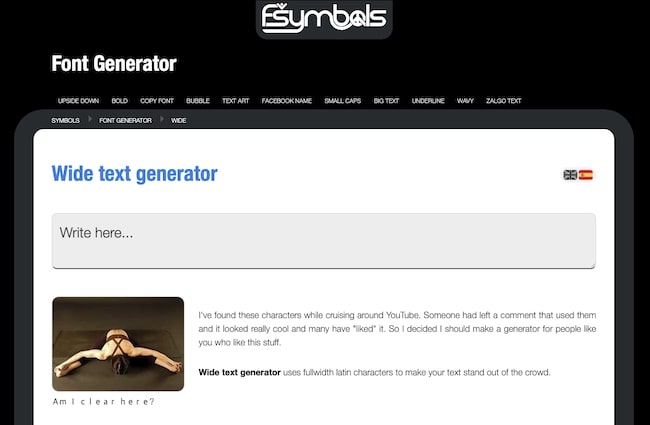 You all may want your text or writing to look beautiful, eye-catching, and original. You can always have the Wide Text Generator to meet your needs.
If you post blogs on a website or you are a writer, you can use the Wide Text Generator to make your content look different from others.
It will surely help you attract readers to your website.
You can also use this for posting your write-ups on social platforms, such as Facebook, Instagram, Whatsapp, Twitter, etc.
6.

Convert Case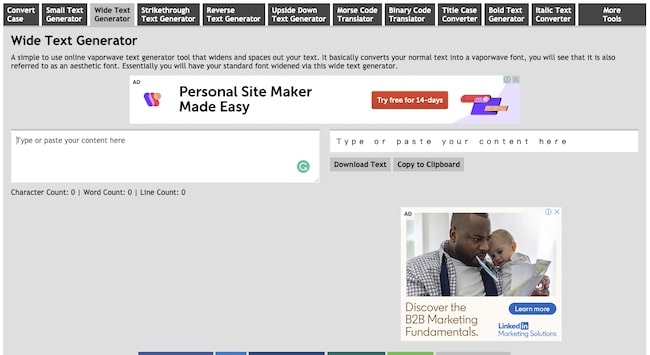 The Convert Case tool is the next level text generator tool by which you can switch between lower case and uppercase letters.
Besides, you can also capitalize, expand, convert your text.
Explore more below: This text generator will let you paste any text you like, and it will automatically help you convert it into a fully structured sentence.
It also helps capitalize the first letter in each sentence and then convert the rest of the text with lowercase.
7.

Exotics Font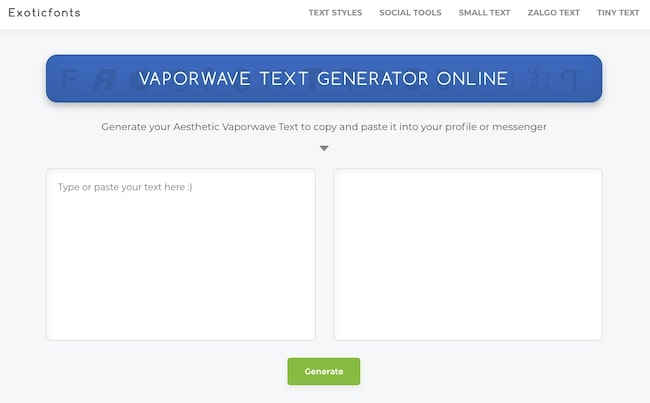 Exotic fonts text generator is developed beautifully. There you will get distinctive spaces.
With the help of this text generator, you will get to play with different shades and colors to make your text look beautiful and different from others.
You will get more space in your writing material by using this one. Exotics Fonts are mainly because the style of the text makes it clear and remote.
And, if you want to write a simple type of language, it is wiser to use it because it helps convey the message more clearly.
8.

Qwerty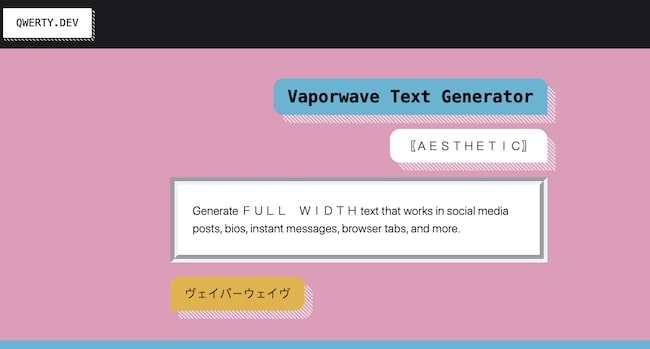 Qwerty is developed in Japan, and its collection of Unicode tools can help you stand out on social media platforms. The idea behind making this text generator is too simple.
This text generator tool contains cute colors, and it will help you make your fonts creative and unique so that people can get attracted to them.
The Qwerty text generator also has some cute symbols, such as trees, dolphins, rainbow, plane, sunglass, etc.
The Unicode tools of this generator have roman alphabet characters that will allow you to enhance the authenticity of your text.
9.

Fancy Text Decorator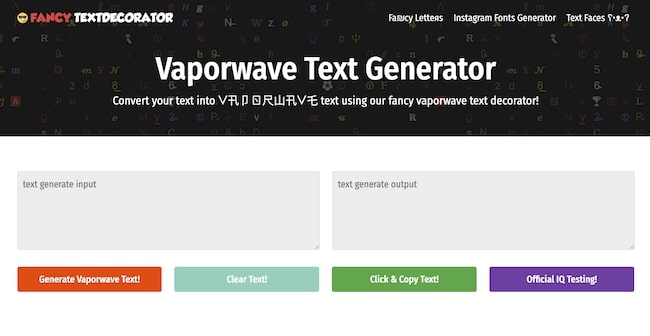 If you are tired of the exact text every day, tired of boring signatures, and want to get more attention to the text you wrote.
A fancy Text Generator can be the best option for you as it has the best features to fulfill all your wishes.
With the help of Fancy Text Generator, you can add some vaporwave effects to your tweets, Facebook posts, WhatsApp messages.
It is an easy-to-use text generator and can help you change your simple text into fancy ones quickly.
So stop wasting your time, and start using this!
10.

SprezzKeyboard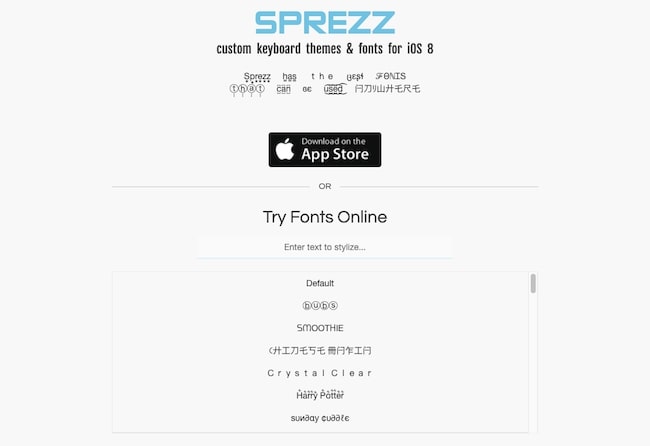 It is an all-in-one keyboard for iPhone users. You can use this keyboard anywhere you want.
This one comes with dozens of themes, great fonts, and customized options for making your texts more personalized and enjoyable.
SprezzKeyboard is the best vaporwave text generators tools as per our research team.
SprezzKeyboard combined with five separate keyboards for all types of users.
It is capable of providing a few top features such as 100% safe and secure. And it has more than 50 fonts.
You can also allow any picture you like to the keyboard to make it fancier.
Final Words
Everyone wants themselves to be unique. These are the top 10 best Vaporwave Text Generators for making your text fancy and beautiful in 2023.
Check those all out to present yourself as a unique person and to set you apart from the crowd.
If you willing to know more about these text generators, let us know in the comments section below.