When the world is busy streaming and chatting, the wish pops up if that could be your stream. But what happens when your stream fetches a lot of unwanted chatty chatters? it would be best if you had basic Twitch Mod Commands.
How can you actually deal with such a situation? You can always use moderators and moderations. Well, what is chatty? Chatty is software made for Twitch.
Twitch helps to stream and stream chatting. Now, for Twitch Mod commands, moderations and moderators are generally used.
Twitch Mod commands are guidelines and features that help use the online streamers' Twitch application.
Find out how you can command Twitch with the assistance of moderators and moderations.
Are you a Nintendo gamer? and looking for the best website to download Wii ROMs for Cemu, then you must check Techspunk's article.
What is Twitch?
Twitch is a global platform for online streaming for lifestyle casters and gamers building interest in the community.
Twitch Mod commands are the rules and regulations for operating Twitch streaming effectively. Twitch is a completely free and safe platform if commands are used effectively.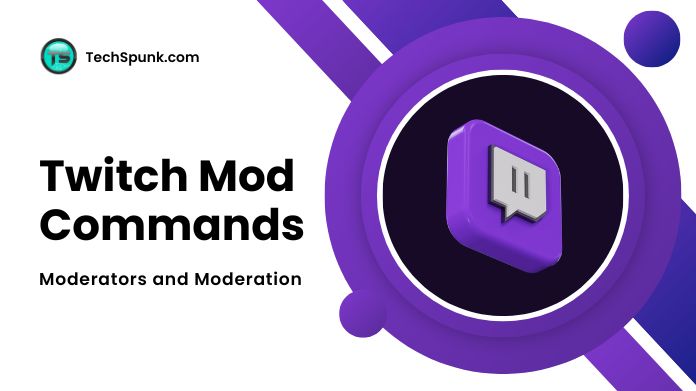 What Are the Moderators?
Moderator, also popularly known as the "mods," is quite a famous command. So, moderators are stable and help you to stabilize and organize the chats and conversations.
It keeps a check on the chats and the conversations and whether they are adhering to the respected streamer's standards and rules.
Following the rules is not an option; it must adhere to the rules stated by streamers.
How can you detect the streamer? A green sword is always popping up just next to the name icon.
The name with the green icon is the streamer. For streaming, chats must be organized in a designated manner.
Do You Need a Moderator?
Well, a few things need to be considered and kept in mind. It completely depends upon the user to decide whether they need a moderator or not.
There are several reasons why a moderator would be helpful. Look at the questions below, and yes, if you are facing such things, you surely need a moderator.
Are you somehow being trolled and made fun of mercilessly?
Are you being spammed or facing any issues regarding any fraudulent action?
Are you continuously busy with the chat?
Do you prefer headshots and gameplay?
If the answer to these questions is yes, then yes, you do need a moderator.
This need for a moderator completely varies from person to person. So yes, decide it yourself!
How Can You Choose Your Moderator?
After you decide whether you need a moderator, it is time to choose the perfect moderator for your streaming. Moderators can be chosen in various ways.
Do you have a trusted friend or a well-wisher? Trusted means a person you can really trust in your streams.
If any of your friends watch your daily streaming in and out, he or she is the perfect moderator. The second choice can be your followers.
Have any trustworthy followers who follow your streaming badly? Go ahead, and make them your moderator so that they can look after your streaming.
How Can You Make Someone a Moderator?
Chosen who can be the best moderator. The very next thing is how you can make somebody your moderator.
Use the chat command to make somebody your stream moderator. / Mod < username>, that's the perfect command that helps you make someone your perfect moderator.
Promote a specific user to a designed channel moderator with this command.
Un-mod a Moderator
Seeking to un-mod someone, follow the command. / un- mod < username>, done!
You will find various chat commands which can help you to un-mode.
What Are the Moderate Commands?
For both moderators and streamers, a huge number of commands are used for Twitch. This allows them to moderate the channel chat and the stream.
The few commonly used commands are:
Change your name color: /color <color name>
Host another channel: /host < channel>
Change chat to emote only: / emote only
Twitch Mod Commands
The broadcasters and the moderators are equipped with designated chat commands that allow them to monitor and organize the chat and conversation in Twitch.
These commands may vary from giving any user a timeout to anti-spam instructions.
Twitch follower Chat command

– Set your chat and conversation setting to the followers only so that only designated people follow the channel well to communicate with you.


In a bullying situation, you can pre-set the time frame of following before conducting a chat. Most of the trolling does not wait for the time frame; rather, they turn up to someone else.

Twitch subscriber-only chat

– The subscriber mode gives access to those who have subscribed to the Twitch channel.
If any streamer has not yet reached the partner status, the moderators can only use the chat.

Other Twitch Mod commands

– Few other commands can limit a few chat elements. Discuss with your moderator or broadcaster regarding the usage and avoidance of the commands.

Twitch command to slow chat

– if an overwhelming response is achieved, you can always select a setting to restrict incoming messages. You can allot time in seconds; do not overrate the time frame to frustrate your viewers.

Twitch command to clear chat conversation

– If clearing the chat is the idea, use the specified command to clear it. If you are a moderator, talk to your streamer regarding the chat clearing before you initiate. 

Twitch Mod command for spam

– in case you face spam, you can report it. The command R9K will help you instantly to report and stop the occurring spam.
Safe Online Streaming With Commands
Twitch is a powerful and popular streaming platform used by lifestyle and gaming initiators to create a good community.
Online streaming is done with the help of Twitch applications. Twitch Mod commands are the guidelines and features of the moderators and the broadcasters to help the streamers stream effectively.
Effectively using Twitch Mod commands will help you gain popularity and away from spam!